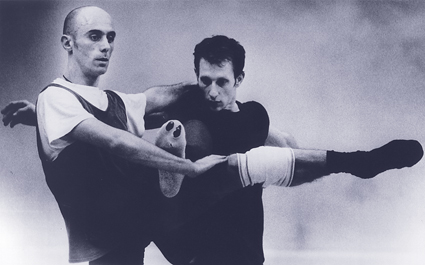 Michael Schumacher and Vitor Garcia in Proxy
To launch his 12 month residency at The Royal Festival Hall with a bang, British choreographer Jonathon Burrows curated an evening of international contemporary dance extravagance. The foyer of the Queen Elizabeth Hall was all a-buzz as what seemed to be London's entire dance-world twittered and tingled in anticipation of the rare delights of this one-off event. Screens showing videos by Peter Newman hung over the packed auditorium, creating a backdrop of party-night animation and punctuating the pauses with inspiring sky-diving, flame-throwing visuals.
Burrows had worked his connections with the Ballett Frankfurt to bring together choreographers sharing his preoccupations with time, structure and physical detail. A booklet of conversations held with each of his guests illustrated the braininess behind this dance. Best read after the performances, it foregrounded many of the thematic similarities of approach made so richly manifest on stage.
Americans Meg Stuart and Amanda Miller performed their own work, William Forsythe showed a duet made in collaboration with Dana Caspersen of his Ballett Frankfurt, and prodigal son Michael Clark was back with a sneak preview of his new work. Paul Selwyn Norton, going soon to Melbourne to choreograph for Chunky Move, opened the event with a duet for two extraordinary dancers from the Ballett, the expert improviser Michael Schumacher and Vitor Garcia.
Selwyn Norton's Proxy was the longest work of the night at 20 minutes and as such ignored the less is more dictum. While Selwyn Norton delights in the incredible range of expression of his virtuoso dancers, allowing them quirky and elaborate articulations, he distractingly overwhelms these revelations with an unnecessarily generous embrace of theatricality. Strange props, such as the enigmatic rubber mats which littered the stage, and tomfoolery with a mike-stand cluttered the fascinating exchanges between Garcia and Shumacher. The recorded sound-track (Gavin Bryars' A Man in a Room Gambling), a fictional radio crash-course for card-sharps, said it all; "Pay attention to the moves", lilted the seductive Latino announcer, "because they are so simple that they need some audacity in order to be performed." Shame then that Selwyn Norton didn't give them more space.
Meg Stuart's solo, XXX for Arlene Croce and Colleagues, was the palate cleanser required after Proxy. On a bare stage she danced her ironic response to the New Yorker critic's now famous description of Bill T Jones' AIDS related work Still Here as "victim art." Infused with human strength and frailty her contortions were both beautiful and abased. To Gainsbourg's Je t'aime moi non plus, her scrunched up face, jutty hips and stiff sides were bountifully defiant. Ten minutes and she had said it all. The pause hummed with approval.
And catty expectation, because bad-boy Clark was next on, with a glimpse of his first full stage work for 4 years. Dancing with Kate Coyne to a breathtakingly anarchic score by Mark E Smith of The Fall, Clark was in characteristically provocative form. Blinding his straining audience with 6 full spotlights at 12 o'clock the duet was barely visible. While the bitches later sniped that he was hiding, it was fair to say that Clark certainly wasn't making his new work easy to see. "Welcome to the home of the vain" intoned Smith in his laconically spiteful drawl, and Clark collapsed again from point to splay in a decadent and downright ugly drop. You've got to love him…or loathe him.
Amanda Miller's Paralimpomena translates literally as "leftovers" and her solo comprised "fragments from earlier group works that I felt didn't get communicated." Miller flowed around a dark stage like a spirit, ghostily unmuscular amidst the exertions of the evening. Perhaps that was why her whimsical work seemed so brutally dismissed by Forsythe and Caspersen's show-stealing duet, The The for Jone San Martin and Christine Burkle.
Expert interpreters of Forsythe's angry physical intensity, these peculiar twins knotted themselves together across the floor, in a seated version of a tantrum which surged through their bodies producing the most extraordinarily exciting shapes. A recorded voice read out time to remind us that there were intellectual battles raging too. As an extract from the full-length 6 Counterpoints, this duet is a thrilling introduction to a world of intellectual and physical rigour. As the end to an evening of vivid provocations it was a perfectly abrupt and unsatisfactory end.
Kick-starting a year of commissions and collaborations with an adrenalin shot of creativity, this event left the audience even more full of questions and opinions than when they arrived.
As it is—Choreographer's Choice, curated by Jonathon Burrows at The Queen Elizabeth Hall, London, Paul Selwyn Norton making Proxy for Michael Schumacher and Vitor Garcia, Meg Stuart making a solo, xxx for Arlene Croce and Colleagues, on herself; untitled work by Michael Clark for himself and Kate Coyne; Parlimpomena by Amanda Miller for herself and Seth Tillet; The The by William Forsythe and Dana Caspersen for Jone San Martin and Christine Burkle; video installation by Peter Newman, July 9
RealTime issue #26 Aug-Sept 1998 pg. 45
© Sophie Hansen; for permission to reproduce apply to realtime@realtimearts.net