Making art is more than a job and it's more than a life-style choice—for many, it's an all-encompassing way of being. This can make living with an artist a difficult feat, unless both are of like constitution. So it's not surprising that in the art world there are many couples who share both their lives and their art.
RealTime is run by such a couple, Keith Gallasch and Virginia Baxter, who, before their foray into publishing, also produced a large number of contemporary performances as Open City, often drawing on personal experiences and their relationship or, as Apartners, working as consultants for other artists.
Of course it's not all smooth sailing—one's partner is often one's harshest critic, but perhaps this is a key to the conceptual rigor often illustrated in the creative manifestations of couples. To get to the bottom of this, over the next two Profilers, we are asking a number of art couples about their collaborative practices. We thank them for their generosity and their honesty.
Gail Priest, Online Producer
PS. The natural extension of this is the art family, and if you haven't already, the RealTime team strongly suggests you read The Family Fang by American novelist Kevin Wilson about two siblings struggling to accommodate their performance artist parents' radical interventions. Nicole Kidman's production company has produced the film of the book, directed by Jason Bateman.
Alexandra Clapham & Penelope Benton | Clocked Out (Erik Griswold & Vanessa Tomlinson) | Claire Healy & Sean Cordeiro | Andrew Morrish & Rosalind Crisp | Sally Rees & Matt Warren |The Ronalds (Shannon & Patrick) | Starrs & Cmielewski (Josephine & Leon)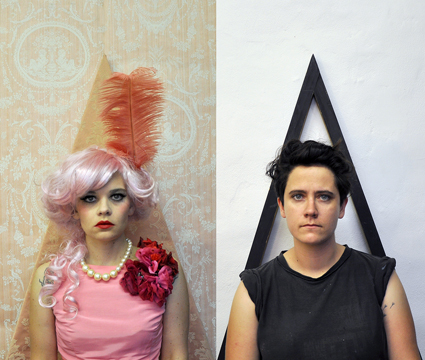 courtesy the artists
Penelope Benton, Alexandra Clapham
Alexandra Clapham & Penelope Benton
We are currently working on an ongoing series of performance installations investigating our relationship as both partners and collaborative artists. This has come about really as a response to interest that emerged from interviews and discussions about our roles as Co-Artistic Directors of Art Month Sydney 2013, and the works we produced after that time. We were pushed throughout that period to talk about the benefits and challenges of working together as romantic partners, and so it's been a natural progression that those conversations and reflections have become the focus of our current work.
The experience of producing our first collaborative work in late 2010/early 2011 made us aware of the different skill sets we each have and how they can and do complement each other so well. We also found the scale of work we could produce together was much greater than either of us had attempted or contemplated in our individual practices at that stage.
Beyond that initial realisation, of course we also discovered the tension and difficulties of working as collaborative artists with different schedules, priorities and approaches to making. We find ways to negotiate that, sometimes we can work through it and produce something incredible, other times, for whatever reason, we can't or don't want to, and there's a silence. This process has inspired our recent series of works.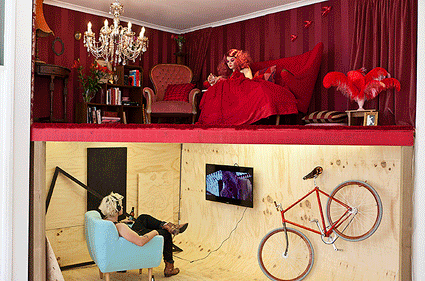 courtesy the artists
Alexandra Clapham, Penelope Benton: 1) Great Expectations, Day for Night, Performance Space; 2) Self-Portrait in a Room, SafARI 2014
Great Expectations for Performance Space's Day for Night at Carriageworks earlier this year was presented as a tableau vivant in sittings varying 90-150 minutes. This piece encapsulated both our working relationship and romantic partnership, a rhythm one could say was synonymous with many couples. The days, the nights, the stillness, the nothing, the expectations, the boredom, the waiting, the brewing, the growth of ideas, the clashes, the tension, the conflict, the noise, the intensity, the passion, the moments, the magic.
At Wellington St Projects for SafARI this year, we built two sets within one room in an adaptation of Floor 7½ in Charlie Kaufman's film Being John Malkovich—the half floor which has a portal to Malkovich's mind. Each set contained a hyperreal version of ourselves presented as living self-portraits, this time in sittings of 180-240 minutes. Again the tableau is used as an allegory to examine our public and private selves, both as individuals and as partners.
Our new work currently being developed, experiments with these living portraits in video format.
http://penelopealexandra.com/
Related article
Enduringly queer
Fiona McGregor: Day for Night, Performance Space
RealTime issue #120 April-May 2014 p26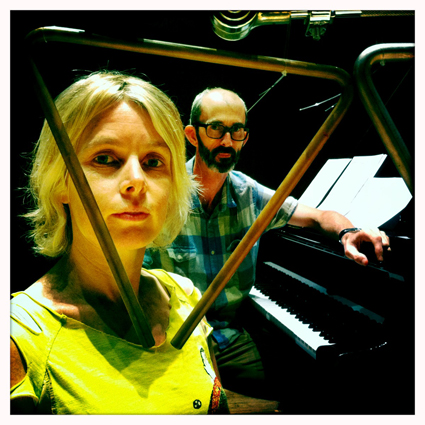 courtesy the artists
Clocked Out Duo in the studio
Clocked Out (Erik Griswold & Vanessa Tomlinson)
When "partner art" is good, it's really good. But when it's bad, it's really bad! To be able to take a new idea, the excitement and creative energy, and share it with someone you love is a beautiful thing. That enthusiasm can spill into your everyday life and become infectious. Meetings happen at any time, inspiration arises while hiking, watching TV, gardening or waiting for the kids' cricket game to finish. And on the good days, when this does happen, you have your collaborator right next to you and the idea progresses to actuality in an instant. The energy of two people can lift something out of the imagination effortlessly. But if you pick the moment badly, the same idea can also get squashed and left behind. If there is any negativity, conflict or stress, there is no escape. It doesn't stay in the office, but follows you home 24/7.
Two advantages of working with a creative partner over a long span of time (about 20 years now!): the depth of possibilities that come from experience; and trust. We know that at the end of the day, our partner will come through. On the other, hand there is the challenge of how to keep things fresh. For us it's been essential to have a balance of solo, duo and collaborative projects which have consistently helped to reinvigorate our artistic practice.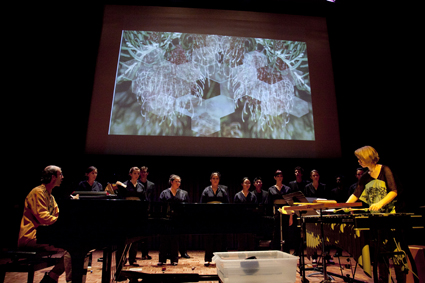 courtesy the artists
 Clocked Out Duo with The Australian Voices.
Our project The Wide Alley, based in Sichuan Province in China, evolved with us both experiencing a new culture together. It integrates the very survival of the situation, the amazement of newness, the adventure of discovery and the extraordinary music to be found there. We began this in 1999, at the beginning of Clocked Out, and in a way this adventure into another world shows us working at our best. We really need each other here, to communicate, push and understand just how difficult an artistic process really can be. We are heading back there soon to make Water Pushes Sand for the Australian Art Orchestra, to see now familiar things and to experience the new—with kids in tow. We are building new experiences, supporting each other and trying to make sure that support includes critiquing, asking questions. Hopefully by now we know how and when to push each other, when to step up and cover the other's insecurities, when to allow the other to shine. We wouldn't have it any other way.
http://www.clockedout.org
For more on Clocked Out see our Archive Highlight featuring all articles about the duo since 2001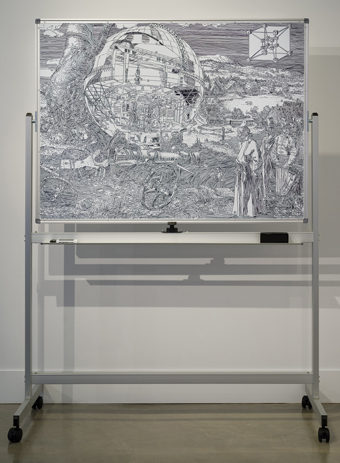 photo Johnna Arnold
Claire Healy & Sean Cordeiro, Dounreay, 2014, Gallery Wendi Norris
Claire Healy & Sean Cordeiro
Right now we are working towards our solo exhibition at Gallery Wendi Norris in San Francisco. The exhibition is titled Architects of Destruction. The body of work consists of Lego, cross-stitching and whiteboards. The works all depict fantastic scenarios that inevitably lead to destruction. They are based on historic catastrophic events or allude to future scenarios that may lead down a similar path. The works meditate upon the saying 'the road to hell is paved with good intentions.'
There are many levels to the execution of a body of work like this. Initially one of us would have been struck with the idea. This would then have been conveyed to the other, and probably not met with the same enthusiasm, so the idea was probably shelved in a sense by writing or drawing it into our shared diary. Although an initial concept may not be considered so great, we record the idea anyway. Over time, ideas percolate or other opportunities arise, an old idea is revisited and given a different spin. We have found that our minds work very differently, so using this method seems most effective. We often forget who came up with the initial concept, or an idea has morphed so much from incarnation to execution that it really becomes a true collaboration.
We have found that working collaboratively can mean having to verbalise everything we consider. Sometimes this can stifle the subconscious or naive level of art making. We did try reading an identical library once so that we did not have to speak to each other and eventually have our minds synched. This did not work! Our reading habits and speed, did not match. Perhaps subconsciousness is lost when a work is conveyed from two entities.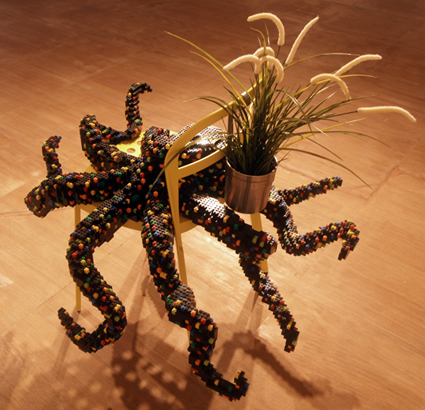 courtesy the artists
Claire Healy & Sean Cordeiro, Downstairs Dining Room – Octopus, 2014, part of Habitat, Rimbun Dahan, Kuala Lumpur
Executing work and seeing it to its end seems to be more effective when collaborating. When so much time, labour and effort goes into the creation of a work, it will not suddenly be dropped because you have lost interest. There is a level of mutual respect that somehow is great for completion. We both have different skills that complement each other. We don't have scheduled meetings but find that being stuck in a car together for a long time forces us to talk about work.
Architects of Destruction, Wendy Norris Gallery, San Fransciso, 4 Sept-1 Nov http://www.gallerywendinorris.com; http://www.claireandsean.com
Selected articles
The artist as citizen
Ella Mudie: The Right To The City
RealTime issue #103 June-July 2011 p47
Shifting and shucking
Performance Space's first Carriageworks Program
RealTime issue #77 Feb-March 2007 p13
Artists invade history
Daniel Palmer inspects the renovations at Elizabeth Bay House
RealTime issue #75 Oct-Nov 2006 p52
SCAN 2003: Sean Cordeiro & Claire Healy
Keith Gallasch
RealTime issue #57 Oct-Nov 2003 p8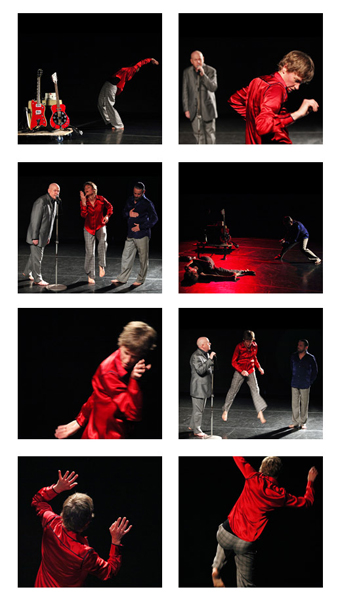 photos Patrick Berger, courtesy the artists
Rosalind Crisp, Andrew Morrish, Hansueli Tischhauser, No one will tell us…
Andrew Morrish & Rosalind Crisp
I am a Partner Art Phobic. I am terrified of seeing 'too much information' disguised as intimacy. Ready to gag on presentation of the 'reality of our relationship.' I had been traumatised at an early age by one of a couple reading, in a performance, a description of her pleasure in cupping the balls of her partner, when I had had dinner with them the night before.
When Rosalind Crisp (dancer and choreographer) and I (Andrew Morrish, improviser and teacher) began our personal relationship in 1999, we were both established artists with our own practices. The romance of the moment did not sway us into thinking we would make work together. From my perspective this decision was driven by my prejudices and my feminist beliefs. From Rosalind's perspective it came from the fact she was already too busy to include me.
Our first appearance together on stage was for two minutes in a piece by Emma Saunders at Omeo Dance Studio in which she invited 30 people to dance to the same two minute song in 2001. Nikki Heywood said we "had legs," but I was not convinced.
Our separate practices meant we were both busy with our own work, but we were also partners so it was clear that we began to influence and support each other. I was able to help with keeping the Omeo Dance mailing list up to date, even made a letterhead for Rosalind's company. Rosalind's Sydney and international network became available to me as I began to expand my teaching practice away from Melbourne.
In a relationship, for me, the fundamental verb is 'support' and we both began to offer this to each other while we continued to develop as individual artists. We saw each other's work a lot and of course became experts in it, and confidantes. These are very precious commodities. I always felt that it was important for Rosalind to be able to come home after a day in the studio and be able to complain to me about her collaborators and that this would not be possible, or be more difficult, if I was one of them.
When we shifted our base of practice to Europe in 2003, our support roles for each other became even more important in our new isolation. I was often involved in the production side of Rosalind's presentations. I was not particularly skilled in that area, but I was cheap, available and understood her intention. It was also clear that at certain times, in certain French theatres, other production staff were confused by my role as Artistic Conseil/Husband.
On one occasion, when producing danse (4) in Paris, one of the dancers hurt her knee and was unable to perform. The structure of the piece could be rearranged to accommodate this, but the "4" in danse (4) refers to the number of dancers, so I became the fourth dancer. My role before that had been to organise the seating for the audience and to iron the costumes for the dancers.
I had already been a performer in duck talk (2005—a collaboration between Rosalind, David Corbet and The Fondue Set) and was later to become a performer in No one will tell us…(2010) In all this, and still today, it is clear to me that in these pieces I was working in Rosalind's work. I maintain my own solo practice and this I consider to be my work. We have no work that is 'our' work. I support her work in anyway I can, through encouragement, criticism, technical and artistic participation, filling gaps when required. And she in turn does the same for me.
http://www.omeodance.com/VideoEn_NoOne.html
Selected articles
Dance like never before
Keith Gallasch: Rosalind Crisp, No One Will Tell Us…; Dance Massive
RealTime issue #102 April-May 2011 p12
realtime video interview: rosalind crisp
No one will tell us…
Dance Massive 2011 Online Feature
Oh how they danced!
Virginia Baxter: Oh I Wanna Dance With Somebody
RealTime issue #112 Dec-Jan 2012 p2-3
Testing the tightrope
Keith Gallasch on Andrew Morrish and improvisation
RealTime issue #81 Oct-Nov 2007 web
Rosalind Crisp is one of the 12 Australia choreographers featured in Bodies of Thought, published by RealTime and Wakefield Press (2014). Supporting material is available at realtimedance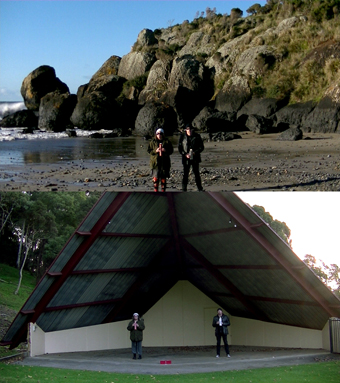 courtesy the artists
Sally Rees, Matt Warren, Burnie residency
Sally Rees & Matt Warren
Having a partner who is a practicing artist and collaborator can be an exercise in dealing with objectivity and subjectivity simultaneously. Critiquing the other's work from the mindset of a partner begs care as to how your response may be interpreted, bearing in mind the intimate knowledge of the creator's thoughts and biases as well as one's own. However, one must also be mindful to remain an objective, critical onlooker.
Perhaps most importantly for the collaborative process, in addition, to the genuine enjoyment in working together, we have a deep respect for each other's practice. It is the differences in approach, process and conceptualisation, not the similarities, that are the most important elements, colliding to produce something that neither one of us could achieve alone.
It is vital to both of us to keep objectivity at the forefront and maintain a professional attitude when we collaborate, perhaps as a result of having seen collaborations between other couples break down as the needs of the relationship become greater than the project. Often at the end of a collaborative day we may give each other a peck on the cheek and jokingly declare the act "purely professional."
Having a child has made collaboration difficult as we're rarely available at the same time—one is always parenting—but a recent opportunity changed that. A residency in Burnie (our birthplace and a once notoriously polluted city), where family generously took over child-care, meant that we were able to work side-by-side—our first one-to-one collaboration for some time. Suddenly two artists turn and face each other, reintroduced, after following each other's practices in parallel. What a wonderful thing to do.
We acquainted one another with sites of personal history, allowing ourselves to indulge in memory to discover both shared experience and singularities and then seeing it all reflected in the eyes of our son. It was an inspirational and emotional experience.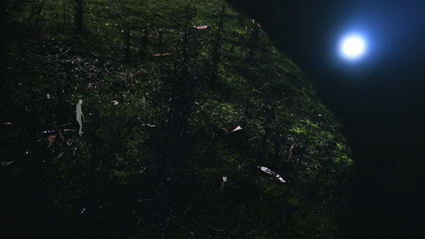 courtesy the artists
Sally Rees, Matt Warren, The Snowman
The creation of The Snowman evolved from shared memories of the local titanium processing plant that evoked mythic images of white men emerging and a stand of white trees by the roadside. An interview with an ex-employee gave further fodder to this idea and we used his voice to soundtrack an animation of a white figure moving through a landscape we created from weeds at the factory site. An invented, memorial cryptozoology.
Burnie residency blog: http://roomfiftyeight.wordpress.com/; http://www.mattwarren.com.au; http://sallyhasblog.wordpress.com
Selected articles
In Profile: Matt Warren, mumble(speak), III – real and imagined scenarios
Gail Priest
RT Profiler #6, 17 Sept, 2014
Attentively, on the edge of hearing
Andrew Harper, In A Silent Way, CAST Gallery
RealTime issue #112 Dec-Jan 2012 p43
SCAN 2003: Matt Warren & Sally Rees
Sue Moss
RealTime issue #57 Oct-Nov 2003 p31
Laboratory discoveries
Sue Moss
RealTime issue #53 Feb-March 2003 p46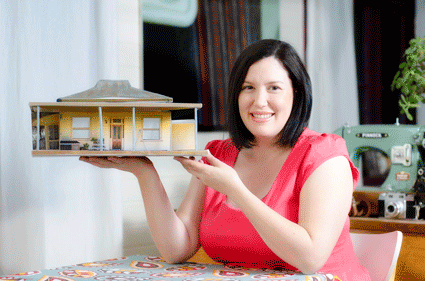 courtesy the artists
The Ronalds: 1) Shannon Ronald with an example of one of a 3D Photo-Sculpture; 2) Patrick on location at the Barmedman Mineral Pool for the In Common project
The Ronalds (Shannon & Patrick)
Patrick and I have been collaborating exclusively on projects for very close to 10 years now. We started out working as Ronald+McDonell and since getting married in 2010 we have officially become The Ronalds, even though this is not quite as amusing as our old title.
We both trained as photographers, but over the years have morphed into installation artists who work in many forms, including photo-sculpture and interactive gamification. This progression into three dimensions and the virtual world is due solely to working as a partnership, pushing and testing both our diverse skills sets and interests.
Together we challenge each other to come up with more ambitious projects and to take on commissions that we might not be brave enough to attempt as solo artists. Our work is made stronger by our differing skills and opinions, as we both need to be convinced that our decisions are the best ones for our project, and it is during our constant discussions and problem solving that our best ideas are formed.
I have always explained our working relationship as me being the editor—Patrick comes up with the most fantastically ambitious projects, and I find ways to produce the same outcome in a more achievable way without compromising the original vision.
For our current project, In Common—Public Places of the Murrumbidgee/ Riverina, we have been commissioned to create work for the Wagga Wagga Art Gallery's 40th anniversary next year. For this work we are creating hundreds of 3D photo-sculptures, small replicas of buildings throughout the region and turning the gallery into an immersive interactive environment that aims to reconstruct a region ranging 60,000 square kilometres from the Snowy Mountains to the vast plains of the Long Paddock. Our work roles in this project are defined naturally: we never need to decide who will do what, we just know. For this project Patrick has taken photographs of objects throughout the Riverina and will construct physical large-scale components and assemble any electronic parts for the final exhibition. I have created the online platform for the community input and will reconstruct Patrick's photographs into 3D paper models and design the interactivity.
Over the years we have honed our individual skills and strengths to make working together on our projects a seamless process, and I can safely say that working as part of The Ronalds is the only reason that I am still making art. (Shannon Ronald)
www.incommon.com.au, www.theronalds.com.au
Selected articles
Regional Profiles: The Ronalds
Gail Priest
RealTime issue #118 Dec-Jan 2013 p27
Place: confirmed and displaced
Ella Mudie: You Are Here, Performance Space
RealTime issue #96 April-May 2010 p44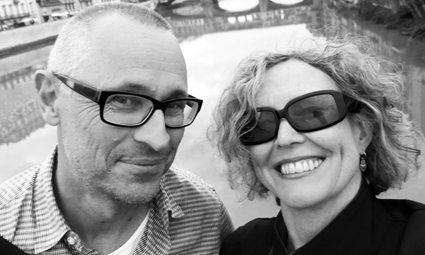 courtesy the artists
Starrs & Cmielewski
Starrs & Cmielewski
Our current project, Augmented Terrain, is an immersive audiovisual installation that re-imagines the relationship between nature and culture. We present highly detailed aerial views of Australian landscapes and waterways that we dynamically manipulate in ways that reveal their underlying fragility. Through collaboration with Slovenian artist Marco Peljhan, co-founder of C-Astral, we are using their fixed wing drone system to photograph these zones in crisis. Our vision is to configure the land as active and to imagine it being able to speak and make comment about human impacts upon it. This Creative Australia funded research project culminated in a two-week residency at the Io Myers Studio, University of NSW in partnership with Performance Space where we exhibited the first iteration of the work, documented here. The full-scale installation will be shown in 2015/16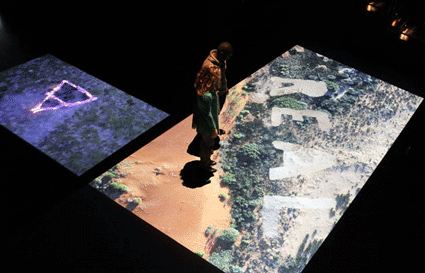 courtesy the artists
Starrs & Cmielski 1 & 2) AugmentedTerrain 3) Drone launch, Augmented Terrain in development
A comment from Lionel Bawden, artist and friend.
"It is funny observing an artist couple, with the intimacy of friendship, as it is easy to take aspects of the collaborative relationship's success for granted. I would say with Starrs and Cmielewski, it's the things that make the relationship a success that similarly bond the collaboration. Their differences create strengths and they have a deep admiration for and acceptance of one another's thinking. They can argue with the best of them, with very passionate, distinct voices, so conflict resolution really means they discuss decisions in detail. Leon and Josephine are very playful in their thinking, so they take risks together, taking the audience in interesting directions.
It is like going to their place for dinner—they usually prepare different parts of the meal separately whilst conjuring the banquet together, often using recipes they have been perfecting for a long time, which one may have originally introduced to the other. They confer and consult constantly and one will defend their decision to cook something another five minutes or throw in a little more of something, to a supportive "Okay, good, I was just checking." There is always a new piece of technology brought in to spice up the dish, like a space age barbeque on the balcony. Their dinners are amazing and over time their collaboration has become simultaneously more inventive and more relaxed."
Selected articles
Critical flows: climates & peoples
Janine Randerson: Starrs And Cmielewski, Incompatible Elements
RealTime issue #104 Aug-Sept 2011 p39
Making it internationally in media arts
Julianne Pierce: Australian media artists overseas
RealTime issue #101 Feb-March 2011 p32
Part 2 of Partner Art will appear in RT Profiler #7, 12 November 2014
RealTime issue #122 Aug-Sept 2014 pg. web
© RealTime ; for permission to reproduce apply to realtime@realtimearts.net