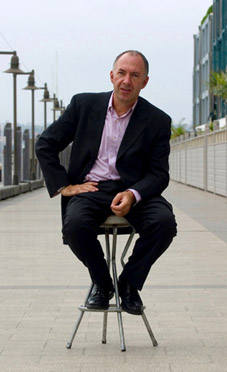 photo Wendy McDougall
Dr Charles Merewether
How did you come to be involved in the visual arts as a writer and curator?
I grew up in an environment where there was art around. In our street in Elkington, Melbourne, where my family settled after migrating from Scotland, there lived 3 artists, and as a boy I used to go around and visit their studios. The Rubbos were family friends, and my parents collected art. At university, I studied comparative literature, my first great love being Russian modernism from the 1920s. But at the same time I became increasingly involved with the visual arts, curating exhibitions, writing and editing reviews, and sitting on the committee of the George Paton Gallery [a key player in Melbourne's contemporary art scene from the mid 1970s]. So, although the love of literature has never left me, I found there was more possibility for working in different ways in the visual arts.
Latin America
Over many years, you lived in Latin America, curating several exhibitions and publishing a great deal on the art of that region. How did you develop your interest in Latin American culture?
I had always been interested in other cultures, it's a familial thing. In relation to Latin America, my interest was instigated by a friend, an anthropologist writing a book on Shamanism in Colombia. He invited me over to Colombia in about 1981. I was teaching European modernism at Sydney University but I went over during the Christmas break, and I came in touch with cultures I knew nothing about. I was struck by how incredibly literate, albeit in a totally different way, the people were. Over 3 visits, Colombia left a profound impression on me. Although I'd travelled through the Pacific, there was no comparison to my immersion in Colombia in terms of challenging Eurocentric ways of thinking. In 1984 I resigned my academic job, and went to live there. After travelling extensively through Latin America I was offered a university teaching job in Mexico. I had thrown in the towel on my original PhD—on relations between the Soviet and German avant garde—but I changed my topic to take in the work I had been doing in Latin America. My love affair with Latin America continued into the 90s, with exhibitions and a great deal of writing. Essentially I see myself as a writer who occasionally curates. I'd like to be remembered more as a writer, because I love the written word. The possibility of translating something visual into the written word is a wonderful challenge.
When I joined the Getty Research Institute as collections curator in 1994, it was partly through my work in Latin America. But because the collection is mainly European, I was increasingly drawn away from Latin America. I think that was partly a good thing—one can be ghettoised. Joining the Getty was a re-acquaintance with Europe, which was all the better for coming through the lens of working intensely on Latin America.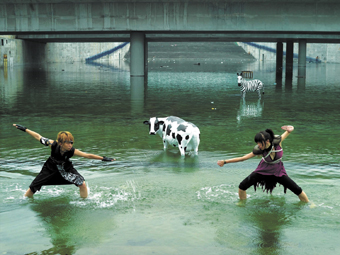 Cao Fei, Cosplayers, courtesy of the artist,
Dialogue between cultures
How do you see your current role as Biennale curator relative to your role at the Getty, a very different form of curatorial responsibility?
The relation would be that I am interested in what is now the outmoded terminology of world history and world culture, that is, the dynamics of relations between cultures. At the Getty, my ambition was not only to bring Latin America into the fold—in a manner that would retain its specificities as well as its common points with Europe—but also I increasingly worked in Japan and China. I'm convinced that these parts of the world have to be spoken about in the same breath, for example, that to understand Eastern Europe we must understand the cultural impact of East Asia. At this level, then, there is a carry over from even before the Getty, namely that interest in dialogue and understanding between cultures. I wrote the Biennale proposal on a small island just south of mainland China, and 'zones of contact' seemed to be the right thing. It's not that the concept is completely new: there have been many books and exhibitions on ideas of border crossing and hybridity [Merewether worked on Tony Bond's The Boundary Rider Sydney Biennale in 1992]. Yet the idea of the zone of contact takes it to a different point. A zone may be border or it may be something else, it may be something socio-political or it may be something more intimate, personal, or experience-based. Or it can stand for the work of art itself. That's to be liberal about the term, but I wanted a degree of flexibility.
What a biennale does
Do you think it's part of the role of the Biennale to capture the zeitgeist?
A biennale can do that, but there is no one model. It's a take on contemporary art, but it's not a survey—it shouldn't be a survey and it shouldn't be thematic either. A biennale can capture a certain dimension of contemporary cultural history. The best artists do reflect something about the times in which they live. But, do they refect the spirit of the times? Spirit is the question. Artists may have expressed something which is very personal but that also has wider resonance in their culture. Some artists are very conscious of this, adopting a reflexive relation to the world.
Who are some of the artists in the Biennale working this way?
The work of Anri Sala (Albanian living in Paris) and Mona Hatoum is very much engaged with what it means to live in a particular culture. Mona has been able to bring to bear in her work her experience of living in the West from within a Middle Eastern family. Within her practice, a very specific and localised experience—of violence, suppression or displacement—is articulated in a manner general enough to find common ground. Sala, who works in film and video, is particularly interested in specific incidents that become metaphors for something much larger in contemporary life. His video features a horse clearly suffering starvation standing at the edge of a freeway, its form lit by passing cars, its back leg rising as if in fear as each car passes. It has great poignancy in terms of the violence, in the opposition between nature and urbanisation. It's a very beautiful, poetic work, almost like a haiku.
How did you go about selecting the artists?
The concept came first, but it was based on certain artists who were key exponents of it. Clearly it's not a nation-based show like Venice, so I decided to focus on cities and regions. I also wanted to bring South East Asia back into the fold to a greater extent. In recent years, much SE Asian art has been given over to the Asia Pacific Triennial, which takes a particular, focused approach. It seemed to me that there was still a place for another approach, namely putting it in a larger context. Also I wanted to think more about certain regions, such as the Pacific and New Zealand, Eastern Europe and the Balkans. I was interested in the post 1989 generation, being of the view that where there has been great change there will probably be great art. In the Middle East, Lebanon was my starting point, with artists like Hatoum, but I built up with artists from Palestine and the Palestinian diaspora, such as Emily Jacir and Raeda Saadeh. Going back to Asia, I felt India also had to have a stronger presence. And from my recent work on the Japanese and Chinese avant garde of the 50s and 60s, I knew there was great work there. These were particular regions that I thought had not yet been well represented.
The nature of embodiment
In your view, what is it about the art object that allows for effective transaction of the difficult realities of cross-cultural contact?
It essentially comes down to art's ability to synthesise and to present a case, or to embody an idea, made in reflection. There's really no other form. Other forms are oral history and testimony, but testimony is often unbelievable. The most interesting artists are engaged in re-elaboration, rather than testimony or reliving the moment. They have the ability to create an image that embodies an experience or event, without simply documenting it. For example, a number of artists in the show, such as Marepe [Brazil] and Diango Hernandez [Cuba], work with the idea that objects embed within them cultural histories. Baudelaire and Benjamin discovered cultural histories in the junk shops of Paris and Berlin—many artists are doing the same, except they are creating the objects themselves, objects that speak of the cultural histories of colonialism or ethnic wars, or of personal familial histories.
Partaking of the world
How do you see The Sydney Biennale relative to other biennales?
I welcome the proliferation of biennales. If a city wants to do it and they think it will benefit their community in terms of fostering relations with other countries, well and good. Undoubtedly there is a national project here—the Biennale is a federally funded national institution. The public goes to national institutions: but they can come away with more than they expected. My intention has been to create as close as possible something that partakes of the world. I'm trying to make it an integrated project, to map the breadth of the participation over the breadth of Sydney. There are 15 venues, but there are no satellite shows. All the venues are part of the same event.
In other words, there's no hierarchy of venues?
There's no hierarchy in the event, no hierarchy in the work, or among the artists.
One of the wonderful things I discovered when putting the show together was how the national identity of many artists became difficult to pinpoint. How many Americans? Only 2, but 6 of the artists live in America. How many French? Only one, but she's Iranian. This is the nature of the world today, this is zones of contact. Hopefully Zones of Contact has allowed us to launch a Biennale that reflects the state of the world. It's not about globalisation but about the movement of people in a positive and negative sense, and about the plight of being seen to be a foreigner. Given the events in Cronulla last year, I'm particularly delighted at the strong Lebanese presence in the show. That many of the artists are from war torn countries reflects the nature of the world today. It's taking the argument about globalisation further.
How have you responded to the Biennale's mandate to include Australian artists?
The Biennale has a mandate, but it's not hard and fast. In my choice, I wanted to reflect different aspects of contemporary practice, such as artists who are working with the heritage of modernism (Rose Nolan); artists engaged with Aboriginal culture and cultural history (Imants Tillers); different approaches amongst Indigenous artists deeply immersed in the land (Julie Gough and Djambawa Marawili): artists working with indigent Asian culture (Savanhdary Vongpoothorn); as well as conceptual approaches (Tom Nicholson and Ruark Lewis).
What are your professional plans after this?
Don't know. I don't plan, never have. I resigned from the Getty, and you don't go back. I lived at a time in the US which saw 'the hunting of the President', the rise of the Republicans and the Christian right, and foreign policy going from one war to another. I can't say I enjoyed being there at that level. I felt like I was out of place. So I created a choice: there are many other places to be and things to do.
2006, Biennale of Sydney, International festival of Art, Zones of Contact, artistic director and curator Charles Merewether, June 8-Aug 27, www.biennaleofsydney.com.au
RealTime issue #72 April-May 2006 pg. 46
© Jacqueline Millner; for permission to reproduce apply to realtime@realtimearts.net