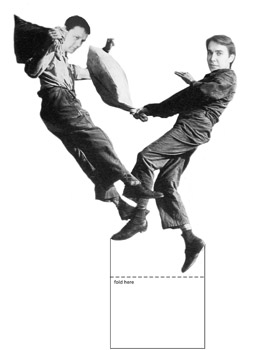 Jeff Wall and Jeff Koons, Paper Theatre Puppet, Andreas Kahre, The Linear Animal
WHAT DOES IT MEAN THAT THE CENTRE OF THE LINEAR ANIMAL IS AN EMPTY AND SILENT CIRCLE? THE UNLIT SHAPE, ABOUT EIGHT FEET ACROSS, IS CREATED BY A RING OF CLASSIC BLACK MUSIC STANDS WHOSE PLATFORMS OVERLAP. THE STANDS SUPPORT A TRACK FOR A TOY TRAIN. THE TRAIN CARS IN TURN HOLD BLACK AND WHITE PAPER CUT-OUTS OF A HANDFUL OF CHARACTERS DRAWN IN 19TH CENTURY PAPER THEATRE STYLE.
Silence and emptiness are most noticeable when surrounded by their opposites. The stage at the Western Front is not large. The Linear Animal matches that intimacy and the set is simple at the centre, full at the edges. The playing area is bordered with clusters of instruments—a viola, an aquaphone, small bells, two laptops that burble with dozens of sound files and microphones. Noise is a frequent visitor, but is never distorted or too loud.
Visually, the blank centre is cocooned by bodies and by live video animation. The four adults who use the instruments and the two teenaged "train wranglers" are dressed casually. The train needs their regular attention: the cutouts tilt under the weight of the tiny spotlights clipped to them and the cars catch on track edges. The performers move around or sit as needed and chat between scenes. The house lights are only partly dimmed because there are several points where audience members have to read aloud, or else the script discontinues itself.
The script is visible and the performers read, play music and live-process video—there is no acting. The mood is thoughtful, nostalgic, a little detached. Detachment comes through the narrator, who exists only acoustically, a digital voice with all elisions squared off. The voice lists unusual inside spaces like "the space inside appliances…the space inside vegetables." This is all leading to talk about what happens to memory as it meanders inside human interiors. Or inside a space circumscribed by a toy train that can move only along one line.
Analytical and genderless, the narrator recounts disjointed memories of early years in Bavaria, attempting to restructure childhood and a lost but still brilliantly sunny love. Love here is between a male and female, but is also love of home—if home is something more than a condition of location or nationalism, the other identities the narrative voice dissects.
Stage left, Andreas Kahre, the (Bavarian born) writer and one of two main readers, regularly interrupts the digital narrator and reads the story of the two lovers himself. As he describes Amilie and Bodo dancing and drinking, experimental animator Aleksandra Dulic creates a live-processed video show stage right with paper cut-outs identical to those travelling helplessly, and endlessly, on the toy train.
Kenneth Newby (composer and software guru) kicks in some live-processed sound, the train's clicking recognizable. Stefan Smulovitz (known for his live film scores) moans the bow across his viola. The narrator argues with itself about what renowned Vancouver photographer Jeff Wall might think about home.
David Garfinkle, the second reader, looks up. Here's one of several moments we were warned about: he needs one male and one female to read, "or we just can't go on." After a brief pause, the beautiful couple in the front row disentangle themselves from the metal legs of the chairs and they read. Carefully. Thoughtfully. A present-tense conversation between two live bodies we can see for ourselves, rather than word-conjured images; yet two bodies who were not in Bavaria decades ago.
So is Linear Animal a high tech puppet show? Is it an experiment to contrast embodied, present time against a technologically recalled past? Even when Kahre appears to improvise several times about the blend between his Bavarian childhood and this one, the tale is salted with present tense comments. The audience experiences an embellished "now" more energetically than a perforated past.
Andreas Kahre, an interdisciplinary artist, has been exploring 19th century paper cut-out theatre for several years and has been involved with the creation of more than a hundred projects with theatre, dance and music ensembles across Canada. His adept playfulness lets the story ride in emotionally linked circles even as it is being told in fragments. The story is beautiful, sad and unconcluded. Events from the past are talked around and travelled around.
But that unlit centre-stage oval remains. It may be an open channel to allow an open flow of thoughts and identities. Or it may be a closed one, the way the past is always ultimately closed off, even when we're retelling our own stories to ourselves.
The Linear Animal, Digital Paper Theatre, writer, performer Andreas Kahre, music & live sound processing Kenneth Newby, live video processing Aleksandra Dulic, reader David Garfinkle, puppeteer, train wrangler Ashlan Phoenix Gray, viola etc Stefan Smulovitz, presented by Western Front New Music, The Western Front, Vancouver, March 15, www.front.bc.ca, www.luluperformingarts.ca

RealTime issue #85 June-July 2008 pg. 42
© Meg Walker; for permission to reproduce apply to realtime@realtimearts.net