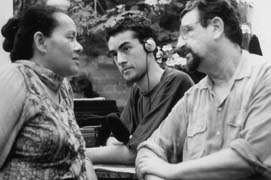 Vincent Hymann & his parents, Islands
Islands hold a particular fascination in Australian culture. We're taught at school that Australia is the largest island; we cherish the concept of island as playground. Daydream. Hayman. Lindeman. The names conjure up paradise. Many go to Fiji or Tahiti or Hawaii for their honeymoons. And further afield, what about the Greek Islands or Ibiza, colonised by post-teen partygoers from the UK and dramatised in truly the worst reality TV show so far. After watching these obnoxious Brits pucker up and puke over Spanish soil I lost the stomach for Survivor. But in the Howard universe perhaps the dreamlife of islands is changing. Christmas Island. Nauru. Not quite the same ring to these names, when tagged with 'Pacific' and 'Solution', is there? And now there's Norfolk, taking on the fortress mentality, trying to deny rights to people living with HIV and Hepatitis. Where is it going to end?
The Performance Space's recent selection of documentaries and shorts from the Pacific region, Pacific Visions, took on some of these complexities in our attitudes to island cultures—and their attitudes to us—and shifting identities within our region. While the film screenings were disappointingly attended and some of the programming seemed dated (perhaps due to filmmaking only gradually emerging from some of these areas), there were a couple of outstanding documentaries, most notably Velvet Dreams and Islands, which experimented with the documentary form, playing with the conventions of a quest narrative.
Islands was made by Amiel Courtin-Wilson (2000 Dendy Award winner for his exploration into the life of Buddhist nun and aunty Robina Courtin in Chasing Buddha) and the film's star Vincent Hymann as part of SBS's inspired Hybrid Life series. Born to a Samoan mother and German father, and living in Melbourne, Vincent is ideally situated to explore the tensions implicit in belonging to an islander culture yet growing up apart from it; a voiceover speaks Samoan: "it is not my voice you are listening to." Vincent takes on everything—cultural relativism, patronising attitudes, the conventions of docos where you trace your family history—with a gentle assault, using archival footage to particularly innovative effect, intertitled with quotes about islands from the likes of John Donne that often contradict what characters are saying. His mother talks of the shock of the new when arriving in Melbourne: so much noise, so much glass and a different smell, the "smell of the West", while Margaret Mead's ideas of Samoa—promiscuous natives in tropical paradise—are cut with Tony Barber on Sale of the Century trying to entice a contestant with a tropical holiday.
In an inventive ending, Vincent arrives to the shores of his 'island home' and the film stops, and I realise how I'm used to this just being the beginning. I have all the usual questions: do you feel whole now, now you have found your roots? But there are no answers here. Or, we have to rewind rather than fastforward to find them. It's a funny, experimental doco, implicating us all in islander stereotypes, as the Pacific Islander doll wiggles out of frame and Vincent's mother says, "turn that camera off and sit with us."
Velvet Dreams plays with some of the same stereotypes, and with us, in Tahiti. It's luscious to the point where you want to stroke the screen, as we're enveloped in a detective story (with gumshoe narration) in a quest to find a voluptuous woman: the 'dusky maiden' featured in a velvet painting found by the owner/narrator in an opshop in the States. These velvet paintings are classic kitsch, gorgeous stylised Polynesian women with long hair, hibiscus behind the ear, naked to the waist, huge breasts. Got the picture? Not only that, they are painted onto black velvet. Tactile, sexy, with the added allure of perceived vulgarity, they were often hung in men's clubs, and have acquired a kind of retro chic.
So from Seattle to New Zealand we follow an obsession, a mission, "to recognise my velvet lady", and what a great ride it is. What's exciting about the film is that it takes on the agenda of the aging, white, well meaning (but, let's face it, sexist) male and runs with it. Filmmaker Sima Urale (born in Samoa, grew up in NZ, studied film at Victorian College of the Arts), Polynesian herself, is obviously familiar with the arguments that would question the use of such women as passive, acquiescent subjects ready to fulfil male desires, but chooses to reveal such objections in interviews the narrator has, often filtered through him. The total subjectivity says more about the Western way of 'seeing' the exotic than if it had been even-handed; it's a delicious surprise. It works because the film, like the paintings, is about male fantasy. He is out to find his dusky maiden but the viewer knows that she will not be what he is looking for, 30 years on.
Lascivious, funky lounge music and slide guitars accompany our glide through parlours of Polynesian princesses. And of course these paintings have travelled, as does our narrator, coming to encapsulate everything alluring associated with the Pacific region: seductive, always available. Historian Lisa Tauoma argues that these paintings were always purely artificial: for instance, the women in these communities had short or shaved hair, rather than long flowing locks. And a velvet painter reveals his studio with a stock of body poses and naked torsos; he just painted the heads on. "If this is a construction, I like it", says our narrator, and moves on, tracking his lady's painter Charles McPhee to a bar in New Zealand, on the dance floor in a spectacular orange suit, surrounded by young women. The party animal, aged 88. But does he arrive in time to meet his velvet lady? You'll have to see the film. It's worth the detective work to track it down.
Velvet Dreams, director Sima Urale, Top Shelf Productions, Aotearoa; Islands, directors Vincent Hymann, Amiel Courtin-Wilson, Go>Group, Australia; won the The Open Channel Award for Excellence in Documentary Filmmaking at the 2001 REAL: Life on Film Festival; Pacific Visions, part of Pacific Wave 2001, curators Brent Clough, Jaunnie 'Illolahia, Margot Nash & Fiona Winning, Performance Space, Nov 13-24
RealTime issue #47 Feb-March 2002 pg. 19
© Kirsten Krauth; for permission to reproduce apply to realtime@realtimearts.net