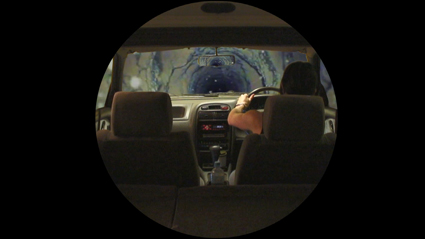 courtesy the artist
Driving to the Centre of the Earth (detail), silent HD video, Erin Coates, Yonder, PICA
THE IDEA OF YONDER AS A PLACE WAS ONCE CONCEIVED AS A SPIRITUAL REALM, A HEAVENLY PLACE, WHERE ULTIMATE AND ETERNAL VALUES WOULD BE FULLY AND IDEALLY REALISED. FOR EINSTEIN IT WAS A SUBSTITUTE FOR A RELIGIOUS HEAVEN AND THE GOAL OF THE PURSUIT OF YONDER IN LIFE WAS A SOURCE OF INNER FREEDOM.
An 'over there' which might be heaven, enlightenment, utopia or paradise, is forsaken in Yonder, an exhibition curated by Jasmin Stephens, for an interpretation resonant with the contemporaneity of a globalised 21st century world. The yonder here is political, pragmatic, virtual, actual and magical; it is about the movement of bodies and information, the incongruity of borders and the quest to revive personal memories and forgotten fragments of history. While there might be a spiritual undercurrent, its voice is overwhelmed in an exhibition where yonder as a destination appears full yet fragmented.
At the doorway to the Westend Gallery a lighting fixture (Untitled, 2012) by Jurek Wybraniec hangs from the ceiling, barely noticeable unless you look up. The lights are triggered as you enter the gallery space and again, barely noticeable unless you look back. Light shines on an empty floor, an opportunity promising a moment in the spotlight missed in the blink of an eye; yonder is elusive. Yonder is also a destination that triggers desire, to be elsewhere. This state of yearning for otherness is especially familiar to science fiction and expressed in Erin Coates' Driving to the Centre of the Earth. To the right of the Westend gallery entrance a smelly little silicon hole escapes into the subcutaneous layers of the Gallery and tunnels toward a video of the artist in her car driving to the Earth's core. This is a gem of a work that is subtle in its subversion of popular sci-fi scenarios; rather than evoking the gung-ho thrill of such an adventure, it appears rather banal—there is no sense of wonder and instead the burning yonder is approached with indifference.
Many of the works literally, if not metaphorically, extend beyond their physical manifestation in the gallery space into the world at large. Using the symbol of the shy albatross, Perdita Phillips presents Shy (dissolution + exchange) (2012-13), a work in the classic genre of mail art to picture the slow attenuation of a photocopy of said bird as it is repeatedly copied at numerous global locations around the southern rim. Phillips reels in collaborators worldwide, the resulting A4 sheets forming a grid on the wall: wedged within them is a monitor with an animation detailing the slow degradation of the image. In this work, the art is a stand-in traveller for the artist who stays at home, imagining the far flung places the albatross roams—from across the road to Africa and back home again.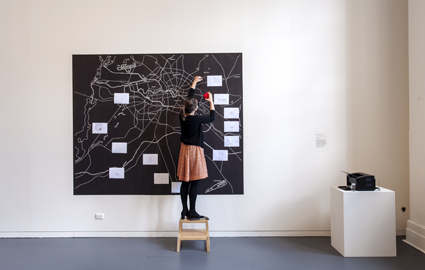 photo Bewley Shaylor
Simon Faithfull, Limbo: An Expanding Atlas of Subjectivity, 2012, digital drawing, pictured with Renae Coles, Yonder, PICA
The theme of mobility is core to the exhibition; to get to yonder it is necessary to travel—by proxy, mentally, virtually or physically. For humans, movement all too easily lends itself to mapping and Simon Faithfull in Limbo: An Expanding Atlas of Subjectivity (2012) presents a map of drawn moments encountered in his daily life, which happens to be in Berlin for the duration of the exhibition. Faithful holds claim to being one of the first artists to work with a custom-designed mobile app. The drawings are created using a PalmPilot and DAGI stylus or finger and can be delivered by website, Twitter, Facebook, RSS and iPhone. In the context of PICA they crawl out of a printer to be pinned to a vinyl map of Berlin. The cartographic symbolism of the map is overlayed with a more personal, idiosyncratic language, consisting of sundry everyday observations from afar.
The ultimate yonder with no return that we are all faced with but all too easily in denial of, at least in Western societies, is death. Questions of life and death are approached with humility in The Sound of Your Own Breathing (2010), a trio of animated shorts by Richard Lewer. Simple charcoal drawings are animated alongside the breathless voice-over of rope-skipping characters telling stories of the loss of loved ones to a boat accident, to terminal illness and a bank robbery. In a deadpan manner this series tackles the fickleness of life with the threshold to death so easily crossed.
Stories also drive the work of Heman Chong, in the form of a series of short vinyl text works, Walking Long and Hard (2004) describing walks and personal and angst-ridden existential moments in places including Berlin, Melbourne, Beijing, Linz and New Orleans. Chong has not been to all of these places. This work therefore presents a slippery play between fact and fiction, past and future, action and imagination. Being a contemporary artist today is about responding to and living within a global culture. There is little room for parochialism and this work situates itself within a world context in an elegant, succinct and evocative manner.
There is no guarantee that yonder is a satisfying destination; even though we often assume that the grass is greener, we never really know what lies over the hill if we've never been there. Both the potentially sinister and more delightful notions of yonder are addressed within this show, if not so much the spiritual or religious. The works present abstracted and uniquely contemporary, conceptual and subjective responses to the concept. The show is also notable for its diversity of media; print, animation, photography, video, painting, sculpture, mail art, drawing, custom electronics and text. Despite today's so called 'post-media' condition, perhaps this diverse selection is part of the reason for the initial sense of aesthetic dissonance. Beyond first impressions, however, close attention to the individual works does make for unique, surprising and revealing journeys to that place 'over there.'
PICA: Yonder, curator Jasmin Stephens, artists Andy Best, Erin Coates, Heman Chong, Simon Faithfull, Benjamin Forster, Tony Garifalakis and Richard Lewer, Charles Lim Yi Yong, Clare Peake, Perdita Phillips, Helen Smith, Kai Syng Tan, Warren Vance, Jurek Wybraniec; Westend Gallery, Perth, Sept 8-Oct 21
RealTime issue #112 Dec-Jan 2012 pg. 44
© Laetitia Wilson; for permission to reproduce apply to realtime@realtimearts.net