IN QUEER SCREEN'S 2007 MARDI GRAS FILM FESTIVAL, GERMAN WRITER AXEL SCHOCK WILL APPEAR AT QUEER KINO: A HISTORY OF QUEER GERMAN CINEMA. IN THAT PROGRAM SCHOCK WILL SHOW OUT IM KINO, A 110 MINUTE DOCUMENTARY HE'S MADE WITH MANUELA KAY TRACING THE PATTERNS OF GAY FILMMAKING FOR OVER 100 YEARS FROM EARLY CLASSICS TO HOLLYWOOD AND THE NEWEST GENERATION OF GAY FILMMAKERS.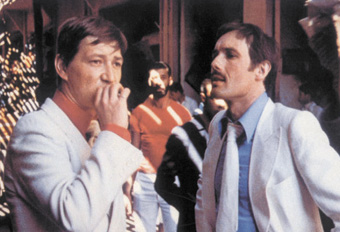 Fox and his Friends
A magazine and newspaper writer, Schock has collaborated on fun publications (in German) like The Queer Quiz Book (eg "Who was allowed to shave kd lang for the cover of Vanity Fair?"), Out! 800 Famous Lesbians, Gays & Bisexuals; Out Takes: The Encyclopedia of Lesbian and Gay Useless Knowledge, and, more to the point here, Out in the Cinema: the Lesbian & Gay Film Encyclopedia. Doubtless Schock's film will combine serious study of this history with an apt embrace of both the high and low cultural dimensions central to gay film.
The Queer Kino program of eight films includes one regarded to be the first gay feature, a drama about a concert pianist in love and blackmailed, Different from the Others (director Richard Oswald, 1919, 50 mins). The film was destroyed by the Nazis but a copy was found in 1976. Carl Dreyer's 1924 classic, Michael (79 mins), also about an artist and lost love, and possibly based on Rodin will also be screened.
There's epic lesbian campery in the shape of Madame X: An Absolute Ruler (1977, 141 mins, Ulrike Ottinger). Possibly a nice antidote to Pirates of the Caribbean male antics, "Madame X, the irresistibly cruel and uncrowned pirate ruler of the China Seas, lures women away from their ordinary lives to gather aboard the ship Orlando for adventures at sea…Yvonne Rainer plays an artist, while underground icon Tabea Blumenschein tackles both the spike-fisted dominatrix queen and the ship's leather-clad figurehead."
Rainer Werner Fassbinder's Fox and his Friends (1975, 117 mins) makes a rare cinema appearance (the Fassbinder oeuvre is to be released on DVD here) and a rare feature role for the writer-director himself in a tale of spiralling class, financial and sexual betrayal. The film was once called "The Blue Angel done in drag" and has sometimes been regarded as homophobic, but its complexity belies the charge. It's certainly one of Fassbinder's classiest looking films with cinematography by Michael Ballhaus (who has since worked extensively with Scorsese) and should be a real treat on the big screen.
Another rarity is Coming Out (Heiner Carow, 1989, 110 mins) regarded to be the first East German gay film, and the last because the Wall came down shortly after the film's making. A young man represses his attraction to his best friend, finds love with a woman, but a journey into the gay underground…
The Oswald, Dreyer and Fassbinder features and Shock's documentary history collectively make Queer Kino a seriously attractive proposition. It'll be interesting to see if Shock's encyclopaedic vision will put the German films in context. RT
Queer Kino: A History of Queer German Cinema, Chauvel Cinema, Mardi Gras Film Festival and Goethe Institut, Feb 15-March 1, www.queerscreen.com.au

RealTime issue #77 Feb-March 2007 pg. 20