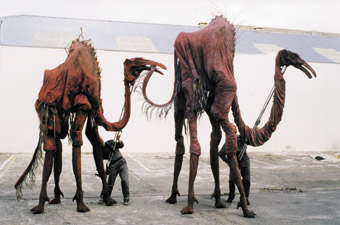 Gait Productions
Urban Safari
Adviser to the Artistic Program, Robyn Archer, and Executive Producer, Elizabeth Walsh, have rounded up another bunch of unique and often quirky talents from islands around the world for the second Ten Days on the Islandfestival. Again much of the island, its artists and general populace, will be in reach of the festival as works by locals and internationals are presented in Hobart, Launceston and 36 towns across Tasmania. Islands represented in the 2003 festival include New Zealand, the Faroe Islands, Papua New Guinea, New Caledonia, Re?union Island, Guadeloupe, Cuba, Sicily, the Greek Islands, Manhattan & Staten Islands and Venice.
Tasmanian companies in the festival are IHOS Opera (see above), Stompin Youth Dance Company (see p35) and TasDance, who will premiere new works by Nathalie Weir and Phillip Adams. Terrapin are bringing back their much admired The Dark at the Top of the Stairs puppet show for adults. The Tiny Topfea- tures magic, clowning and eccentric cabaret. Playwright Scott Rankin, like film star Errol Flynn, was born in Tasmania. Rankin's new one woman, multimedia play, Beasty Grrrlis about a South Sea Island descendant of Flynn played by Paula Arundel. Leading Australian singers and choir directors, Mara and Llew Kiek, will conduct community choirs from across the state with 300 performers in Choral Island. From the big island to the north come Circus Oz with its magnificent new 1400- seat Big Top, playing in Campbell Town, in the heart of the island, and WA's Deckchair Theatre with a show about a sig- nificant island a little further north again, Mavis Goes to Timor. The Royal New Zealand Ballet will present UK-based cho- reographer, Javier de Frutos' Milagros, set to Stravinsky's The Rite of Spring. De Frutos unsettled Sydney locals a few years back at the Gay & Lesbian Mardi Gras with some striking work.
From islands much further afield come the Cuban band Los Tres de la Habana, who kick off the festival at free outdoor parties in Hobart and Launceston. Guy Klucevsek, one of the world's greatest accordion players (a star of Archer's 1998 Adelaide Festival) will give concerts around the island and also perform with master puppeteer Dan Hurlin in award-winning The Heart of the Andes, a must-see. Also on the impressive program are singer Franc?oise Guimbert from the Re?union islands, the ensemble Al Qantarah performing medieval music from Sicily.
Jacques Martial performs Martinique- born Aimee Cesaire's Notebook of a Return to My Native Land. New Zealand's large scale street puppets, Urban Safari, looking at times like like fun versions of the creations from Walking with Dinosaurs.
There's much more, of course: exhibi- tions, installations, community and food events, all ensuring that Ten Days on the Islandadds up a thematic and cultural totali- ty that should be the envy of other Australian festivals. RT
Ten Days on the Island, March 28-April
6, www.tendaysontheisland.org
RealTime issue #53 Feb-March 2003 pg. 44
© RealTime ; for permission to reproduce apply to realtime@realtimearts.net