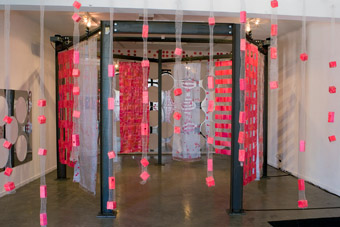 photo Margot Seares
Alistair Riddell, Belinda Jessup, Lucie Verhelst, FyberMotion (2005)
As sound is a small but growing culture it is not surprising that a significant number of the leading practitioners across the country are also the key educators. The increased interest in sound practice over the last 5-10 years is directly reflected in a developing range of courses offered through art schools, conservatoriums and arts faculties. This article surveys 6 key artists who continue to play a significant role in educating the next generation of sound artists and explores the tensions and pleasures of balancing an evolving practice and educational responsibilities.
Dr Alistair Riddell, ANU
Alistair Riddell is Lecturer in Computer Music, Centre for New Media Arts (CNMA), Australian National University (ANU). He started his full-time teaching at ANU in 2002 after working intermittently in Melbourne and the USA.
"The roles of educator and artist embrace an interplay made up of many subtle components: concepts, knowledge, experience, creativity, aspiration, inspiration and pedagogical expectations. I'd like to think that teaching benefited my practice but I think it is more in terms of being in a positive position with respect to the arts. You want to feel that when you teach or simply communicate, you inspire."
When asked how he balances personal practice and teaching Riddell replies, "The bureaucratic and teaching demands of academia are ever present. To at least attempt to ameliorate this situation I can teach what I practice and vice versa. That is certainly the mantra of ANU. However, the trick is to keep the pedagogy current and relevant…Teaching does clarify certain aspects of practice. There is nothing like teaching something in order to really learn it. You have to know what you are talking/thinking about much more than you might just by practicing it."
It appears that the pivotal point for Riddell is the nature of the interaction with the students: "Educators need to be able to remove themselves from a discussion with students up to a point and just listen to how the student expresses their ideas and concepts…I am very dependent on students providing me with feedback on contemporary aesthetics, events and technology. I actively cultivate a bilateral exchange of information on an informal basis and attempt to organise, support or participate in student events if and when the opportunity arises."
Philip Samartzis, RMIT
Now Senior Lecturer & Coordinator of Sound, School of Art, Royal Melbourne Institute of Technology (RMIT), Philip Samartzis' role gradually evolved from being an AV technician at the Phillip Institute, while studying Media Arts, into teaching. He believes this allowed him to "look at issues from both sides to implement the most effective strategies, to resolve problems…Although I had aspirations to teach formally I felt I lacked the experience to offer students the broad perspective that would benefit them. However as I moved from undergraduate to postgraduate study I was offered more and more casual teaching until a full-time position became available in the Media Arts Program at RMIT.
"I have always considered myself an artist first", declares Samartzis, "and an educator second…(T)he experience I have accumulated as an artist provides direct and longstanding benefits to my students. I often draw upon my own experiences to illustrate real world situations that are likely to confront students at different stages of their careers, such as how to secure cultural support, or how to develop publication and exhibition opportunities. However teaching has had a profound effect on my art practice. It regularly makes me question the choices that I make in the development and execution of a project, and to consider the benefits that can be derived from my work beyond my own personal aspirations."
Like Riddell, Samartzis sees the interaction with the students as key to the productive interplay of artist and educator. "Teaching allows me to test ideas upon students in order to gauge reactions, and affords the opportunity to explain concepts and/or methodologies within a critical culture centred on robust debate."
On the issue of balancing academia and practice Samartzis is positive: "I actually enjoy splitting my time between teaching and artistic commitments. I like the social discourse and academic rigour that the university provides, whilst simultaneously enjoying the time and support I receive for professional development."
Cat Hope, WAAPA, ECU
Lecturer in Music (Composition), Western Australian Academy of Performing Arts (WAAPA), Edith Cowan University, Cat Hope is a relative newcomer to full-time teaching. She has been working for over 10 years as a composer, bass player and more recently as a multimedia artist. She was invited to teach at WAAPA 2 years ago after conducting several guest lectures.
Hope sees the interplay of roles as "complex, intertwined and probably very personal…[which] is changing now with the introduction of the RQF [Research Quality Framework]. Fortunately I teach at a university that rewards artistic practice as it would research in more classic academic areas…but I think if you are passionate about a subject, students pick up on it with a similar enthusiasm and that makes it better for everyone.
"Teaching inspires my practice in that it provides facilities and access to performers that I could have only dreamt of before. I often come across interesting material while researching lectures or [finding] a focus for a student, and that leads to something new for me…Being back at university has made me look more into music, whereas I was heading in a multimedia direction…I've really got into research, it's the part of university life I relate to most. I was doing a lot of that as an independent artist but now I get paid for it."
In terms of balancing the demands of academia and creative practice Hope says, "You must make time somehow to allow yourself to grow and change…The research day for academics is becoming a thing of the past, which is a shame because that provides an invaluable window for artists." In order to sustain her practice Hope also began a PhD in Sound at RMIT when she commenced full-time teaching.
Andrew Brown, QUT Creative Industries
Andrew Brown, Senior Lecturer, Music & Sound, Creative Industries Faculty, Queensland University of Technology, turned to teaching quite quickly. "I had a teaching qualification and decided to use it after realising that touring in rock bands was not an attractive long-term option.
"It is important that teachers maintain an active artistic life, as this keeps them grounded in the experience of practice and the enjoyment of the art. It also helps keep them up to date with trends and changes in the field. It is also useful for artists to teach, because it requires them to reflect on and articulate ideas and techniques. This provides an additional clarity to practice and often assists in an artistic development with greater intention. Keeping connected to young people enthusiastic about music is also continually uplifting."
To balance practice and teaching Brown tries "to blend them where possible so they don't seem like separate activities. For example, performing as well as presenting papers at conferences, developing tutorial materials as a way of consolidating my own understanding, working collaboratively with students on artistic projects, and shifting teaching activities toward my evolving artistic interests."
Garth Paine, UWS
Garth Paine is Senior Lecturer in Music Technology, School of Communication Arts, University of Western Sydney. He turned to teaching full-time in 2002 after a 16-year career working in theatre, dance and museums with his company Activated Space. "Academia seemed like an option that allowed me to offer something from my years of experience whilst continuing to grow creatively."
Paine sees that the emphasis on research is one of the benefits of working within academia. "Creative practice is central to all my teaching and, within that, exploration, innovation and discovery are paramount. This approach makes the praxis between research/practice and teaching a real and vulnerable one. It's where students are exposed to the nature of both the practice-based and industry research I undertake and how that informs both my own practice, my passion for experimental sound, and the framework in which I position my teaching.
"Maintaining a balance is very difficult. I have used ARC funding mechanisms and industry partnerships to grow my research workload in areas that are important to my practice, hence making more space for artistically relevant research within the academy. However, most of my composing and performing is done in my own time outside the academy, even though this is, to some extent, quantifiable as research."
Julian Knowles, University of Wollongong
Prior to working in universities, Julian Knowles, Head of the School of Music & Drama, Faculty of Creative Arts, University of Wollongong, worked in post-production as a freelancer and for the ABC, spent time in England with the indie band Even as we Speak and was active in the electronic/experimental scene. In 1993 he was approached by Michael Atherton to consult on a new course being developed at the University of Western Sydney and was soon after appointed as a foundation staff member of a "contemporary focused music degree." Eventually he became Head of the School of Contemporary Arts. In 2005 he moved to the University of Wollongong. He declares, "I can honestly say it was never my intention to teach…I probably landed one of only a handful of jobs in the country which provided scope to explore my musical interests in a contemporary focused department.
"I am a strong believer that those who teach should be actively engaged in practice themselves. This positions you at the centre of new developments and stops you from becoming out-of-touch…In order to educate professionals, you need to understand the details and dynamic of professional life…It is often said that Generation Y need convincing of the authenticity of a source of knowledge, therefore it helps in this regard.
"Whilst I hate the idea of teaching as a cloning program, I do bring fresh ideas from practice into the teaching context at a fairly swift pace. In this sense, my students become part of my own enquiry into where practice is heading. This conversation keeps us all interested in what we are doing."
Knowles points out "working for an academic institution places a range of demands on you, so the 'educator' these days is also an administrator, manager, researcher, curriculum designer, community/industry links broker and so on." In order to find some balance he has "taken some radical steps in the past, including moving a step or 2 down the institutional hierarchy in order to regain some space to be a balanced practitioner/teacher/manager as opposed to a manager. I'm embarrassed to admit I have only had one bout of study leave since 1994. I have spent a lot of my career in a climate of shrinking budgets and radical organisational change." However he is keen to point out that the issue of balance is just as present outside the institution "given the state of funding in the small to medium arts sector."
Good teacher, better artist?
Clearly my interviewees think that maintaining a practice as an artist has a very positive effect on their teaching. But in the long run, is teaching integral to their practice and do they feel it makes them better artists?
For Cat Hope, the answer is no. "There are opportunities at university that could benefit me as an artist (equipment, networks, research materials and funds), but that could never make you a 'better artist.' A wage could never make someone a better artist, but it may help him or her to create and experiment. And what better way to make a wage than working in an area you love?"
Andrew Brown believes that teaching is certainly influential but not integral to being an artist. "I think that if I were wholly devoted to being an artist I may be a better artist than I am. Being a good educator is also rewarding but time consuming…I would certainly be a different artist if I was not an educator because educational interests and interaction with students have influenced the direction of my creative practice (as have my interaction with others artists and other art forms)."
Philip Samartzis differs: "I don't think I could operate as effectively as an artist without the academic community from which I have drawn much of my inspiration over such a long period of time. However in order for both my academic and creative aspirations to grow I sometimes need to escape the university environment to focus on my art practice for concentrated periods…Teaching is an integral part of my practice and I will continue to do it as long as I have the flexibility to move between my various academic and artistic commitments and interests."
Garth Paine feels that working within the academy "allows me to be more conscious of my artistic development as research, and to make time and space for that maturation…The goal of working within the academy must be for it to serve both the artist/educator and students—for the praxis to enrich both parties."
Julian Knowles thinks the roles of teacher and artist must be integrated: "Whilst universities function as de facto patrons of arts practice through the allocation of an unfunded research load, I am not comfortable with the idea of the university as a simple financial crutch. 'Teaching as survival' therefore does not appeal to me…I see it as a choice to work inside the academy and I find it stimulating to be part of a learning/research community. Teaching to me is about giving something back and interacting with young/emerging artists."
Alistair Riddell muses, "I don't think I could say that I'm a better artist for teaching. I might be a better person, whatever that means, but I'm not sure I could say that either…Perhaps, more than anything it is a process of living, a state of being lucid and exchanging with others a dynamic for living, a past for a present."
Cat Hope is currently in Singapore on an Asialink residency at Theatreworks. Philip Samartzis will present Immersion 4, improvised live collaborations between Australian and German artists at Interface: Festival of Music and Related Arts, Berlin Sept 14-Oct 6. Andrew Brown's current projects include building generative music software for children, in particular jam2jam software, http://explodingart.com, and live coding performances, http://runtime.ci.qut.edu.au/pivot/entry.php?id=8#body. Garth Paine, in collaboration with Michael Atherton, will be releasing the Parallel Lines CD through Celestial Harmonies later in 2006, and his Meterosonics project can be viewed at http://www.meterosonics.com. Julian Knowles, in collaboration with Donna Hewitt will perform at the 2006 International Computer Music Conference in New Orleans, USA November 6-11. His sound design can also be heard for Michael Riley's Poison (1991) exhibited in Sights Unseen, National Gallery of Australia until Oct 22. Alistair Riddell is presenting FyberMotion, an installation in collaboration with textile artists Belinda Jessup and Lucie Verhelst, Aug 1-11, Belconnen Gallery, Canberra.
RealTime issue #74 Aug-Sept 2006 pg. 10
© Gail Priest; for permission to reproduce apply to realtime@realtimearts.net