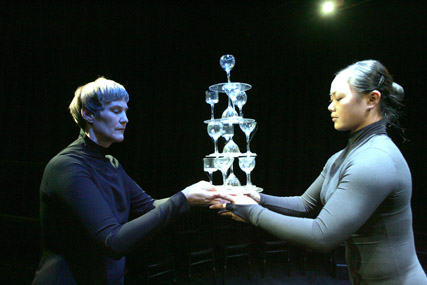 photo Alastair Muir
Rose English, Ji Maoling, Ornamental Happiness
PICTURE A JEWELLERY CASE: A SMALL CIRCULAR BOX EXPENSIVELY LINED WITH BLACK PLUSH; AND DISPLAYED IN THE CENTRE AN IRIDESCENT PIECE OF EXQUISITELY CRAFTED SPARKLE. THIS IS ORNAMENTAL HAPPINESS, THE LATEST PIECE FROM ROSE ENGLISH, WHICH PREMIERED ON THE OPENING WEEKEND OF THE 2006 LIVERPOOL BIENNIAL.
An intimate 25-minute confection for a maximum audience of 50, Ornamental Happiness, is allegedly an hors d'oeuvre for a much grander show planned for 2008, when Liverpool becomes European Capital of Culture.
Tantalised by the scent of fresh deep-pile carpeting, English's audience at the Unity Theatre queued behind velvet drapes before being ushered to the close-set rings of seating surrounding a circular podium. Here, a pair of Chinese acrobats (Ji Maoling and Lu Dan) proceeded to move through a succession of graceful contortions, poised on top of one another, whilst simultaneously balancing pyramids of cocktail glasses on the tips of outstretched toes. In each dainty glass hung a tiny bead betraying each subtle tremor in the near-stillness of their taut bodies with the shiver of delicate tinkling. From the edges of the curtains, came the occasional voices of singers, and a steady supply of ever-more vertiginous trays of glassware. For the final pose, glasses on foreheads were joined by curvy, transparent candelabra affairs clenched between the ladies' teeth, as the podium gently rotated.
Rose English herself—the performance diva once renowned for her eye-popping sequinned showgirl costumes and luxuriant eyelashes—merely padded in stockinged feet, in demure matronly black, appeared on the perimeter of the action from time to time, serving up another round of tinkly balanceables. A peripheral, unspeaking figure, she's reduced here to stagehand. English's work, whether in solo performances or extravagant theatricals, has always engaged with the thrill and artifice of spectacle. Skilled aerialists, contortionists, tango dancers and Olympic ice-skaters have swung, sashayed and swooshed around her, whilst English has spun her humorous philosophical riddles and verbal pirouettes. In her 1988 piece Walks on Water, a stuntwoman leapt dazzlingly through hoops, whilst star-of-the-show English comically lapped up the applause. "I don't want to be an acrobat anymore…I want to be a comedian", the unsung heroine had lamented. Something of the irony of Walks on Water (the star couldn't—and got wet) is mirrored in the title of Ornamental Happiness. Rapt in their concentration, the Chinese duo may provoke happiness in their audience but they fail to embody it themselves. Silenced by their shimmering mouthpieces, these women, however skilled, are 'mere ornament.'
The memorable and mesmerising sound of that delicate crystal clinking, remains beautifully haunting. Ornamental Happiness is a celebration of the purity of unadorned performance, and the capacity for its essential spirit to resonate within us; yet the gagging of its protagonists leaves a quiver of unease.
Liverpool Live (the Biennial's 4-day "festival of urban apparition") played with the notion put forward by Manray Hsu, Taiwanese co-curator of the 2006 International, of 'Archipuncture', or urban acupuncture. Live artists were scattered around the streets on the premise that strategically placed artistic interventions might help release blocked energy flows and heal the ailing body of the city.
Action Hero's To My Island offered safe passage under flyovers and across busy roads in search of 'a place to call our own': the eventually unreachable promised land of a petunia-planted traffic island. Kazuko Hokhi (Evidence for the Existence of Borrowers) wandered bewitchingly around the back corridors of the Parr St recording studios, revealing ingeniously constructed objects (including a fully functioning teaspoon guitar) made from rescued everyday detritus, as if by the tiny folk in the children's novel.
Bound by a large piece of white elastic, the groups in the care of Gustavo Ciriaco and Andrea Sonnberger were led on a long 'silent walk' through shopping malls, back alleys and cathedral gardens. Loosely confined within the elastic, the participating walkers moved amoeba-like through the city, sometimes bunched up tight in a long shuffling snake, sometimes spread amblingly wide, as the roadplan dictated. Part individual, part organism, we took up simultaneously more and less space than we're used to, jammed up close to our fellow walkers, yet distanced from the Saturday morning shoppers around us. Here Whilst We Walk (which has also trailed through Rio, Lisbon and Madrid) offered a strangely altered spatial sense of the city, a shifting dynamic of shared perception and an accentuated sense of the present.
Joshua Sofaer presented a sly critique of the 'look how many nations we've got represented' tendency of international art biennials, in a piece that stole Liverpool's Capital of Culture slogan: World in One City. Slick in his pinstriped suit, Sofaer whisked groups around the Tate Gallery in the style of the curator-led tour. With wickedly well-observed gestures and tone, he introduced each of the works in a persona reflecting the perceived nationality of the exhibiting artist. Juggling stereotypes, Sofaer morphed from voice to voice, speaking in made-up languages. His perfectly honed gibberish, sounded convincingly like Japanese, Arabic or Australian English, but was empty of all meaning; reflecting the reductive absurdity of gallery labels which present singular views of each artist's complex cultural identity.
Liverpool Live 06, A Festival of Urban Apparition, Bluecoat Arts Centre & Liverpool Biennial, Liverpool, UK, Oct 26-29
www.bluecoatartscentre.com/liverpoollive; www.biennial.com
RealTime issue #76 Dec-Jan 2006 pg. 43
© Judith Palmer; for permission to reproduce apply to realtime@realtimearts.net