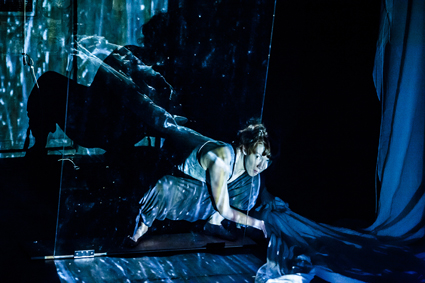 photo Sean Young
Genevieve Trace, Aurelian, produced by Metro Arts & Brisbane Festival
Brisbane has a secret, one that has been recently discovered by a swathe of performance-makers from interstate: our grand old lady Metro Arts.
She is five storeys high, with an imposing stone facade, a dilapidated lift straight out of a Raymond Chandler novel and four intimate performance spaces ranging from the black box Sue Benner Theatre to the sunlit arches of the top floor studio. If you follow her flank down the side laneway you can see the drunken graffiti of innumerable closing nights, the perilous back entrance, the trapdoor green room and the gothic fire escapes that scale up each floor, jammed with artists' studios and small arts organisations. You can feel her walls breathe, sense the sweat of practitioners who have been writing, fighting, making, rehearsing and performing here since 1980.
What makes Metro unique? Why the space still feels like a secret garden or a true artists' space is ultimately economic: Metro Arts owns its building, lock, stock and barrel. Perhaps only the recently converted Abbotsford Convent in Melbourne has such a proud history of community advocacy realised by buying a space for artists.
That they have been able to maintain this beautiful heritage building as a haven for artistic experimentation is a testament to a chain of formidable custodians: Robert Hughes, Joseph O'Connor and Sue Benner. Current CEO Liz Burcham is no exception. As sadly missed former RealTime reviewer and theatre elder Doug Leonard said in RT 103 online, Burcham's tenure has "cemented…and transformed Metro Arts (Independents) into a vital and cohesive part of the city's performance scene." Indeed, it was a bold and risky vision that Sue Benner initiated with the Independents program in 2002: giving a platform to hungry local theatremakers and playwrights who felt themselves systemically locked out of a mainstream Australian theatre then dominated by the middle-class minutiae of David Williamson's naturalism.
Under Burcham's strategic and canny direction, Metro has grown into a producing hub, a host venue for the Brisbane Festival and, probably its most significant but amorphous shift, moving from a place at the fringes of professional theatre culture to become the true incubator, the gestation space for the city's performance-makers. Their closest cousin is probably Arts House in Melbourne, and it is not without significance that this is one of Metro's key partners in 2014, the first program since it announced the close of the Independents in 2013.
I stopped by to talk with CEO Liz Burcham and Programming Manager Kieran Swann about their 2014 program and their sense of where the "lean and nimble" Metro saw itself "filling the gaps" in the rapidly changing theatre ecology here in Brisbane and across the country.
Metro has a heady manifesto. Burcham suggests three major goals: placing artists in creative control, providing them with an open platform to experiment, particularly with process and developing their practice, while simultaneously supporting them to develop strategies to make themselves sustainable. This means that Metro provides both dramaturgical or artistic support, but also a lot of practical services: creative development and rehearsal space, office space, access to a fully functional venue with an audience, an ongoing program and a production hub, which can provide support for artists to on-sell, tour or re-package their work. Burcham calls this "getting artists to the market," or at the very least making sure that they don't miss the market. Metro looks to "invest" in artists and to build deep and ongoing relationships. Indeed, Kieran Swann—live artist, designer and performance-maker—is an alumnus of Metro's programs.
For both Burcham and Swann, the pivotal change for Metro in the last years has been a result of the success of the independent agenda. In the fluid and aspirational Australian performance sector most working artists now have an independent practice. Burcham's driving question was whether the word 'independent' was still "serving artists" and whether a more "flexible" and "responsive" platform was needed. While many in the local scene mourn the end of the Independents program as a visible marker or entry point for new work, Burcham is right to acknowledge that Metro's monopoly has been supplanted by other pathways into professional production, like the Indie seasons hosted by mainstage companies and for younger artists by the burgeoning festival platforms like Next Wave, FOLA, Anywhere Theatre Festival and This Is Not Art.
Metro has shifted to compete in this new context by focusing on co-presenting with the Arts House inaugural Festival of Live Art (Julie Vulcan's Drift), Next Wave (The Dokboki Box, Altertruism Demos, Lesser Gods and Blak'tism) and Queensland Theatre Company (Benjamin Schostakowski's A Tribute of Sorts). There's also a producing partnership for a HotHouse season of The Escapists' Packed (see p29). The creative development program includes works ranging from Melbourne's MKA to Tasmanian artist Cynthia Foster and local physical theatremakers Caroline Dunphy, Kate Lee and Jo Thomas.
What is arresting about the list of artists supported by Metro programs in 2014 is how many of them are based interstate. Burcham says that they have been delighted with the national interest from artists who value the organic and artist-centric space and the focus on process-based risk.
Indeed, this artistic rhetoric reflects a curatorial shift towards contemporary performance, live art and the curious spaces that lie between theatre and the visual arts. For me, there is a genuine excitement about this prospect as for many years the visual arts program and the theatre program at Metro were like divorced parents in an uneasy custody agreement. The visual artists would huddle in their fourth floor studios away from the noisy parakeets, the theatremakers who dominated the bottom floors and their public performance spaces. The challenge for Metro, I think, is to steer the new path while holding onto the deeply felt traditions of theatremaking and playwright development that have made such a contribution to the city's cultural life.
Metro Arts, Brisbane, www.metroarts.com.au
To read about Aurelian (pictured) see RT118
RealTime issue #120 April-May 2014 pg. 44
© Kathryn Kelly; for permission to reproduce apply to realtime@realtimearts.net