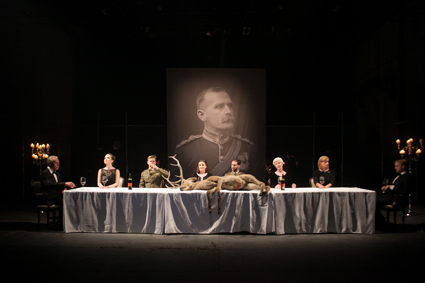 photo Louis Dillon-Savage
Owen Wingrave, Sydney Chamber Opera
Sydney Chamber Opera have successfully resuscitated Benjamin Britten's TV opera Owen Wingrave (1971) by transposing it to the stage for an Australian audience.
For an opera with a radical message, the original (endure it if you can on YouTube) was sluggish and conservatively realised. Conductor Jack Symond's pacing of David Matthew's 2007 adroit chamber orchestration is brisk, intensely dramatic and lyrical where needs be, and all the performances are strong—including a schoolboy choir and a male movement ensemble whose numbers increase our sense of the scale of the issues the opera debates.
Director Imara Savage deftly exploits Karen Woods' spacious wire-fenced stage, literally an army barracks—replete with a troop of vigorously exercising soldiers (movement director Johanna Puglisi)—and symbolically a psychological prison for the conscientious objector son of a high caste military family. Baritone Morgan Pearse conveys Owen's moral steadfastness with power and subtlety as he withstands his family's rejection but finally and fatally weakens in the onslaught from his fiancé Kate—mezzo-soprano Emily Edmonds in a finely articulated, passionate performance.
Staging and direction avoid plain realism—the singing is often direct to the audience, solos are sometimes spotlit, a dead stag (a visual borrow from Benedict Andrew's AO production of Figaro?) lies across a banquet table, a lamenting boys choir clings to the fence, peering at a fraught adult world, and the flown-in portrait of Owen's forbear is dauntingly huge and mistily framed. Above all there is a sense of man up against a tyrannically choreographed world, right down to the steady passage across the stage of the ghost of the bloodied child whose death long ago triggered Owen's rejection of violence.
Britten's music is more accessible than expected while Myfanwy Piper's spare libretto is tautly dramatic, although its Edwardian diction rubs awkwardly against the semi-contemporary grain of the production. That aside, Sydney Chamber Opera's Owen Wingrave was an engrossing and enlightening experience. Director Imara Savage corralled large forces while securing nuanced performances from individual singers, Jack Symonds, as ever, conducted incisively and responsively and the company once again excelled at bringing contemporary chamber opera to a welcoming audience.
Another Sydney-based opera company is Harbour City Opera, whose production of Puccini's Suor Angelica was engagingly sung if too often one-dimensionally acted (easy to do in this work above others). The uncluttered staging heightened and extended the Paddington Uniting Church altar space out into the audience (seated on three sides) creating an intimate ambience for powerful singing from Sarah Walker (Suor Angelica), Eva Kong (Suor Genevieve) and Sarah Sweeting (The Monitor) in particular. Although the piano score (finely played by Sharolyn Kimmorley) could not do justice to Puccini's long-lined orchestral plangency, the enveloping flow of the choral performance was memorable. A theatrical highlight came in the form of a statue of the Virgin, high above us, slowly turning her back on Suor Angelica for attempting suicide. The ending that followed was however as sweetly and fancifully redemptive as you'd expect. Next to Owen Wingrave, Suor Angelica is morally slight, and compared with Sydney Chamber Opera's bold choices and approach, Harbour City Opera is clearly cautious. However, the opportunities it gave its all-female cast were many and deserved.
Sydney Chamber Opera, Owen Wingrave, composer Benjamin Britten, director Imara Savage, conductor Jack Symonds, Carriageworks, Sydney, 3, 5, 7, 9, 10 Aug; Harbour City Opera, Suor Angelica, composer Giacomo Puccini, director Andy Morton, musical director Sharolyn Kimmorley, design Adrienn Lord, Paddington Uniting Church, Sydney, 25, 26 Sept
RealTime issue #117 Oct-Nov 2013 pg. 41
© Keith Gallasch; for permission to reproduce apply to realtime@realtimearts.net