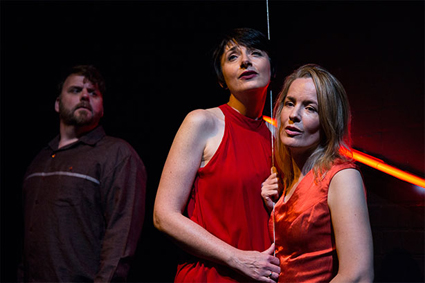 photo Lorna Sim
David Rogers-Smith, Judith Dodsworth, Rachael Duncan, From a Black Sky
From A Black Sky is a contemporary opera about inflamed passions coming to crisis during the 2003 Canberra bushfires. Lust (too much heat) versus cowardice and inertia (too little of it) play out against the caustic burn of shame, guilt and wounded pride. It's not revealing too much to say that, as the firestorms approach, a married woman seduces a man's wife then goads him to suicidal self-sacrifice.
Librettist (Helen Nourse) and composer (Sandra France) have been anxious to make the work melodically and dramatically accessible. It focuses on two couples in a domestic Canberra setting (Saturday markets, retrenchments, unpaid bills, a dithering bureaucracy), yet the score itself raises the stakes and asks significant questions of what contemporary opera is and aims to achieve. Once voices are engaged so powerfully it's not long before one enters the mythic realm.
The prologue is scored in a lush tonal landscape (with echoes of Ross Edwards) which nonetheless fails to create a specific geography. This matters by the opera's end, as to my mind (and in the music) the tragedy of, and havoc created by fire, transcends individual lives.
That said, soloist characterizations are strong. In Act 1, Amelia and David's insistent upper-register As and B flats accentuate his anxiety at being retrenched (to which he can't openly admit) and her anger at being held back from imminent success. Rippling piano triplet arpeggios underscore their full-throated distress. If Othello is a tragedy about a handkerchief, this is one which turns on a silk dress she wants to market but he won't finance.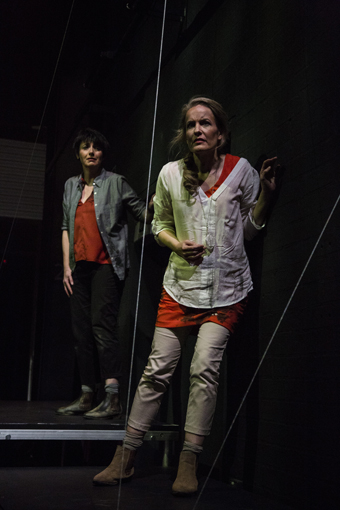 photo Lorna Sim
Judith Dodsworth, Rachael Duncan, From a Black Sky
Sophie's private seduction of Amelia is, by contrast, scored in mid-range, close-stepped notes above a low, brooding ostenato. She is as intent on her prey as she is later in emasculating Amelia's husband. The women's love scene perhaps needed more hunger in its staging; nonetheless, as the firestorm encroaches on the township and David returns, suspicious of the pair, Sophie's emasculation of him in vocal leaps up and down flattened and sharpened 7ths and 2nds is truly dangerous. She goads him to stay behind—is he a man or not?—whilst the town begins to burn. This is exactly the thing opera does best: weaknesses exposed, greatness by chance—magnified by circumstance. And David Rogers Smith dies beautifully (in lighting designer Gillian Schwab's impressive fire).
Curiously, this opera by two women becomes a drama about a man's self-worth, but I am unsure whether this is or should be the central theme. The epilogue exposes how unevenly this is worked through: the other male protagonist is strangely passive just when his own rage, loss or sense of betrayal would surely come to the fore.
Elsewhere, however, I am aware of a tender, feminine register. The chorus' post-firestorm wailing is extremely delicate, and the comfort meted out by teenagers ("Here, use my phone—ring anyone you want to") still moves me to tears. Composer and librettist clearly have a delicate partnership and can hold emotional truths within and beneath the blaze demanded by the opera form.
Overall, weaknesses are few, if significant. The racy red motor scooter raffled in the opening scene—an attractor to Sophie's wealth and manipulative ego, and foil for David who cannot abide the frivolity—needs both stronger staging and longer focus within the score, Sophie perhaps sitting astride the scooter for a whole set piece aria, giving time to set the characterisations, tension and tone. Similarly, the necklace Sophie buys for Amelia, which David can't afford, is a potent symbol of Amelia's needs, David's weakness and Sophie's power, glossed over in too truncated a form. I read the libretto and score before attending so knew what to look for: others in the audience reported being quite lost.
Some phrases do not carry well from the stage: for example, "I have no urge to stay" is a curiously literary line, veiling rather than demonstrating Amelia's conflicting impulses; and Tony's "He was a gutsy man" fails to convey admiration for his mate. The phrase somehow implodes back into the singer's body, as does "Weston Creek" whose short vowels and clipped consonants do not render a sense of a place we necessarily want to see survive. Perhaps quite critically, the vacuous, gutless bureaucrats who can't make a decision when it's most needed would be more effective as a single character, providing dramatic counterpoint and highlighting the ironic, brave folly of David's lone sacrifice. As in life, 'faceless' characters don't really engage.
These are points crying out for adjustment, but the impact of the whole is to make you want it to be seen again, and not just by Canberra audiences. Although archival ABC radio voiceovers certainly make locals shiver (talk in the foyer redolent of 'where we were' on that fateful day), the power of France and Nourse's work transcends the locale. It is everyman, every woman, any time, every possible fire.
Canberra 100: From A Black Sky, composer Sandra France, librettist Helen Nourse, director Caroline Stacey, conductor, musical director David Kram, designer Christiane Nowak, lighting Gillian Schwab, sound Seth Edwards-Ellis, performer Judith Dodsworth, Don Bemrose, Rachael Duncan, David Rogers Smith, Vocal Ensemble from Erindale College and Arrawang Primary School Chorus; The Street Theatre, Canberra, 20-22 Sept
RealTime issue #117 Oct-Nov 2013 pg. web
© Zsuzsanna Soboslay; for permission to reproduce apply to realtime@realtimearts.net