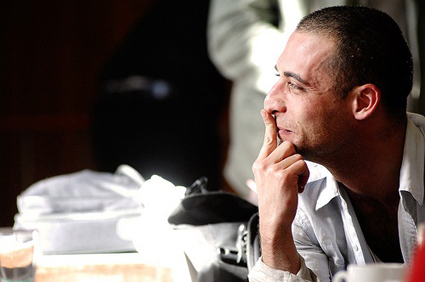 courtesy the artist
Dario Vacirca
At the back of a gravel car park in suburban Adelaide, sandwiched between a church and high-density housing, sits an unremarkable outbuilding in which one of the city's most distinctive arts organisations, Kneehigh Puppets, has taken root. Known for its giant puppets and large-scale, spectacle-based public engagement, the nearly 20-year-old company has carved out a colourful niche in multidisciplinary Community Cultural Development practice through successive local, regional, national and international commissions.
Now rebranded as Open Space, the company has a new artistic director and CEO, Dario Vacirca, who was appointed the successor to long-serving AD Tony Hannan in 2012. Conceptually, the transition has been evolutionary rather than revolutionary, broadening the company's practice—the only curatorial criterion is that the work must be outdoor-based and engage open space—and deepening both its relationship with innovative practitioners and anti-privatisation politics as emblematised by the Occupy movement.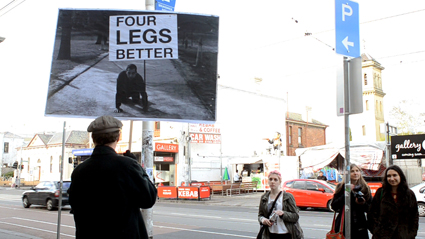 Chloe Billebault
Quadrupedism Saves!, Open Space, director Dario Vacirca*
Art is political
Politics are on everybody's mind when I meet Vacirca for coffee. Tony Abbott's first budget has just come down, slashing $60 million from arts and cultural development funding, another $68 million from Screen Australia and the Australia Council. "In the short term," says Vacirca, "we'll cope. In the long term, I get extremely concerned about what our government and neoliberal governments around the world are trying to do to more socially responsible and compassionate human activities of which the arts is at the fore. I worry about what those polices are really going to do to our practice and hence our human relationships in the long-term."
It is, I put it to Vacirca, a vexed time for practitioners whose work is predicated not just on government funding but also on access to public space. Ours is an era marked by the retreat of the public sphere and the ascendancy of state and corporate interests in shaping the aesthetics and power dynamics of our common spaces. The draconian policing of these spaces to protect private interests is a global and intensifying phenomenon, exemplified in this country by the anti-protest laws which came into effect in Victoria earlier this year. As I write this, legislation is being debated in the Tasmanian parliament that could result in non-violent protestors facing mandatory imprisonment. Says Vacirca, "Our public spaces and our public sector supports are both disappearing. They are being supplanted by big secret activity and pop up spaces. All this language is around how real estate is being managed by corporates and by government. There is always a monetary transaction. It's about deals between institutions and corporations."
I wonder aloud if Open Space's artists could thrive without government funding, outside of this increasingly closed system. "No fucking way!" is his emphatic reply. "One of the main things I've been talking about a lot in terms of the transition from Kneehigh to Open Space is that Open Space is not a market-driven organisation. It's artist- and collaborator-driven. In order for us to be non-reliant on government support we would need to slowly develop back towards a more market-driven enterprise. But I don't think that markets alone are strong enough to evolve the economy, let alone artistic engagement."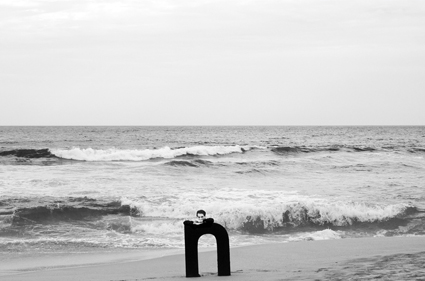 courtesy the artist
Terror of N, Belle Bassin, Open Space associate artist, (pictured Dario Varirca)
New programming paradigms
Open Space's model consists of two discrete but interconnected "realms": the core artistic program, under the moniker Shifting/Renaming, and the artistic associate (AA) program. The former, closer in spirit to the company's roots, encompasses work that is both large-scale and long-term, building on extant relationships with artists, communities and organisations in Australia and overseas. At the moment, however, the company's focus is on the AAs, the group of interdependent artists—Belle Bassin, Emma Beech, Nadia Cusimano, Paul Gazzola, Sarah Neville, Fee Plumley and Lukus Robbins—whose small-scale CCD projects will define Open Space's first phase.
Says Vacirca, "It's really up to the AAs to decide how they want to use the program—what they want to give to it, how much they want back. It's an energy exchange." The group will engage through quarterly meetings, skill-sharing workshops and a continuing physical and online interchange of skills, resources and ideas. "It's an open space for critical dialogue. It's about making the artist feel supported and secure but it's also about challenging them. If somebody comes to me and they have a dance work that they want to do I will try and work with them to turn it into not just a dance work but also a video work and maybe a participatory ping-pong show—if it works conceptually!"
The most high profile of the core artistic program's current projects is Fee Plumley's opensourcehome, an iteration of her reallybigroadtrip project, a government- and crowd-funded experiment in "nomadic creative digital culture" which takes place on a roving big red bus and across a multiplicity of online platforms. For the duration of opensourcehome, the bus, called homeJames, will be moored at various shared space locations around Adelaide, subject to the application of move-on powers. Other projects, still gestational, include Gina, a large-scale puppet work that will see the Australian mining magnate's infamous poem "Our Future" transformed into a libretto, and an arts lab and series of supported residencies on a sheep station in the remote Flinders Rangers.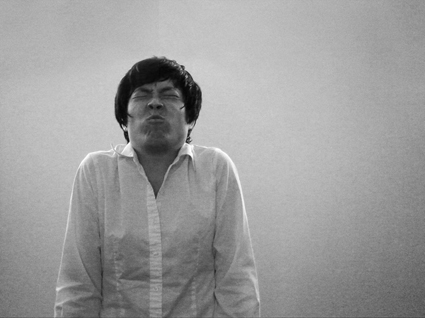 photo Dario Vacirca
From Winter To Window, Open Space & USD (Korea), director Dario Vacirca*
Uncategorical
Vacirca has been making collaborative, community-focused, cross-disciplinary work of this kind for years, but a sense of what has been lost clearly haunts him—the relatively high levels of state-based funding which existed 20 years ago and the ability and willingness of arts bodies to talk directly to artists and to develop a language around the arts that is responsive to continuously evolving and emerging forms. "What I'm trying to do with Open Space," he tells me, "is make it a little bit fairer for some of the artists who fall into the gaps between those traditional categories—literature, theatre, dance etc. In the next couple of years we'll see more artists coming in who won't even be able to say what art form they are and my aim is to accommodate those artists and those kinds of conversations. As soon as it is named or understood by the economic powers, whoever they are, it is gone."
Open Space, Marden, Adelaide, Fee Plumley's opensourcehome will take place in front of the Queens Theatre, 22-24 July including the Open Space Launch Party; http://open-space.org.au
Image background
*2. A quick response public intervention artwork as part of What Does the World Need to Hear by Alex Desebrock in Brunswick, Melb. Vacirca performed via proxy from Adelaide and used a remix of Brother Theodore's rant on the arrogance of bipedalism in a protest against all levels of institutionalism dictating the framework around our search for truth. (the other side of the sign said – Science is not science)
*4. From Winter to Window is a performance for public private spaces using new and old technologies to create an uncanny experience for multiple individuals simultaneously. Exploring intergenerational trauma through war time slavery. Created for the Asian and Australian touring circuit, this is a collaboration of Open Space with USD and Ludi (Korea), and Well (Vic). Open Space hosted USD for one month where we underwent first stage development. The work is now poised for further development in October 2014, seeking full presentation between Aust and Korea in 2015.
RealTime issue #121 June-July 2014 pg. 23b
© Ben Brooker; for permission to reproduce apply to realtime@realtimearts.net