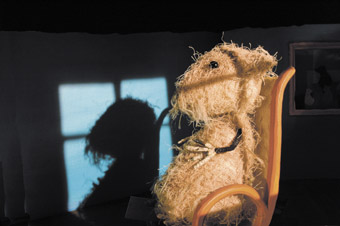 photo Jan Rüsz
Goodbye Mr Muffin, Teater Refleksion and Teatret De Røde Heste
ASSITEJ 08 [REALTIME 83, P56] IS AN INTERNATIONAL PERFORMANCE FESTIVAL FOR YOUNG PEOPLE, TO BE HELD THIS YEAR IN ADELAIDE. I ASK JASON CROSS, THE FESTIVAL DIRECTOR, ABOUT THE ORIGINS OF HIS PASSION FOR PERFORMANCE. HE DESCRIBES HIMSELF AS VERY FORTUNATE THAT HIS MOTHER HAD WORKED AS A PROFESSIONAL DANCER (WITH HIS FATHER) AND TEACHER BEFORE COMING TO AUSTRALIA IN 1969. CROSS DANCED FROM FIVE YEARS OF AGE UNTIL HE WAS 22, IN CLASSICAL, JAZZ AND CONTEMPORARY DANCE. BUT IT WAS HELEN SIMONDSON AT MELBOURNE'S ST MARTIN'S YOUTH THEATRE WHO INTRODUCED CROSS AND HIS PEERS TO CONTEMPORARY PERFORMANCE.
The next stage in Cross' evolution as theatre artist was unconventional and anticipated a career in the independent scene: "Through St Martin's I started working as a child actor doing soapies on TV and some film work. I found it boring a lot of the time. For four to five years I applied to NIDA, VCA and WAAPA and didn't get in. But at the same time, in the early 1990s, I began a relationship with Anthill Theatre, working with Jean-Pierre Mignon. Anthill was thriving. I was only 19-20 and it propelled me forwards. They introduced me to the likes of Beckett, to various philosophies and ways of thinking. I was encouraged by Jean-Pierre to direct and to make work independently. From the Anthill experience I went on to make several works with David Young [subsequently director of Aphids]; we'd met at St Martins when I was 15 or 16."
In 1995, Cross, Simon Woodward (whom he'd worked with in the performance company Primary Source) and Tomek Koman began to form 5 Angry Men—the result, he says, of "the Melbourne Festival being prepared to commission work, through Patrick Cronin (then with The Men Who Knew Too Much). It was a fantastic period. We had a studio. None of us had financial responsibilities. We were working from a very conceptual framework in terms of where ideas were developing from and mainly looking at object and sculptural based work in terms of performing the physical action that comes from that object. In particular, we were looking at religious iconography that could be reinterpreted so that it was familiar to the general community, in public spaces."
Once formed, "5 Angry Men were quickly in Poland in 1995 putting together a new work. We spent two months working together and mucking around at what was called the Krakow Experimental Art Festival of the World. And that led to a whole series of experiences in terms of touring and traveling and working in Europe." The company folded in 2002: "It took probably two years to mourn. It sounds romantic but there was really a sense of engagement with those people and the rigour that went with the conversations we had."
The positive experience of being encouraged by Melbourne's international arts festival gave Cross his first sense of the creative power of festival directorship. In 2002, he took on contract jobs for community based festivals: "I produced the Tet Festivals for Melbourne's Richmond Vietnamese community. Then, the Big West Festival job came up and with my partner Victoria Raywood (a member too of 5 Angry Men) applied for it as a job-share with the notion of being co-artistic directors. Victoria has a strong administrative bent."
In 2002 the couple produced Rice Paddies for the 2002 Melbourne Festival: "We'd been travelling in South-East Asia and Victoria envisaged the landscape within the urban Australian context of the rice paddy…That was an interesting period when the festivals had the capacity, desire and willingness to commission public art works. In the late 90s and into the early 2000s, we were receiving significant commissions of $50,000 to $70,000. Rice Paddies cost $75,000, but now for young artists, or any artist, attempting to raise $150,000—which is really a minimum sort of budget for a public art work—it's not going to happen. That area of practice, of installation performance, object public art, has been completely decimated in the last 10 years. And there's no peer group any longer."
Cross co-directed Big West, in Melbourne's western suburbs, three times: "It's a biennial, multi-artform festival with a lot of commissioning. And I was fortunate also during that time to be a peer on the Victoria Commissions panel, funding large visual arts projects as well as performance projects. And then Victoria and I just decided to throw it all up in the air and look at other opportunities. And the ASSITEJ job came up. I'd never made theatre for young people, never programmed it, but I thought about it in terms of public art and the politics around access and my own personal background, dancing and acting as a young person.
"I looked at the historical background to performance and theatre for young audiences in Australia and internationally. It's a fantastic story with an interesting political history in terms of the Communist Party of Australia and the significance of propaganda and the way that young people were a part of that whole movement. And then, of course, the growth of theatre-in-education in the 1960s, particularly in Canada and Germany, England and Australia. And then, for me, the ASSITEJ scenario was about learning about an international organisation and the differences in aesthetics from one country to the next, one region to the next. I came to the ASSITEJ Festival with the perspective that art is made for an audience that can be of any age, some of it suitable for young audiences. I really take a position that theatre doesn't necessarily in all cases need to be made for young audiences in order for it to be for them."
This explains why Cross has included shows like KAGE's Headlock and others not originally staged for young audiences: "Because of my background, I really take the position that ASSITEJ is about artists making theatre for young audiences and in other cases it's just artists making theatre. I try to avoid the use of the term 'appropriate.' One person's notion of what is acceptable for a young audience can be completely different from another's."
The ASSITEJ printed program offers an age-o-meter to help parents and teachers gauge which shows will suit their charges. It's interesting, says Cross, "the conversations with the companies about the age grouping has not necessarily married up with our expectation of what age group that particular work's suited to. In a lot of cases, we've actually brought the ages down. It's an exciting and eclectic program that asks where theatre for young audiences is going, and what are the possibilities."
Programming a diversity of performance forms and styles was central to Cross' programming: "And from a geographic perspective, the aesthetic styles of theatre for young audiences are so distinctly different, from Asia to Australia to Europe to North America. It's critical to reflect those differences. I'm not suggesting that one is better or worse than the other. It's simply about observing and discussing with our international peers what we do. There's a tendency particularly from a European perspective to see the Central European aesthetic as being the 'right' one. And I think that's important to debate in the festival."
There's a strong Indigenous strand in Cross' program: The Voyage from Okinawa, Never Say Die from Thailand and the Korean production, Gamoonjang Baby, which is presumably partly informed by traditional arts practice as well. "That was the other consideration: looking at, not necessarily the origins of, say, a theatre for young audiences but certainly considering this idea that from an Australian Indigenous perspective, theatre for young audiences is an absurd idea because the idea of dance and song within an Indigenous culture is part of everyday life."
I ask Cross how much of the festival is about the lives of young people. We know from the UN that there are millions of children in crisis around the world. There are certainly works in ASSITEJ 2008 that view the world from a young person's point of view: the Arab-Hebrew Theater of Jaffa, whose play focuses on young people engaged in war; or Urban Myth's Curfew about social constraints on the young; Arena's Girl Who Cried Wolf or Zeal's The Bridge. Cross adds Headlock—a young man's first day in prison. "I'm not sure we need another play about sexual abuse but it comes down to finding points of empathy and similar experience, which young people can identify with. I don't think that young people necessarily have the desire to see themselves. But I think they require characteristics that they are familiar with from their own experiences in the lives they've led to date. And I think that works like Surprise, designed for children as young as two by Dschungel Wien from Austria, or by companies like Adelaide's Patch Theatre are good examples.
"To some people it's an absurd notion to create a work for a two-year-old. But these are dramaturgical decisions, the kind Barrie Kosky spoke about at the Performing Arts Market recently. I think the success of artists like Rose Myers [formerly director of Arena Theatre and now at Windmill], Little Patch's Dave Brown, playwright Angela Betzien and the director of Surprise, Stephan Rabi, comes from their willingness to investigate, to take risks, to fail before reaching an understanding as to how to re-engage yourself as an adult, to find languages that are not for you but for someone who's in many cases 30 or 40 years younger than you.
"The play Surprise is just extraordinary. It works from one conceptual notion—the surprise, which a two-year old is constantly engaged with. Around every corner, everything in front of them is new. It's ridiculous that as adults we forget it. The precision of this work is in identifying that one concept and pursuing it without being distracted by adult paradigms. That's the success of many of the works in the ASSITEJ program."
The productions in the festival range considerably in scale, partly to address the differences between practices: "We have a work like Nyet Nyet's Picnic from Snuff Puppets working with Indigenous artists. This is a large-scale stadium-like performance, a fantastic work for this program because it really sets up the festival as presenting not only a process of collaboration but a work of a scale that I think deserves to be presented in Australia right now. And then we go from a 1000-seat auditorium scenario to miniature works for audiences of 50. This gives some sense of the desire I have for, say, my children (I have two) to have a broad range of experiences that allow them to engage with points of difference. For Nyet Nyet's Picnic, we've been encouraging large group bookings so that there are large numbers of people sharing that experience, knowing a story collectively, rather than as just a family unit."
Goodbye Mr Muffin by Teater Refleksion and Teatret De Røde Heste from Denmark is designed for a very small audience. "Essentially it's about death, exploring our sense of immortality and it's for 6-year olds and up. This is about an intimate relationship between the child and a significant person in their life—a parent or grandparent. The performance is about the conversation. It asks each audience member, six or 66, what they think about death. Is it something that you look forward to, something you find frightening?"
Cross is also director of the 2009 Come Out Festival: "Come Out is fantastic. It's a multi artform festival. It's been principally led by performing arts and I think that needs to be challenged. Younger people are essentially engaged with far more diverse media platforms in the experiencing and making of art. I think they need to engage with the professional end of this making so that they have a sense of what they're going to aspire to, because they're going to quickly overtake most of us. We're particularly investigating interactive installation based work."
The day after meeting Jason Cross I interview Marius von Mayenburg, the writer of Moving Target for Malthouse, premiered in the Adelaide Festival [see interview, and review]. The conversation continues about a child's perspective on the world and the challenge for adults, as Cross puts it, "to re-engage" with a perspective that was, after all, once their own. ASSITEJ 2008 and Moving Target are odd but apt and necessary companions.
16th World Congress & Performing Arts Festival for Young People, May 9-18; www.assitej2008.com.au
RealTime issue #84 April-May 2008 pg. 14
© Keith Gallasch; for permission to reproduce apply to realtime@realtimearts.net