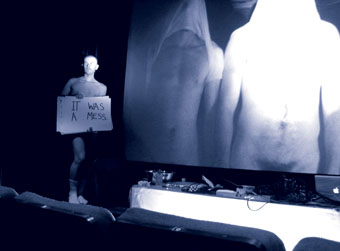 photo Peter Heydrich
Jason Sweeney, Peculiar
"Gotta keep an open mind, don'tcha?" whispers the guy sitting next to me as a woman in the front row assists the show's naked solo performer into his snug-fitting Calvin Klein boxers.
A fug of nervous amusement hangs over the audience as performer Jason Sweeney recites masturbatory fantasies about having sex with the brother he never had. Yep. Open mind. Wide open.
Showing as part of Adelaide's FEAST gay and lesbian cultural arts festival, Peculiar is the performance incarnation of mixed media experiments designed collaboratively by sound-maker and performer Sweeney, Martin Potter (video image maker and sound designer for Sample People) and Ingrid Voorendt, a director of movement-based theatre.
As if performing to a live version of the non-existent album, Sweeney presents a series of short mixed media compositions or "tracks", manifesting in a hybrid of spoken word, video, musical theatrics and live sound effects. Throughout each track, he interacts with the audience, flitting between them and a trestle table laden with props. Amidst bottles of wine, delay pedals, a portable turntable and a selection of queer porn magazines, Sweeney encounters camp in some dark and intimate locations, be it a grimy basement in a forest of masked young men, or inside the mind of a young underground prince, pumped full of pharmaceuticals, club sleaze and narcissism.
Glancing to my right, I notice that the open-minded whisperer is looking a little apprehensive. I think he suspects he's become a target for a little audience participation later in the show, as he is handed a sample of nasty red wine in a plastic cup and a tiny sealed envelope…
I find it difficult to know or care how autobiographical these works are. The development of any fictional character may draw upon personal experiences, but inevitably its creator sacrifices personal details so that an audience may step partway or perhaps all of the way into this identity. For better or worse in Peculiar the boundaries between performance persona and a completely fictitious character were complicated by the use of personal references, affecting the quality of emotional investment.
In track No. 4, Boy Story, Sweeney's voice calmly discloses intimate details of some of his sexual encounters, occurring within what could only be described as horribly dysfunctional relationships. His narration accompanies documentary video of an absurd puppet show, using teddy bears, bottles and condoms in front of a household mirror and balanced on what we presume to be Sweeney's lap. This lo-fi home video composition reflects an amusing pathos running throughout the show, which is both entertaining and annoyingly solipsistic.
Towards the end an OK Computer-style voice-bot announces with subtle, then not so subtle hints that the show is over…the performer has slunk away without waiting for applause. I left with my head full of subliminal flashes, lipstick traces and the smell of cheap aftershave.
Ripe with clichéd gay references, exquisite video works and a drag-salute to the sad tunes of PJ Harvey and Radiohead, Peculiar captures the intensity and melancholia of queer romance as its tenderness vies for attention within the emotionless force of sexual excess.
Peculiar was developed with the assistance of para//elo as part of an open platform artist residency (POP) in 2003.
Peculiar, performer Jason Sweeney, designers Jason Sweeney, Martin Potter, Ingrid Voorendt; FEAST gay and lesbian cultural arts festival, Iris Cinema, Adelaide, Nov 12-15
RealTime issue #58 Dec-Jan 2003 pg. 36
© Samara Mitchell; for permission to reproduce apply to realtime@realtimearts.net