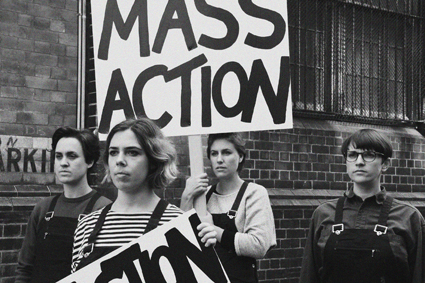 photo Pia van Gelder
Frances Barret, Kelly Doley, Kate Blackmore, Di Smith, Mass Action, Brown Council, for Performance Space's Halls for Hire
RECENTLY I WAS GIVEN A CATALOGUE FROM THE LANDMARK 1977 EXHIBITION THE WOMEN'S SHOW, ORGANISED BY THE WOMEN'S ART MOVEMENT IN ADELAIDE. LOOKING THROUGH THE GRAINY BLACK AND WHITE PHOTOS OF WOMEN IN JEANS AND SKIVVIES SITTING AROUND TABLES ENGROSSED IN DISCUSSION, I HAD A RUSH OF NOSTALGIA. GIVEN I WASN'T BORN UNTIL 1981, IT'S HARD TO TELL IF THIS YEARNING FOR THE PAST WAS JUSTIFIED, OR WHETHER I WAS JUST ROMANTICISING A MYTHOLOGISED ERA OF FEMINIST ACTIVISM AND AFFIRMATIVE ACTION.
It seems like there's been a rise in blatant sexism lately, and bewilderment as to how to respond to it. From Alan Jones' 'wrecking the joint' proclamation to the shamelessly gendered attacks on Julia Gillard, through to the 'binders full of women' and rape apologist comments of Mitt Romney and the American Right, sexism appears to be rampant. Now more than ever, we need a better understanding of how feminist cultural output might respond to the overt assault on women's voices in the public sphere.
Bonita Ely, one of the influential artists who emerged from The Women's Show, commented in a recent interview, "often art leads the way." Certainly, in the past decade we have seen a series of major exhibitions, conferences and publications focused on 'women's art' and the legacy of feminism and its relevance today. These include WACK! Art and the Feminist Revolution (MoCA, Los Angeles), Global Feminisms (Brooklyn Museum, New York), Modern Women (MoMA, New York) and in Australia our very own Contemporary Australia: Women (GOMA, Brisbane). As well as these large survey shows there has been a hive of local activity such as Performance Space's SEXES program and Serial Space's sessions on women and technology as part of the Time Machine festival in Sydney.
Amid what seems to be a Zeitgeist of reviving debates about gender, cultural participation and political activism, I wondered if other women were nostalgic for an era of 1970s collectivism. I began by asking fellow Brown Council member Kelly Doley, who recently presented The Learning Centre: Two Feminists at West Space, in which 16 people gave her lessons on feminism in exchange for a painted portrait. She agrees there was a "surge of interest" among our peer group "within the past year or so." She also feels that the revived interest was "inspired by increased recent international and localised activity of women's collectives, exhibitions, feminist articles and panels." She continues:
"It seemed that we all suddenly started talking about the 'F' word, like waking up from a deep sleep. Prior to this feminism was a term to be avoided, cringed at or considered as 'boxing in' our artistic practice. But in the past year or so the mood has changed."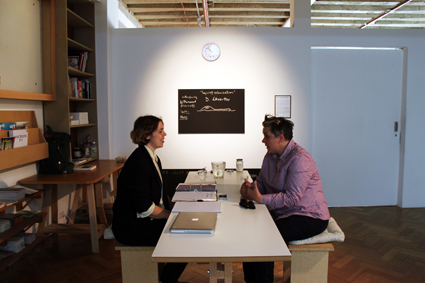 photo Kelly Doley
Kelly Doley, The Learning Centre: Two Feminists (The CoUNTess), performance documentation, Westspace Melbourne, 2012
Doley suggests there has been a "call to arms" and a desire to re-visit the perceived unity of 1970s feminist creative practice, reflecting on our joint work: "This focus on feminism in my work came out of an increased engagement with feminist art history, aesthetics and politics in my daily life. Working with Brown Council in particular, as four women we started to investigate this stuff and became very interested in the history of feminist activism in the 1970s."
As joint members of Brown Council, it's hard to tell how much our ideas overlap, so I was interested in garnering the opinions of others whose experience is less directly attached to my own. I contacted Brisbane artist Alice Laing, who established the female-run and focused artist-run initiative LEVEL with Courtney Coombs and Rachael Haynes in 2010. Laing and Coombs recently presented Food For Thought, a project that brought together a range of women over the dinner table at the 2012 Next Wave Festival. Discussing their work, Laing comments: "Building connections between early career and more established female visual artists has been an ongoing goal of LEVEL. Food For Thought provided an opportunity for us to branch out and generate a national discussion that involved past generations and to tap into that wealth of knowledge and experience."
Like Doley, Laing believes the revived interest in feminist art and activism is brought about by "the rise of political conservatism that has occurred globally and recent events within Australia such as the election of our first female prime minister." She concludes, "It's harder to be complacent about sexism when it's right in your face."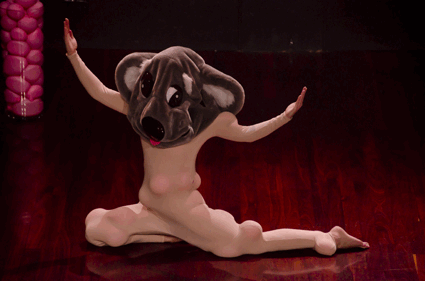 photo Sam Ackroyd
Monster Body, Atlanta Eke, Next Wave Festival 2012
Contemporary dance artist, Atlanta Eke, has a different perspective. Eke presented the acclaimed Monster Body at the 2012 Next Wave festival. Asked about her relationship to the traditions of feminism, she comments, "I do not consider feminism as a tradition and definitely not an aesthetical art practice." She continues: "Being categorical is reductive; historically labeling art 'feminist' has been an easy option for art institutions to throw a lot of significant female artists into one bag. From my position today, the feminisms of the past have not worked."
Eke's comments made me wonder about the impact of feminism and whether I was romanticising an era that looks good in the faded pages of an old catalogue but had no lasting legacy.
So far I'd only asked women in my own age group. I wondered what the perception was among women who'd been personally involved in an era I was perhaps unjustifiably mythologising. I decided to ask UNSW College of Fine Arts [COFA] artist and lecturer Bonita Ely for her reflections on The Women's Show, its legacy and whether she thought things had altered since 1977. On the changes of the past 35 years, she comments, "I imagine there is, not so much affirmative action, but mindfulness that women must be included, not in a tokenistic way but on an equal footing in events and opportunities."
Notably, she feels that there are more women, and a greater acceptance of women's voices, within the public sphere and within art schools. While they may not be occupying the directorships or major public office positions, she notes that: "The changed demographic regarding the large number of women role models and mentors is very significant. I think we take this for granted, that there are women who [have provided] precedents, who have proved it can be done, who understand the sensibilities, the concerns, the background female students are coming from…"
Ely concludes, however, that the gains of feminism were often unglamorous and taken for granted: "The intergenerational dialogue happens on a daily basis for many female arts students, so perhaps it is taken for granted and its value is overlooked. Imagine if all your lecturers were male, that you knew few women artists and information about women artists was scant, [you were] operating in a vacuum…In the 1970s the majority of women artists were unknown, invisible."
Ely's comments made me realise that while I may be yearning for an era of skivvies, jeans and feminist affirmative action, the reality is the revolution is more complex. As Ely notes, what took place was a series of smaller achievements that have afforded me certain privileges that women in previous generations didn't have. Laing made a comment that our generation grew up with "feminism in the water." I think this is an apt observation, given the elusive and diffused nature of feminism, the influence of which is often overlooked. It seems to me that what is important for the future is an acknowledgement of the past and a sense of dialogue and exchange between generations. We need to build on the legacy of feminism, rather than continually try to invent it, so that we don't forget how far we've come and how much further we have to go.
Diana Smith is a Sydney artist and member of the artistic collaboration Brown Council. She is currently completing her PhD at the College of Fine Arts, University of New South Wales.
RealTime issue #112 Dec-Jan 2012 pg. 18
© Diana Smith; for permission to reproduce apply to realtime@realtimearts.net