photo Bryony Jackson
Howl, Festival of Live Art, 2016
Howl
It's the rebellious spirit of Allen Ginsberg, his savage indignation tending toward obscenity, that Elizabeth Dunn, Lara Thoms and Willoh S Weiland seek to honour in Howl, the latest Aphids Arts House spectacular.
As part of the Festival of Live Art, the trio has created a colourful march-past event at the North Melbourne Meat Market, complete with banners, floats and costumes, celebrating 15 more-or-less transgressive artworks from across the last 150 years, each in its way a kind of Howl-like protest.
The opening is stunning. Elizabeth Dunn, veiled in a gold lamé cape but naked from the waist down, accompanied by Mozart's sombre but exalted Requiem, paces out the full 70-odd metres from the far end of the pavilion, slowly advancing through ragged drifts of theatrical smoke and eerie orange light. Then, standing before us, she raises her arms in a gesture of victory and sprawls supine on the bonnet of a sporty Mazda convertible, pelvis tilted, genitals displayed. Thus, Courbet's L'Origine du monde.
There follow renditions of Duchamp's Fountain, Chaplin's The Great Dictator, Critical Art Ensemble's Seized, Paul Yore's Everything is Fucked and more. Mozart continues to thunder and pulse. There are golf carts and Segways, papier-mâché and tinsel, more nudity and plenty of knowing winks.
photo Bryony Jackson
Howl, Festival of Live Art, 2016
While Howl is impressive enough in its ambition—there are only three performers, but a small army of stage assistants helping them negotiate the enormous Meat Market space—it doesn't really invite a carnival-like response from the audience. There's no barracking, no tickertape, no flag-waving and no dancing in the bleachers, only the usual art world attitude of polite scrutiny: the right to create a personal art historical canon is accepted without question, and the parade moves on.
There might be lots of reasons for the coolness of the audience's response, but I think it's mostly because of Mozart. Why play the Requiem Mass in D minor the whole way through? It's too solemn, too darkly hostile to the kitsch transformations of a community parade. Although it does give the opening scene a thrilling sense of monumentality, the irony soon becomes oppressive. The parade even starts to feel like a danse macabre, as if Howl were in fact a moralising comment on the vanity of artists such as Ai Weiwei, Andres Serrano, Marco Evaristti and the rest, as if their outrages were only so many ultimately inconsequential follies—which is presumably not what Aphids meant. But who knows—it might have pleased Ginsberg.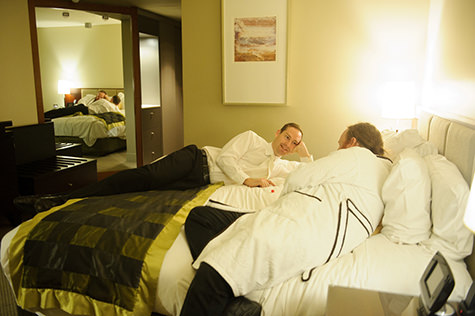 photo Sarah Walker
Hotel Obscura, Festival of Live Art
Hotel Obscura
Like Howl, Triage Live Art Collective's Hotel Obscura is an ambitious large-scale work, but one which eschews spectacle, instead folding a series of small one-on-one encounters into a much larger immersive, site-specific performance event. It begins with an audio walking tour that leads us from the Lindrum Hotel on Flinders Street to a secret location, which turns out to be another hotel, the Sofitel Melbourne on Collins Street.
At the Sofitel we discover that an entire floor has been reserved for the performance—a tantalising extravagance. After a brief meeting with a sort of concierge who explains the event program, each participant is given a white bathrobe and an individually tailored itinerary.
I was sent first to the elevator lobby where a tall man in a cheap masquerade mask offered a rough-and-ready tutorial on the ins-and-outs of the Grindr smartphone app, giving full emphasis to the myriad hook-up possibilities in a large, luxury hotel. Next, I experienced a relaxing sound and light installation under the covers of a hotel bed. Finally, in another room, I was audience to a brief interactive play-ette about a man whose wife had abandoned him. These were only three of 15 possible one-on-one adventures designed by local and European collaborators. In the final part of the experience, participants retired to something called the Vinyl Lounge, where they could meet and talk with other participants.
What is most satisfying about Hotel Obscura is not the experience of any one or other room in particular but the rhythm and composition of the experience as a whole. There are no lulls, no blips. And nowhere does the confected mystery of the piece fade or falter. The work carries you smoothly in its shadowy dream across half the city and up 48 floors.
I suspect this is the advantage of having a dramaturg-director like Katerina Kokkinos-Kennedy, with her extensive background in the theatre, as project leader. It's particularly noticeable in the attention to small details: from the way in which our various guides are costumed to the drinks served at the final debrief. Whisky and elderflower cordial, of course.
photo Maria Falconer
Claire Cunningham, Give Me A Reason to Live
Give Me a Reason to Live
For me, the festival highlight was Glasgow dancer and choreographer Claire Cunningham's Give Me a Reason to Live, a brief but focused solo at the North Melbourne Town Hall. The work begins with Cunningham (who was born with osteoporosis and arthrogryposis) in the upstage left corner of the performance space, facing the wall, lit only by a thin strip of yellowish light, struggling with her crutches through a variety of exaggerated poses, gradually working her way backward, through the darkness, toward centre-stage.
Visually and aurally, the work is incredibly beautiful. At one point, using her crutches to hoist herself off the ground, Cunningham, originally a classically trained singer, breaks into the second verse of Bach's cantata Christ lag in Todes Banden, showing off a fine soprano voice. The text of the verse is from an Easter hymn by Martin Luther in which he stresses the correlation between sin and suffering, a belief which led some in the Middle Ages to associate physical disability with sinfulness.
In another passage, with her hips supported by the handles of her crutches, she gradually raises her feet toward the ceiling, resting her palms on the floor. From the audience, watching her feet gently swaying, it looks almost as if she is falling from a great height, like the crippled god Hephaestus who was thrown from heaven and who fell from morn to noon, from noon to dewy eve. Or perhaps she is Icarus in the painting by Bruegel, the figure from whose pale white legs, Auden tells us, everyone turns away.
The Bruegel connection points to that intense quality I find so deeply moving about this relatively short work. According to Cunningham, the choreography was inspired by images of crippled beggars in the sketches and paintings of Hieronymus Bosch and his followers, the shapes of the dance's first movement. But what is it Auden says about the old masters? That they were never wrong about suffering. That they knew how easy it is to turn away when someone else is suffering.
There's a key section in the middle of the performance where Cunningham lays down her crutches and simply stands before the audience. This lasts for almost eight minutes, the tremors in her legs accumulating and intensifying until she is forced to reach again for her crutches. Standing unaided is something that Cunningham can't do, at least not for any great length of time. The attempt is brave, but, even so, for us, in the audience, is it what Auden would call an important failure? Does it provoke empathy? And should it, is that what dance, or painting, is for?
Give Me a Reason to Live is a performance without sentimentality; its great strength is its simplicity of composition and its air of self-sufficiency. If we empathise with Claire Cunningham, she insists that we do it without pity. Again, this is like those paintings of the old masters: those moments of delicacy and tenderness, images of infinite compassion, but entirely without weakness.
–
Arts House, Festival of Live Art, Howl, Meat Market, 3-6 March; Hotel Obscura, Sofitel Melbourne, 3-5 March; Give Me A Reason to Live, North Melbourne Town Hall, 9-11 March
RealTime issue #131 Feb-March 2016, web
© Andrew Fuhrmann; for permission to reproduce apply to realtime@realtimearts.net