WE COULD HAVE DONE WITHOUT THE FREQUENT REPRISING OF WHITNEY HOUSTON'S UBIQUITOUS ANTHEM, BUT WERE WELL AND TRULY COMPENSATED WITH THE SHEER INVENTIVENESS OF THE VARIATIONS ON HER THEME IN THIS EVENT CRAFTED BY CAMPBELLTOWN ART CENTRE'S DANCE CURATOR EMMA SAUNDERS OVER TWO YEARS INTO A PROGRAM OF DIVERSITY, SKILL AND AMBITION.
wetubelive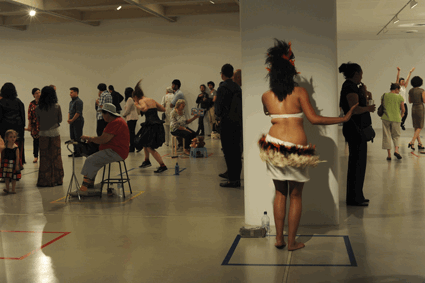 photos Heidrun Löhr
WeTube Live, Ben Speth, Oh I Wanna Dance With Somebody
For the event's Friday night opening, the stately Tea-Dance project involving ballroom dancers from the community segued, with the parting of a theatrical red curtain, to an explosion of divergent dance forms in Ben Speth's WeTubeLIVE—"50 solos ripped from the internet" interpreted and performed by a wildly diverse group of professional and amateur performers. There was a great sense of community engagement as sensuous hula shimmied alongside boot scooting and hysterical dummy-spit met cute kitty. We first became aware of Speth's WeTubeLIVE when it was sighted at the Junction Festival in Launceston in 2010 (RT99) and it was great to finally see it in action. Each performer is confined to a metre or so of space while a wall clock dictates the timing. At a designated signal, everyone stops as if summoned: a woman reading to a group of children nods off mid-tale; a Grey Nomad ceases uploading her holiday snaps, wondering if anyone will actually sight them. They start up again: an Indian dancer is absorbed in her ancient ritual while the adjacent room with its cast of drooling vampires and obsessive compulsives feels like the set of Marat/Sade. We are definitely feeling the heat.
narelle benjamin, anandavalli & parvathy baul
In the a.m. Andrew Morrish, with his philosophical improvisations on the here-and-there and the in-between, prepares us in the best possible way for Saturday's full program. Thankfully, the here and now rings with the soulful sounds of singer and poet Parvathy Baul from West Bengal, a mystic minstrel in the Baul tradition invited as part of the OIWDWS project to work with contemporary dance exponent Narelle Benjamin and Sri Lankan-born Sydney-based dancer Anandavalli, herself skilled in the Bharatha Natyam and Kuchipudi traditions of Indian dance. Together they present Kaal, the result of their collaboration, over what must have been a remarkable two weeks, focusing on the goddess Kali "whose name may be translated as the feminine form of time and transformation." In this three-part performance Parvathy Baul's presence is central. She moves amid the dancers, while centre stage, Anandavalli responds with intense and highly coded physical and facial gestures that are not literal interpretations of Parvathy's songs but abstracted and symbolic. Benjamin's movements meanwhile are discernibly more fluid and expansive. At times, bodies entwine, performers working fluidly together in a meticulous investigation of forms.
phil blackman & martin del amo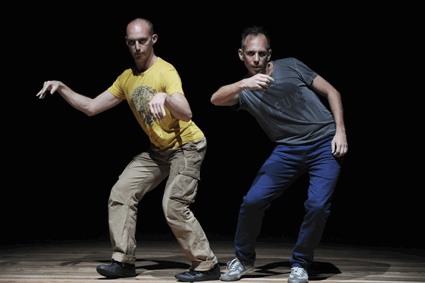 photos Heidrun Löhr
Phil Blackman, Martin del Amo, Songs Not to Dance To, Oh I Want to Dance with Somebody
Phil Blackman, a dancer from Lismore, was introduced to Martin del Amo by Emma Saunders identifying "two men of similar disposition, at different points in their careers." Together they create Songs Not to Dance To in which dance confronts musical overstatement. The songs are iconic or cheesy and the challenge of the premise designed to highlight some of the connections and disconnections the two dancers faced in their exchange. They begin with symmetry in a mechanical duet. In synch, they make eye contact only at the end. The song, ABBA's "The Way Old Friends Do," suggests the comforts of togetherness while the movement remains determinedly unromantic.
Next up, del Amo takes on the big one, "I Will Always Love You." He runs from a number of key points on the stage, the light expanding with him, stops and starts again. He mirrors the singer's vibrato in shuddering movements. He sweeps through the space—if there were scenery, he'd eat it. He makes one last attempt to deal with the swelling score with a sweeping dash around the space but inspiration deserts him. He finishes centre stage, with that same convulsive movement—spent. Music/dance: one-all.
The two well-matched dancers are restrained as the airwaves fill with that orgy of self-affirmation, Christine Aguilera's "Beautiful." This time, movement comes from the diaphragm. Unlike the calculated stiffness of the first piece, here the dance is angular, ungainly and then fluid; the performers working in close proximity developing a distinct weave of bodies, nearly entwining, almost but never quite intimate. Words won't bring them down.
Blackman's final piece begins in silence till Jimmy Barnes' "Working Class Man" kicks in. (Dance/music degree of difficulty: 9/10.) Blackman swats at the air. He moves in a strange crawl, looking up; he responds to the chorus with a series of leaps and then stumbles. He listens for something then falls hard. Blackman tells us later that in this collaboration with Del Amo he has detoured from more literal interpretation. His movement becomes increasingly abject and diametrically opposed to the triumphalist tone of the song. This is no parody, more an attempt at resistance against oppression that in the end defeats him. In this collaboration between region and city we experience another fulfilling engagement between two different but simpatico dancing bodies.
elizabeth ryan & romance was born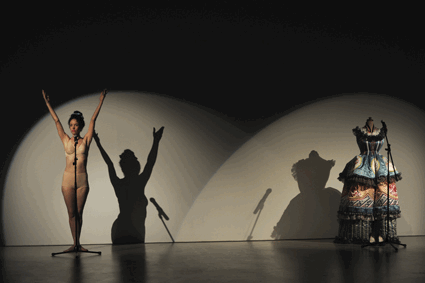 photos Heidrun Löhr
Elizabeth Ryan with dress by Romance Was Born, Oh I Want to Dance with Somebody
Vivaldi's Magnificat! Elizabeth Ryan appears in flesh-coloured underwear behind a microphone on a stand. Alongside her a dressmaker's dummy displays an elaborate Edwardian-style dress with colourful, tiered flounces and a long skirt. Such is the power of this garment that it has its own microphone. What follows is a series of imaginings on the dancer's body and the costume that threatens to define it. We observe Ryan assessing whether she has the measure of this garment. Can she carry it off? She's an easy performer, projecting a sense of unconscious display. Her movements are elegant, not showy, simultaneously self-absorbed and conjuring a state of being—a state of undress perhaps. Occasionally her hands flutter bird-like at her throat or draw attention to her feet. She slips into blue stilettos, uneasily at first and then commanding the space as she adapts to her heightened status. She approaches the dress, moves downstage with her microphone (though she never speaks), placing the dress closer to us so we can appreciate its opulence and detail. Finally envisaging herself in it and fulfilling our desire, thwarted till now, to see the dress on the woman, she whips the garment off the dummy and zips it up. The ease of this action is another surprise. We have watched Ryan's gradual transformation over a short but intense time, the symmetrical relationship between woman and outfit. I Was Made For Loving You is a little gem of a performance, the result of yet another clever collaboration arranged by the OIWDWS project, this time between Elizabeth Ryan and the design team from Romance Was Born (Anna Plunkett and Luke Sales) who used "fabrications and elements from their new Autumn/Winter Collection: Little Lord Fauntleroy." For Ryan there was inspiration aplenty in the relationship: "a weaving of my movement investigations with their world of materials, form, design and desirability" (program note), and it shows.
anton & david capra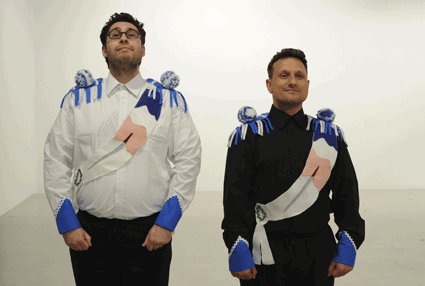 photos Heidrun Löhr
David Capra, Anton, DURAK, Oh I Wanna Dance With Somebody
For something completely different, we couldn't have wished for better than the very lateral and funny hyper dance work DURAK. Dancer/choreographer Anton and visual artist David Capra, both of Ukrainian heritage but distinctly varying stature, team up to explore something of the myriad shapes of Eastern European masculinity in movement derived according to the program "from the European folk dance the Hopak and the Ballet Russes." Anton set non-dancer Capra no easy choreographic task, but he appeared to wholeheartedly embrace the challenge. Two budding dictators from another era, one in a white shirt, one in black, sporting arched smiles, matching sashes and epaulettes, posture to a tinny recording of the Volga Boatmen. At one point Anton has his face pressed into the gallery wall, while Capra stands close behind him attempting to copy his erratic arm waving gestures. We get a rear view of the increasing frustrations of demagoguery. The education of the young despot continues with chest slapping, balalaika music and unison thigh slapping. The horrors of fascism and its cheery folkloric connections makes great material, hilarious at times. The work culminates in a virtuosic seated Cossack dance in which everything gets The Slap before the two march out of sight. As well as fashioning the costumes together, the two shared family memories along with "intergenerational trauma and how it can be found in the framework of their bodies" to create this seriously entertaining work.
jochen roller and nadia cusimano
Yet another lateral take on the form came from The Dance Tourist, a somewhat amorphous comparison between the Campbelltown we were in and another, a fishing village in Scotland. Compiled by multi-disciplinary artists Jochen Roller and Nadia Cusimano, the installation built on the physical sense of disjuncture felt by Roller when he first came to Campbelltown. "When I entered the tourist information centre, I felt like I was in another place that I knew in Europe." A series of comparative sightings (stark renderings of people in malls, public utilities) are presented in colour photographs as well as a set of postcards. There's a memory game with the cards and a mysteriously symbolic cake ceremony. The two also created a set of quirky souvenirs for sale in the gallery shop.
paul gazzola & paul granjon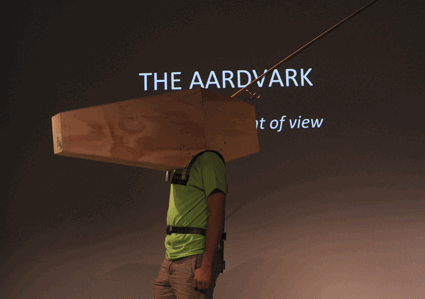 photos Heidrun Löhr
EBEMU, Paul Granjon, Paul Gazzola; Oh I Wanna Dance With Somebody
The weekend concluded with a parade devised by the Experimental Body Extension Manufacturing Unit (EBEMU http://ebemu.com) another project running over a number of weeks at the Centre in which local people were encouraged to volunteer ideas on using recycled materials to create prosthetic devices to solve everyday problems. There was no shortage of ideas and when we visited in the afternoon, the EBEMU workshop (Paul Gazzola, Paul Granjon) was working furiously to finish off a number of prototypes, among them, a video antenna to allow an introverted person to walk through a crowd without having to face anyone; a vehicle to carry shopping up 13 steps for a wheelchairbound woman and a video periscope to check the tops of cupboards.
For the evening's Parade, MC Granjon wore a "twinset" of self-illuminating hat and plywood slippers. The introvert looked like he might draw a different kind of attention, resembling an aardvark in his coffin-shaped headgear with video camera and aerial attached to provide his desired third person POV. I've put in an order for a couple of the Personal Space Activators, a skirt-like arrangement made from bicycle spokes with lights that you can flare outwards to delineate your preferred distance for personal space. Meanwhile, The Connector made use of a multi-use arm plate to send paper planes into the crowd containing messages such as "Am I lonely tonight?" Paul Gazzola modelled the Backpack Recliner, which unfolds so you can lean back and check your map. The Bruiser Butler, an automated trolley for serving refreshments, looked distinctly dangerous. The EBEMU reps explained that it was a young work—only a week old—and not quite house-trained.
Andrew Morrish saw us out, riffing for a time on the connections between the works we had witnessed over this magical weekend and then, unusually for a born improviser who "has so many problems, it makes his work easy," was momentarily lost for words ("Listening to people too much"). Not that we minded. By then we had no place for words, replete as we were with all that dancing.
Oh I Want to Dance with Somebody, Curator Contemporary Dance Emma Saunders, Project Director, Michael Dagostino, Campbelltown Arts Centre, October 19-21
RealTime issue #112 Dec-Jan 2012 pg. 2-3
© Virginia Baxter; for permission to reproduce apply to realtime@realtimearts.net