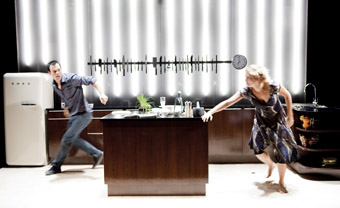 photo Brett Boardman
Socratis Otto, Leeanna Walsman, Stockholm, Sydney Theatre Company
UK PHYSICAL THEATRE GROUP FRANTIC ASSEMBLY EXPLAIN IN THE PROGRAM NOTES TO THEIR AUSTRALIAN RECONSTRUCTION OF STOCKHOLM, THAT 'STOCKHOLM SYNDROME' OCCURS WHEN A "HOSTAGE SHOWS SIGNS OF LOYALTY TO THE HOSTAGE-TAKER." A TEXT-BASED WORK WITH DANCE AND MOVEMENT INTERJECTIONS, STOCKHOLM HAS BEEN REMOUNTED BY DIRECTOR-CHOREOGRAPHERS SCOTT GRAHAM AND STEVEN HOGGETT WITH AN AUSTRALIAN CAST TO FIT A PRE-EXISTING CHOREOGRAPHIC SCORE. THE PRETEXT FOR THE PLAY IS "DIFFICULT AND DESTRUCTIVE" LOVE.
Playwright Bryony Lavery was commissioned by the company to interweave words with movement around themes of control, desire and manipulation. Employed as a recurring motif, the word "Stockholm" comes to work as an awkwardly literal reference to the demise of a sparring couple's relationship. It is both the actual 'elsewhere' of a holiday in the making and the figural 'reality' of a relationship-in-crisis.
The main misuse of the term is in its application to the the young couple, Kali and Todd (Leeanna Walsman and Socratis Otto), Lavery envisaging their world in terms of "retro-jealousies" over past lovers, overblown romantic ideals and sickly sweet histories. On the celebration of Todd's birthday, they dance around their SMEG/smug kitchen meting out reminiscences and arguments over a recipe for dinner. Stockholm, the literal city, sits in the distance as the promise of holiday escape from a relationship that appears more like something from a real estate advertisement than anything real. Stockholm Syndrome—the metaphorical premise of passive submission to a controlling power—never materialises as we slowly realise that Kali's manipulations (taunts, violence, spying on Todd's text messages) are the product of something infinitely more despairing than dynamics of master and slave. It seems that Kali is deeply psychologically unwell—a thematic with which Stockholm unfortunately never risks engaging.
Kali and Todd's pas-de-deux is played out through a combination of text and physicality, where the literal again looms large in movement pieces that could have more abstractly conveyed the difficult machinations of mental illness and its impacts on loved ones. Instead, the choreographers plot the lovers stacking the grocery shopping in the kitchen cupboards, for example, with gestures that resemble musical, more than physical, theatre. They do make suspenseful use of tight kitchen spaces and knives, but when movement is pre-empted by the text, the problems are exacerbated. Kali's calls for "birthday dance time" and "this last dance, it's a slow one" uncomfortably reveal that text and movement, caught in a kind of self-conscious narration of their dramaturgical coexistence, aren't speaking to each other at all. In this respect, this work loses its relevance to a field of progressively innovative physical or movement-based theatre work which also happens to be locally driven and conceived (think Force Majeure or Branch Nebula).
The action takes place in a set that also over-performs: we move between a tight kitchen space, an outdoor stairwell, an upstairs attic bedroom and a balcony water pool. The mechanised apparatus intrudes into the fictional world in a way that might be better left unelaborated. Moments of scenic abstraction could be promising (a strange devil-like voice appears both at the staircase and in the water pool) but seem more drawn towards underscoring scenographic technicalities rather than developing any stronger thematic sense of actual psychological disorder. A bedtime scenario towards the close of the piece does attempt to place physical tension in relation to narrative tension (the performers are suspended by arm straps on a high leaning platform whilst taking us to a quasi dreamstate in which they pre-empt the future birth, and then grisly murder, of their own children), and yet this too is undercut by their concurrent baring of sexy chests and skin.
If Stockholm Syndrome registers a scenario of unwitting surrender to a hostage-taker, then Stockholm left me feeling disengaged. When issues of mental illness are conveyed as simplistically violent and manipulative, when relationships resemble the stylistic tropes of The Sydney Magazine, and when theatre then moves in its bag of tricks to try to take us all hostage, I'm tempted to have a similar response to Todd, whose final challenge to Kali is calmly to the point: "I'm too intelligent for this."
Frantic Assembly, Sydney Theatre Company, Stockholm, writer Bryony Lavery, direction & choreography Scott Graham, Steven Hoggett, performers Socratis Otto, Leeanna Walsman, design Laura Hopkins, costumes Jennifer Irwin, lighting Andy Purves, sound design Adrienne Quartly, assistant to the choreographers Dean Walsh; STC, Wharf 1, March 17-April 24
RealTime issue #97 June-July 2010 pg. 34
© Bryoni Trezise; for permission to reproduce apply to realtime@realtimearts.net