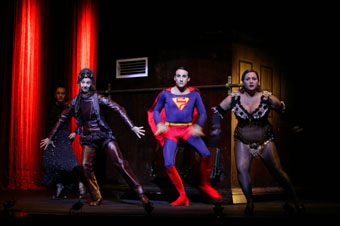 Der verlorene Atem
Director Barrie Kosky's Australian productions were marked by profuse energy and inventive, often deliberately excessive amalgamations, drawing on expressionism, German language cabaret and Yiddish culture. Although these sometimes seemed wrought only from a rearrangement of these antique references spiced with garish postmodernism, the results were compelling. Kosky's current Viennese pieces in his new role at the Vienna Schauspielhaus are sharper and sparer but somehow less embracing.
The word about town was that Der verlorene Atem was not Kosky's best Schauspielhaus show. Though a masterpiece of precision and evocative restraint, it was unsatisfactory as theatre—largely because it offered much but delivered little. Kosky drew on Kafka, specifically the instrument of tortuous punishment and the Law described in The Penal Colony and the destabilising self-transformation in Metamorphosis. Like much of Der verlorene Atem though, these rich motifs became throwaway ideas within a performance mostly devoted to the expressions layered within the strained female voice.
The piece began beautifully, with actor Yehuda Almagor playing a digressive Jewish Houdini, chatting charismatically with the audience about his "apparat" which contained Kafka's ambiguous machine. Almagor unbuttoned his shirt in wan light while singing in Hebrew, suggesting that this appalling device might offer the transcendence that its victims desired. In Act 2, 4 variously costumed tap-dancers performed German, Yiddish and Broadway cabaret tunes outside Houdini's former cabinet. Metamorphosis' protagonist Gregor remained hidden inside this Tabernacle, but rather than depicting Gregor's family confusedly dealing with his change, Kosky's unseen Gregor was represented as a playful, growling-voiced participant in his relations' light musical games, interjecting lines into songs otherwise unconnected to Kafka's themes—an amusing interlude, but not much more.
If the second act constituted a fraying of Kosky's theatrical conviction, the third signalled its abandonment. The audience was presented with nothing but almost immobile performers, caught in nebulous spotlights, singing Robert Schumann's ode to lost love, Dichterliebe, in German. As one spectator quipped, a recital is fine, just don't call it theatre. The performance was beautifully modulated in playing-off broken voices with operatic fullness, but this was not a well-conceived conclusion. As another spectator observed, yes, we all end up feeling like we're locked in a box, alone and unloved—but this is a banal final message for a piece subtitled: A Kafka evening in 3 acts (Ein Kafka Abend in 3 Akten).
While Kosky staged a cabaret recital misrepresented as theatre, Melbourne's Aphids offered 2 fine music performances which stretched (though did not break) the recital form. Skin Quartet, composed by David Young, used various graphic and notational methods which were then incorporated within Louisa Bufardeci's accompanying projections derived from close-ups of skin tones, tattoo-like shapes, and maps rich in the patina of cultural history. Young kept the arrangements integrated and softly flowing, despite the composition's post-classical basis, with interjections and exclamations largely resting easily within the overall sound, rather than cutting across it. This produced a beautifully seductive effect, but it did mean that all the musical ideas seemed to have been introduced about two thirds in, while only deferentially alluding to the racial politics foregrounded by the visuals. Skin Quartet was nevertheless an exquisite gem, sitting well against Aphids' more variegated Fight With Violin.
Fight showcased 6 contemporary pieces for solo violin ranging from Motoharu Kawashima's fun, John-Cage-esque instruction piece (rub violin on top of head, end performance with empty stage and a recording of a classical piece) to Kate Neal's almost romantic sketch of melancholy, sour notes. Yasutaka Hemmi performing in a Japanese armed martial arts dojo, complete with demonstrations enhanced the novelty of these rarely seen works. The audience had to draw its own conclusions about what this combination suggested (the sound of a swiftly drawn katana blade generating a cruel tension in Neal's work, for example). If nothing else, the staging added firmly poised, meditative bodies to such aggressively avant-gardist compositions as Helmut Lachenmann's pointillist scrapings.
Dumb Type's Memorandum was particularly energised by its paradoxical performativity. Video documentation of their 1994 Adelaide Festival production S/N suggested that Memorandum was a weaker work, while dance purists were nonplussed by the its movement elements. These criticisms missed the heart though of this extraordinary, totally overwhelming and wry, yet impersonal, work. At a sonic level alone, the monumentally forceful, finely tuned and shaped white-noise assaults and the repetitive, purified sine-waves of Ryoji Ikeda were sublime in the wonderful audio mix—I melt at Ikeda's combination of carefully nuanced violence and electronic minimalism.
Dumb Type's formation in 1990 epitomised the supremely manufactured and designed aesthetic of the Japanese "bubble economy"; the company's productions today restate the familiar motif of the postmodern individual, a self sublimely dispersed throughout culture, language and technology. Dumb Type was however always guilty of presenting style over substance—indeed, style as substance—so such a summary does not do justice to its consummately slick form, produced through sound, action, multi-screen projection and shadow play. The company's approach transformed the arguably antiquated technique of performance art (as in Jan Fabre's I Am Blood) into a glistening, plastinated extrusion.
The company masterfully achieved an astonishingly clarified, controlled aestheticisation of banal actions, thoughts, experiences and metaphors. Everyday events and ideas were rendered strange on stage not through the manipulation of content, but through the form and framing of the work. A man sketched his room, trying to remember each piece of furniture, which then magically arrived. But it was the mundane details beautifully cast into relief by these acts that were significant, not what this act said about memory. I was entranced as each new gesture of writing made a sharp line in the creases of the man's pressed, red shirt. Such exquisite minutiae of the everyday framed an act of play so serious in its simplicity of execution that it became both transcendent and funny. Dumb Type may be trapped in an aesthetic cul de sac, but remain nevertheless impressive. Memorandum was destined to appeal to those who marvel at simple things well presented, such as the donuts, coffee and pie that pervade David Lynch's Twin Peaks, Laurie Anderson's USA Live or Quentin Tarantino's gangster cinema.
Der verlorene Atem: Ein Kafka Abend in 3 Akten [The Lost Breath: A Kafka evening in 3 acts], director Barrie Kosky, dramaturg Susanna Goldberg, choreography Dagmar Benda, design Alon Rodeh, Izaq Ronen, Michael Zerz, lighting Michael Zerz, performers Yehuda Almagor, Beatrice Frey, Tania Golden, Melita Jurisic, Florian Carove, Wiener Schauspielhaus, Athenaeum, Oct 14-19
Skin Quartet, Aphids, composer David Young, visual artist / projection Louisa Bufardeci, violin Yasutaka Hemmi, Stephanie Lindner, viola Jason Bunn, violoncello Caerwen Martin, Anna Schwartz Gallery, Oct 13-15
Fight With Violin, Aphids, violin Yasutaka Hemmi, martial arts by members of Melbourne Budokai, composers Helmut Lachenmann, David Young, Luciano Berio, Kate Neal, Brian Ferneyhough, Motoharu Kawashima, Kenshikan Dojo, Oct 19
Memorandum, Dumb Type, sound Ryoji Ikeda, visuals Shiro Takatani, Takayuki Fujimoto, Hiromasa Tomari, computer programming Tomohiro Ueshiba, performers Seiko Kato, Takao Kawaguchi, Hidekazu Maeda, Noriko Sunayama, Mayumi Tanaka, Misako Yabuuchi, Manna Fujiwara, So Ozaki, Forum, Oct 9-12
RealTime issue #58 Dec-Jan 2003 pg. 5
© Jonathan Marshall; for permission to reproduce apply to realtime@realtimearts.net