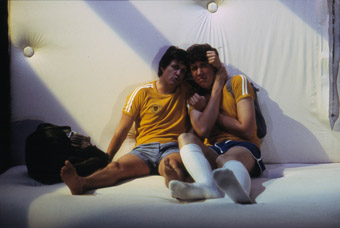 photo Tracey Schramm
Dan Wyllie, Sam Leis, Bed
Wars of the Roses
The Bell Shakespeare Company has given itself a wonderful birthday present in celebration of its 15 years. The 3 Henry VI plays have been judiciously and joyously compacted into a single work to play across 4 engrossing hours. The economy of the editing is a delight in itself, unleashing an epic sweep and baring the bones of Tudor propaganda but at the same time revealing the young Shakespeare's ability to brilliantly hone the dramatic moment and to create unexpected emotional complexities amidst the one-dimensional drives of ambition and vengeance that govern these plays. This is a brutal world of opportunism and pragmatism, fatally wrong turns and betrayal, with little or nothing by way of metaphysical compensation: Joan of Arc here is more warrior than saint, appealing to the earth rather than to the heavens. Among the many fine performances Greg Stone shines as the Duke of York, his ambition for himself and his thuggish sons steadily escalating. Finally trapped and thinking the sons dead he lashes out at his captor, the king's wife, Margaret of Anjou, raging against her as the most unnatural of women. But Stone plays York's grief at the same pitch; the sense of loss is unbearably palpable and this for a character with whom you'd not expect to empathise. It's also testimony, at this late stage in the play, to the despair that comes with the appalling accumulation of evils, misjudgments and deaths that blur the moral boundaries in a grubby civil war made more complex by the yoked history of England and France.
The majority of the performers play numerous roles, switching with great ease from soldiers to courtiers (with hilariously appalling Franglish) to rural upstarts, coming together for the battle scenes as well as playing key if short-lived characters throughout. Georgia Adamson as Joan of Arc is brusque and driven with swordplay dexterity straight out of Crouching Tiger, Hidden Dragon. Christopher Stollery plays the Bishop of Winchester made mad by his complicity in murder, the yokelish rebel Jack Cade and the deceptively bland Buckingham. Joe Manning as Henry VI is suitably ethereal, out of touch, stubborn at the wrong moments and accepting advice only when it's too late, his withdrawal tantamount to a deathwish, and displaying precious few moments of insightful interiority. Darren Gilshenan as Richard III-to-be, plays out the classic deformities of body and soul with vigour and his own take on the wheedling and insinuating, ever inviting the audience's complicity. Blazey Best as Margaret of Anjou plays the queen as outrightly sexual and manipulative, leaving not a lot of room to move, but somehow she convinces because Margaret is often irritatingly right, however base her motives, and her loyalty, if erratic, makes her an implacable force.
Wars of the Roses is spendidly paced, full of pertinent jokes and beautifully voiced. The poetry is always musical but never the plummy sing-song that can still be encountered. It's enhanced by the steep ampitheatre setting by Stephen Curtis in a huge steel curve. It's a work of art in itself that has us looking into a stage that looks back at us and where characters gather and observe, climb and fall, the whole framed with shipping container walls hinting laterally at SS Tampa and our own crises, just as the images of capture calculatedly suggest Abu Ghraib. Only the costumes seem to lack a conceptual through line, a rag bag of type dressing that fits the play's broad characterisations but has little thematic weight beyond the suggestion that things are pretty much the same wherever you're placed historically.
Like the jigs reputedly danced at the end of Elizabethan tragedies, we are entertained here by Richard, fresh from murdering Henry, microphone in hand singing his way to the throne atop a mountain of bodies in anticipation of a play to come with his own name in lights.
Bed
In Brendan Cowell's new play, developed in the Sydney Theatre Company's Blueprints program, another kind of Vice figure is on display. He's Phil, a big city business man-cum-artist-cum-psychopath. Built from short scenes, propelled by an often acid wit and cyclically structured to systematically go back over a life and reveal the making and unmaking of a man at key stages, Bed is certainly engaging, though the initial effect is more powerful than that which lingers. For all its viscerality and frankness, Bed is curiously abstract.
Betrayed by his mother, loved by a fellow school boy, oppressed by his first female lover, Phil is deserted by his beloved wife who cannot compete with his success (even after he's given up his job to look after their children so she can work). Subsequently dissolute and sadistic, he is served by a homosexual slave whom he incinerates before dying in the arms of an older woman in whose large breasts, he tells her, he finds solace. On a set that's a cross between bouncy castle and mattress, Phil's life comprises a series of bedroom encounters that sketch his trajectory, the looping back through his life an interesting structural device which works well enough in the relationships between the 2 boys and then the men, but there's little if anything that's revelatory in the soapy scenes with the women. A larger problem is that however well played (and Dan Wylie suggests more than the script proposes) Phil is an abstraction, a generic businessman, an unidentifiable artist, so everything depends on love, sex and power, with art and work as mere ciphers. It's not a long play, so there's room for Cowell to expand his vision of his central character, but also to rise above the epigrammatic pulse of too much of the writing, albeit a reflection of Phil's admiration for Oscar Wilde. Cowell directs his own play ably with Thomas Campbell evoking power and then pathos as Drew who will be murdered, a punishment for all the wrongs visited on a man incapable of turning such force on himself.
The Permanent Way
Just as bookshops are now placing their non-fiction stock at the front of their stores and feature length documentaries are filling cinemas, so too has verbatim theatre made a comeback. Productions include version 1.0's A Certain Maritime Incident (based on the Senate hearings on the Tampa incident), Ros Horin's Through the Wire (the relationships formed between refugees and visitors to detention centres; currently touring regional centres where it is much in demand) and, a couple of years ago in Sydney and now in Melbourne, The Laramie Project, about a gay murder in a US community. David Hare's The Permanent Way (created with actors from the National Theatre, Out of Joint and director Max Stafford-Clark) documents the disastrous consequences of the privatisation of British Rail. The content alone is deeply alarming with not a few parallels with smaller but just as devastating rail crashes in NSW in recent years in a public system. Although clearly opposed to the way the railways are operated, the play throws you into the complexities of what happened to the people involved (from management and politicians to victims), the contrasting responses between the survivors and the families of the dead in the campaign for justice, and why the British continue to let such things happen. The latter is the big question which the show begins with but never really answers except rather facilely at the end when one of the characters suggests, "In England we've never been very good at the communal thing." The play asks why the public is not really upset by such disasters, nor by 3,500 dead on the roads each year. Why aren't they furious that the privatised railways draw more heavily on the public purse than when they were public? Why isn't there a legal category titled 'corporate manslaughter' given cutbacks in training, appallingly poor safety records and cover-ups with government and police complicity? The answer is partly evident in the range of responses to the train crashes: here is a public that is divided, confused and misled, while the government and management can form a united front, and an executive, for example, move on from an awkward position post-accident to a much better one without recrimination.
The Permanent Way is presented conventionally with deft multiple role-playing, and tautly edited material wisely and compellingly run without an interval. The literalness of the playing, the banality of some of the miming (recalling the old theatre-in-education days) and occasional overacting didn't detract from the work's raw documentary power. The much touted multimedia effects were less impressive: some nice opening animations of old rail travel posters, a poorly projected automated train timetable signalling the crashes, and a big one-off special, for the second accident, of an animated train racing towards us and flying off the rails, accompanied by a grating, noisome crash. Although the latter effect was impressive it is typical of the failure in the mainstream performing arts to make anything of multimedia other than background or momentary diversion, and one from which the performers are tastefully removed. Otherwise, The Permanent Way was rewarding, and, for those who wondered why we'd want to see a play about British railway accidents, it's not so far removed from our own experiences of life under neo-liberalism with its attendant feelings of civic helplessness.
Constellations
I just managed to catch the last night of PACT's contribution to the New Mardi Gras Festival, Constellations, an exquisite gem of a performance sparkling with perspectives on queer life on the cusp of late adolescence and early adulthood presented as monologues and small encounters framed by the night time anxieties and reveries of a wonderfully poetic insomniac. This is a show about getting through the night or life's dark passages and emerging intact and even triumphant. That might be pride in being a male Palestinian belly-dancer and finding the like-minded; or discovering that the bicycle used for escape has become a tool for championship racing; or looking back into one's Aboriginal or Asian heritage as a way of moving forward. Finely crafted video images (Sean Bacon) and audiotracks (Gail Priest) lent the words greater resonance and coherence, while director Karen Therese choreographed the movement between individual and group, between still image and action (sometimes as simple as gathering before the glare of a television set or circling the stage on bicycles), between light and dark with effective simplicity. The performances were physically assured and vocally firm, the writing often admirable, and the overall mood satisfyingly reflective.
Bell Shakespeare Company, Wars of the Roses, director John Bell, Playhouse, Sydney Opera House, March 5-April 16; www.bellshakespeare.com.au
Sydney Theatre Company, Bed, writer-director Brendan Cowell, performers Dan Wylie, Sam leis, Hayley McElhinney, Caroline Craig, Thomas Campbell, Annie Byron; design Genevieve Dugard, lighting Damien Cooper, composer Nick Arnold; Blueprints, Wharf 2, from Feb 12
Sydney Theatre Company: Out of Joint/National Theatre, The Permanent Way, writer David Hare, director Max Stafford-Clark, set, costume and video design William Dudley; Sydney Theatre, from Feb 19
PACT Youth Theatre, Constellations, direction Karen Therese, dramaturgy Chris Murphy, performers/writers Alexis Armytage, Kath Bicknell, Ghassan Kassisieh, Sarah Jane Norman, Tatea Reilly; PACT, New Mardi Gras Festival, Feb 23-March 6
RealTime issue #66 April-May 2005 pg. 47
© Keith Gallasch; for permission to reproduce apply to realtime@realtimearts.net