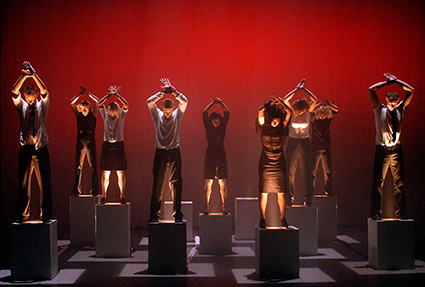 photo Chris Randle
Monumental, The Holy Body Tattoo
For his final festival Artistic Director David Sefton is mounting some mighty works, invoking Adelaide Festivals past with Pina Bausch's Nelken and Romeo Castellucci's Go Down, Moses (see the interview, p22) and including his own with The James Plays trilogy, recalling Toneelgroep's Roman Tragedies in 2014. There's continuity too in Sefton's adventurous contemporary music programs Tectonics and Unsound Adelaide and the presence this year of the remarkable, reclusive Canadian heavy art-rock band Godspeed You! Black Emperor.
The Holy Body Tattoo, monumental
The eight-piece Montreal band (who reappeared in 2012 after a 10-year hiatus) will stage their own concert and also accompany Vancouver's famed dance company The Holy Body Tattoo (also back from a 10-year absence) in monumental. Nine dancers mounted on pedestals will express and battle with the psychological pressures of contemporary life with ferocious but highly articulated choreography framed by intensive visuals.
1927, Golem
From UK company 1927 comes Golem, an update of Jewish tales about a man-made creature built from clay, precursor of Frankenstein's monster and out-of-control robots. In a melding of live performance and animation including, of course, clay, an antiquated picture book world is conjured in which a computer programmer creates a golem, but with a very contemporary difference, making the work a satire of our preoccupation with everyday technological tools. The quaint imagery won't be to everyone's taste and I didn't take to the company's artistry in Between the Devil and the Deep Blue Sea in the 2008 Sydney Festival, but many did and it's five stars all round from UK reviewers.
Tiny Bricks, Deluge
If Holy Body Tattoo physically realise modern angst and 1927 focuses on the ills of synthetic production, Australian playwright Philip Kavanagh portrays us as succumbing to the ever increasing flood of information, which is no longer simply knowledge. He's created "five plays run[ing] simultaneously as 10 characters attempt to find meaning and connection without drowning." The play proposes "our brains are changing because of the media we use. We all live in The Shallows now. The trouble is human desire runs fathoms deep… Now that the deluge is upon us do we swim to each other or get swept apart in the torrents?" (Playwriting Australia, July). For those lucky enough to have seen the Malthouse-STC production of Caryl Churchill's Love and Information (RT128, p34), with its over 100 playlets, new local company Tiny Bricks' production of The Deluge will be another rare opportunity to reflect on the kinds of creatures we are becoming.
Stone/Castro, The Country; STCSA, Belvoir, Malthouse, The Events
Adelaide's Stone/Castro has, unusually, chosen to mount English playwright Martin Crimp's The Country, an acutely observed, acerbic account of middle class conversation as dangerous misinformation; doubtless the company will apply to it their own experimental vision. STCSA, Belvoir, Malthouse have come together to stage The Events by Scottish playwright David Grieg, in which the sole survivor of a mass shooting grapples with survival and loss; each performance is accompanied by a different local choir, offering a sense of community and music that consoles. Another local production, Oscar Wilde's The Young King, by the acclaimed Slingsby, should also be on the must-see list.
ADT, Habitus
For ADT Artistic Director and choreographer Garry Stewart, it's back to basics with none of the technology in tandem with dance which he has deployed over many years to speculate on our natures. The performers will dance with and manipulate books, furniture and household appliances to create a new view of of "the vast complexity of a living ecosystem." I recall from the Adelaide Festival in 2008, being astonished by Moving Targets (RT 84, p10) created by German playwright writer Marius von Mayenburg, director Benedict Andrews and their actor collaborators who messed with a sofa, other bits of furniture, their bodies and clothing to create an anarchic but somehow cogent world of feeling and endless invention. Stewart's vision should be very different and dancers' bodies speak in other ways, but I look forward to making comparison.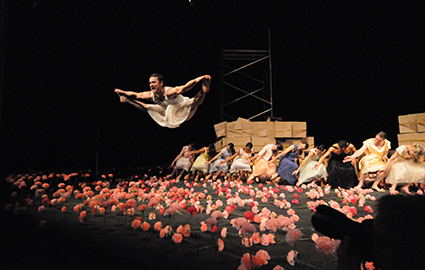 photo Alexandros Sarakasidis
Paul White (foreground) and Tanztheater Wuppertal, Nelken (Carnations): a piece by Pina Bausch
Pina Bausch, Nelken (Carnations)
Who needs prompting to see Nelken, performed by a company like no other: 20 performers bearing a great legacy and dancing on a field of silk carnations to the music of Schubert, Lehar and Gershwin played on accordion? Enough said.
The James Plays
A co-production from the National Theatre of Great Britain, National Theatre of Scotland and Edinburgh International Festival, Scottish playwright Rona Munro's The James Plays is a trilogy about the lives of James I, James II and James III of Scotland across the 15th century. The plays can be seen on their own or in a seven and a half hour marathon. Of the many critical recommendations I liked this one in London's The Telegraph: "Munro's script is the star. As well as illuminating Scotland's history of distancing itself from England while uniting with Scandinavia and France, these plays all capture something elusive about Scottishness: that potent mix of individual spirit, darkness, alcohol and loyalty that can seem so foreign to the rest of Britain. Often, the writing is just very funny."
Tectonics Adelaide
Once again, the pilgrimage to Adelaide by audiences and artists will confirm the ongoing success of Tectonics. Program 1 features the Adelaide Symphony Orchestra conducted by the program's curator Ilan Volkov, The Necks and Splinter Orchestra. New works by Eyvind Kang, Annie Hsieh, Cathy Milliken, Phill Niblock and Jim O'Rourke will feature. The 20 artists in the epic Program Two include Niblock, Col Fuhler, Jim Denley, Melanie Herbert, Nik Kamvissis, David Shea, Klaus Lang, Eyvind Kang and Papaphilia. The sheer variety of music and the event's informality make Tectonics Adelaide very special.
Unsound Adelaide
Experimental and underground club music are at the core of Unsound, a unique Australian event for the fans of techno, post-punk, dubstep, grime and more, often with immersive visuals. The international lineup, curated by Mat Schulz and David Sefton includes, in the first program, Nine Inch Nails keyboardist Alessandro Cortini (Italy), Kangding Ray (France) and Mogwai bassist Barry Burns (UK), Kode9 (UK), Jlin (US) and Australian group Tralala Blip, featuring members with and without disabilities. The second program features Fennesz (Austria) and Lillevan (Germany), Johann Johannsson (Iceland) and Adelaide's Zephyr Quartet, Vessel (UK) and Pedro Maia (Portugal), Powell (UK) and Lorenzo Senni (Italy) and Berlin-based Paula Temple (UK) with her densely textured, pulsing noise-dancing electronics.
Adelaide Festival of Arts, 26 Feb-14 March
RealTime issue #130 Dec-Jan 2015 pg. 25
© Keith Gallasch; for permission to reproduce apply to realtime@realtimearts.net