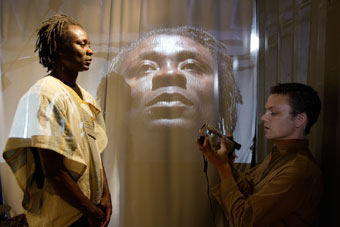 Thomas Cauker, Passport to Happiness
The third 10 Days on the Island arts festival celebrated the richness of island cultures through a diverse program presented in locations across Tasmania, from Flinders Island to Couta Rocks and Southport. Modelled on a Spiegeltent and made in New Zealand, the Pacific Crystal Palace on Hobart's Parliament Lawns provided a new focal point for the festival and a venue for world music, cabaret, theatre, forums and a late night lounge. Sue Moss reviews 4 productions from the main festival program.
The Garden of Paradise
Terrapin Puppet Theatre's production of Hans Christian Anderson's The Garden of Paradise (1839) is based on the premise of promise. A raked bare stage leads the eye upward to an imagined garden. A prince begins his obsessive search for a mythical garden described by his grandmother. As in all inter-generational tales her story is leavened by partial truths and exaggeration. She warns him not to become mesmerised by the magical flower. His task is to carry a message from the phoenix. If he fails to deliver it the garden of paradise will disappear.
Jason Lam animates his body so that it doubles as dancer and puppet. Lured by his grandmother's story the young prince walks too deeply into the forest and becomes captivated by the alternately visible and invisible fairy princess (Emee Dillon). Too wilful and brash to grasp the distinction between myth and reality, the prince obsessively follows the fairy princess into the cavern of the 4 winds.
The prince's journey is told through the magic of silhouette puppetry against a stage-wide diaphanous scrim. Constantine Koukias's sound score, including a harp played live by Christine Sonneman, evokes an ethereality associated with magic and other-worldliness. This is a subtle production, with director Benjamin Winspear deploying the performers as both stagehands and puppeteers, the ambiguity of roles enhancing the sense of mystery and strangeness. Lam and Dillon's forest pas de deux is redolent with power, memory and forgetfulness. The garden of paradise sinks into the earth and the prince wakes on top of the tallest tree. After failing to deliver the message he is banished to the mortal world. Another cycle of 100 years begins.
Tempting Providence
Tempting Providence is based on Robert Chafe's finely crafted biographical script. It is the story of British nurse Myra Grimsley (Deidre Gillard-Rowlings) living in the isolated community of Daniel's Harbour after signing on for 2 years as the only nurse on the remote coast of Newfoundland, where she remains until her death at 100. Entering this lonely and isolated world, Grimsley practises duty without sentiment, observing "there's nothing that catches my eye or my peripheral vision." The nearest doctor is 200 miles to the north. The islanders fear Nurse Grimsley yet need and appreciate her medical skills. She brings efficiency and officiousness to her task of ministering to injuries while assisting in an unusually high number of breech births. Only later does she make the connection between the number of babies being born feet first and women in advanced pregnancy repeatedly leaning over to harvest and lug potatoes before the onset of winter.
As the seasons change so does Nurse Grimsley. While caring for the Daniel's Harbour community, there are times of loneliness and doubt, a sense of absence and emotion "as still as the grass." Despite this ambivalence, it is the shared commitment, strength and generosity displayed by 8 men who assist after a saw-logging accident that removes her uncertainty. This mercy dash involves reattaching her brother-in-law's near-severed foot and trudging 100 kilometres through winter snow to reach the nearest doctor. Nurse Grimsley enters the province of providence and stays. Her story is performed with nuance and precision by Theatre Newfoundland Labrador.
The Island of Slaves
The theme of exile continues in The Island of Slaves, local writer-director Robert Jarman's adaptation of Pierre Carlet de Marivaux's 18th century work first performed in 1725. Stories located on islands often involve inversion of existing social hierarchies. From Sophocles to Shakespeare, Robinson Crusoe and Lord of the Flies to the Reality TV of Survivor, this inversion results in the emergence of behaviours characterised by experiment, foibles and violence. De Marivaux commented on the uncertainties that arise when class and social protocol are sufficiently challenged to disturb the optimism of the Age of Reason. This in-the-round production by Tasmania's Big Monkey Inc places 4 castaways (Brett Rogers, John Xintavelonis, Susan Williams and Noreen Le Mottee) on an island beach. Tutored by an island resident and former slave (Les Winspear), roles and rules are reversed. Each begins to usurp the protocols and behaviours of the master and servant relationship. The result is vengeance, mayhem, farce and ultimate redemption.
Passport to Happiness
Passport to Happiness is the story of Thomas Cauker from Sierra Leone, who fled his home in Bonthe on Sherbro Island to spend 3 years in a refugee camp before arriving in Tasmania. Cauker's story conveys the reality of a contemporary and terrifying inversion of reason. It is told through video and visual theatre, physical performance, percussion, poetry and narration.
Set in the claustrophobic confines of a shipping container, Cauker tells his story by enacting the joy and ease of life on Sherbro Island. Invasion by rebels and subsequent deaths, family dispersal and existence in a refugee camp dramatically alter his life. Cauker inhabits a world of khaki tents, open pit toilets and frustrating UNHCR bureaucracy. He inscribes his name beside hundreds of others on the metal wall of the container and waits for the processing of his passport and the eventual realisation of his dream. Refugees, he observes, are like shipping containers. They do not know where they will be "dropped down."
Directed by is theatre's Ryk Goddard, Passport to Happiness is direct and powerfully engaging. In the opening sequence Cauker offers water as a blessing and a welcome to the narrative of his life. We sip and proceed to witness Thomas Cauker's journey of tragedy, despair, humour and renewal.
Ten Days on the Island, director Elizabeth Walsh, artistic advisor Robyn Archer, Tasmania, April 1-10
The Garden of Paradise, director/co-writer Benjamin Winspear, artistic advisor/co-writer Scott Rankin, choreography Graeme Murphy, puppetry director/designer Ann Forbes; puppeteers Tim Denton, Kirsty Grierson; dancers Emee Dillon, Jason Lam; Theatre Royal, Hobart, April 1-3; Tempting Providence, writer Robert Chafe, director Jillian Keiley; Playhouse Theatre, Hobart, April 1-5; The Island of Slaves, writer Pierre Carlet de Marivaux, direction/adaptation by Robert Jarman; Hobart Town Hall, April 3-6; Passport to Happiness, performer Thomas Cauker, director Ryk Goddard, Salamanca Square, April 8-10
RealTime issue #67 June-July 2005 pg. 34
© Sue Moss; for permission to reproduce apply to realtime@realtimearts.net