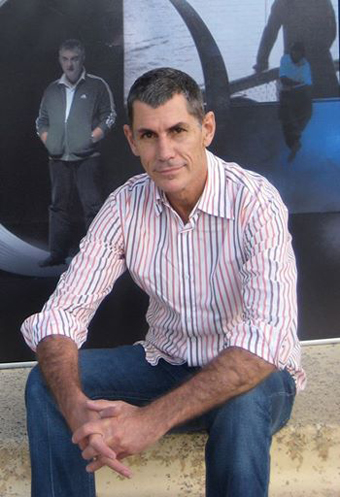 photo Brett Monaghan
James Waites
Reviewing James Waites' Whatever happened to the STC Actors Company? (Platform Paper 23, Currency House, April 2010), I began by declaring it "a rarity in Australian writing about the theatre. If more like investigative journalism (was the ensemble killed off?) than formal essaying (if not without considered theses), it's written with a documentary maker's attentiveness to his subjects (drawing on numerous interviews) and a novelist's narrative drive (who did it?). But what gives the paper its peculiar power is Waites as witness" ("Critical homage to a short life," RT97).
Jim was witness to, and an intimate of, the Sydney theatre world for over four decades, bringing to his reviews an invaluable perspective, an acute awareness of formal developments and the courage to speak his mind. His friend Augusta Supple in her fond farewell to Jim on her blog (graced with a wonderful range of photos) writes, "he once told me that being a critic was 'really a mix of parish priest and dentist'—and you had to be the bravest to stand up and applaud when everyone else was too scared to. He called a spade a spade—and got fired for it on more than one occasion. He would refuse to clap, exclaim something was "utter crap" if it lacked heart or empathy. He walked his talk" (augustasupple.com).
Jim very occasionally wrote for RealTime, his one substantial piece for us on the occasion of the death of Polish theatre luminary Jerzy Growtowski in 1999. The article, "Potato country " (RT30, p7) comprised Jim's very funny but heartfelt account of a Grotowski workshop he participated in on a farm in rural NSW in 1974. After receiving instructions to travel to 'a secret destination,' he arrives in Armidale and is instructed to make a musical instrument from whatever he can find. Later he goes to a local supermarket where the Polish performers stockpile 'luxury goods' and subsequently arrives at a farm where the workshop commences:
"We were nearly always naked, and the work was done in silence. We might walk into a room and it glowed with heat and warmth, or climb into wine kegs full of cold water, lined at the bottom with bristling pineapple heads… A journey of discovery into the self via the senses had begun, activated by what were essentially 'dramatic' devices."
Jim recalled at one point the others "putting their hands all over my naked body; I can still feel the warmth. They carried me outside and raised my body to the winter moon." Less entrancing was being dragged through recently broken earth "like a human plough. As a boy who had spent years at a Catholic boarding school, who lived pretty much entirely in the head, it was forceful and immediate confrontation. The sacred earth!"
Having refused in the course of the workshop to respond to being hit and being "battered with raw eggs and smeared with yolk …I found it absolutely repugnant," Jim was told on the last day by Grotowski that "he had planted a seed in us that would only grow if we never discussed our experience. To attempt to use words would kill his gift. For a long time I told no one." He adds, "We had been taken on a remarkable, mysterious journey into ourselves. I don't know what the gift was, but I sense it still inside me."
We weren't close friends but we saw and chatted with Jim many times over many years, usually at the theatre, even the night before his death at the opening night of The Long Way Home (a play performed by actual soldiers about the mental consequences of damaged bodies, a topic all too familiar to Jim); he was ever a loyal theatre-goer, to the end.
Nigel Kellaway, who like many us who had seen or been in contact with Jim in his final days, writes, "I'm sure I join many theatre artists in Sydney who would have only good words to say of him, regardless of the lethal arrows he occasionally threw at us all… he was a brave and beautiful man."
A detailed account of Jim's life and achievements can be found in "Critic whose life became the drama" in the Sydney Morning Herald obituary, 27 Feb, p34.
RealTime issue #120 April-May 2014 pg. 40
© RealTime ; for permission to reproduce apply to realtime@realtimearts.net