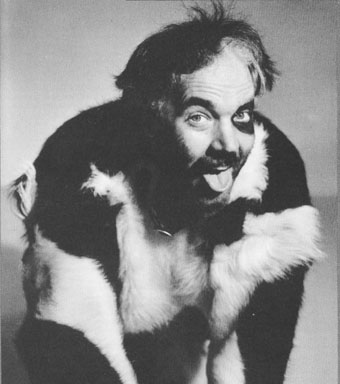 Bruce Keller in Puppy Love
The wonderful Bruce Keller is no more but his spirit of invention, community and wild good humour persists in the lives of friends, close associates and students and in the memories of the many works and projects on which he collaborated. The number of Bruce's friends is astonishing. As eulogists commented, many of them were at the funeral service reflecting the multiple facets of his life and talents. As James Waites described it in his fine obituary for Bruce in the Sydney Morning Herald ("Dramaturg who eschewed cultural boundaries", Nov 19), the funeral service was a standing-room-only occasion replete with a standing ovation. The ceremony included chamber music, finely sung hymns, loving eulogies and, yes, jokes, and a sublimely sad a capella gospel farewell, "Steal away."
Speakers at the funeral initiated what was to become the character of the day through to the end of the wake at Performance Space, and one which Bruce with his archivist sensibility would have enjoyed—the unfolding of a cultural history of performance from the 70s to the present constellating around the life of a unique artist. This mostly unwritten history was revealed in recollections, anecdotes, jokes and performances (including Scaring pigeons in the park: a solo performance with rubber gloves) drawn from memory, scripts, videos (Bruce, bigger than life) and a joke-athon. The history was told in no particular order but it evoked some 30 years when Australian theatre opened up to movement and image, intercultural exchange and social engagement. We heard stories of Bruce's university days—the comic collaborations with the late Lance Curtis; spontaneous, anarchic one-off performances; briskly contrived dada-ist acts for public places; the wonderful Anthill years in Melbourne (Bruce had been a co-founder of Australian Nouveau Theatre with Jean-Pierre Mignon); a richly innovative decade with Entr'acte Theatre in Sydney and overseas; and, while teaching with great commitment at the University of Western Sydney, the intercultural project he was working on until the very end, Citymoon, the Vietnamese-Australian Contemporary Theatre Company with poet and performer Binh Duy Ta and other collaborators.
This packed, creative life also included a great success, Puppy Love, the solo work he wrote and played—as the dog—to thousands and which was published by Currency Press. Bruce was also a perceptive dramaturg on plays and performances including Alma de Groen's The Rivers of China for the Sydney Theatre Company.
Friends quickly produced a commemorative booklet celebrating Bruce's life and work and circulated it at the wake. They have also moved briskly to preserve and make accessible Bruce's considerable archive of books, scripts, scrapbooks and videos.
It's difficult to sum up a life, especially one as creative and multi-faceted as Bruce Keller's. However, in eulogies and memoriums a recurrent theme was Bruce's sense of humour and his love of joking. This was no mere quirk of personality but an attitude to life, a way of being. In the memorial booklet, performer Jai McHenry (now living in France) captures the first-hand feel of this spirit: "He would laugh so hard (at either his jokes or mine—it made no difference), he would laugh so maniacally. Well, there was nowhere to go but into the maelstrom with him. His laughter came so fast, it almost seemed to flee his body, like some wild thing making a break for it. He is the only man I know who could giggle so loudly, so like a child. His pleasure, his joy, his understanding that life is supremely, absurdly funny was totally contagious. To laugh with Bruce was a given. Just to think of him now brings great joy."
Across that sad October day, from funeral to wake, there were many moments of vivid recollection and depiction of Bruce's life and performance milieu, eruptions of laughter and surprise at hearing slices of forgotten history. Of the many, I enjoyed hearing read aloud an email from John Nobbs and Jacqui Carroll of Frank Theatre in Brisbane. In the mid 70s John and Jacqui had shared a house with and then lived in the same street with Bruce in Sydney. It says something of his spontaneity, communality and creativity. He would have loved to be in on this telling.
"Arthur St was…the HQ of The Ashes Of Sydney, the brainchild of Bruce, Jacqui and Greg Scheimer, set up as a international non-profit foundation directly in competition with The Fires Of London, the portentous chamber group led by Peter Maxwell Davies who had wafted through town some months before. There was only one legendary performance, I think in March 1976, and it involved many arty mates cruising around Sydney harbour in a ferry looking at some fairly bizarre site-specific events. One particularly memorable moment occurred when Bruce, Jacqui and I were to be observed in a rowing boat crossing behind the ferry somewhere near Balmain. It was an old-fashioned clinker rowing boat, Bruce was in the front in a monk's habit holding a lantern a la Tarot. I was in the middle attempting to row dressed in a dinner suit with a pig's head on, and Jacqui was in the back in a full-on wedding outfit with a substantial veil. We had set ourselves up neatly and were steaming along looking the very essence of surreal when the silly bloody ferry came around the island the WRONG way and nearly clobbered us. Jacqui's veil became a sea anchor and tried to pull her to a watery grave. I hadn't a clue what was going on as the pig's head made things difficult and Bruce, the only one who could actually see the imminent disaster, was in the bow trying to maintain composure—and an Ahab like countenance—whilst continuously muttering under his breath, They're getting closer!! They're getting closer!!!
"Eventually they saw us and swerved but it was a bit toooo close and definitely NOT workplace health and safety. However, a great night was had by all and in many ways it was very essential Bruce in that (1) it wasn't too organised, (2) it was fantastic in conception, (3) it was a lot of fun."
The Sydney performance community has lost a fine performer, a great collaborator and organiser, and an inspiring teacher.
Bruce Keller died of complications from pancreatic cancer on Saturday, October 18. KG
RealTime issue #58 Dec-Jan 2003 pg. 12
© Keith Gallasch; for permission to reproduce apply to realtime@realtimearts.net