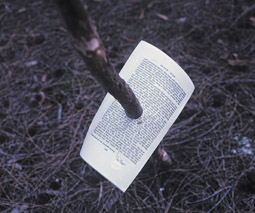 photo Simon Cuthbert
Julie Gough, Some Words for Change,
AN EAGER HOST AND GUIDE WAIT FOR ME WHERE THE SOGGY DIRT ROAD ENDS. I HAVE DRIVEN HALF WAY UP TASMANIA'S EAST COAST THROUGH STORMY WEATHER TO REACH THE FREYCINET PENINSULA THEN FOLLOWED DIRECTIONS DEEP INTO BUSHLAND AT THE BACK OF A WILD STRETCH OF COAST CALLED FRIENDLY BEACHES. THERE ARE NO SIGNS, LITERAL NOR FIGURATIVE, TO INDICATE ANYTHING REMARKABLE RESIDES WITHIN THIS SEEMINGLY RANDOM PATCH OF COASTAL HEATHLAND, BUT AS I'M TRANSFERRED INTO A BATTERED PEOPLE MOVER—THE ONLY VEHICLE PERMITTED ACCESS PAST THIS POINT—THE EFFUSIVE COMMENTARY OF THE HOST IMPLIES I'M ABOUT TO BE INDUCTED INTO SOMETHING VERY RARE AND SPECIAL INDEED.
Curiosity compelled me to accept the invitation to view this unusual event called Ephemeral Art at the Invisible Lodge. It's sponsored by Sydney-based owners Joan and George Masterman, whose eco-tourism venture Freycinet Experience Walk (offering guided trekking holidays combined with luxury accommodation) co-presents Ephemeral Art with the Sculpture by the Sea organisation. The site is 130 hectares of land protected by a strict environmental covenant, which means that there is a legally enforceable obligation to prevent adverse impact on the land.
Two Sculpture by the Sea trails, modelled on Sydney's Bronte to Bondi walk, were held on the Tasman Peninsula property of sculptor Peter Adams back in 1998 and 2001. As anyone familiar with Adams' art and politics will know, he is a dedicated environmentalist. Consequently, the very popularity of Sculpture by the Sea was a factor in its downfall: the damage sustained to Adams' land included litter, the impact of vehicles, the accidental 'assassination' of a tree by a well-meaning artist, and a view that the event was not financially feasible in the long term, put an end to hopes it had become a regular feature of the local arts calendar. Many of those organisers are now behind the rather different initiative, Ephemeral Art, which had its debut in 2006.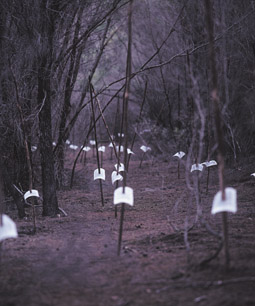 photo Simon Cuthbert
Julie Gough, Some Words for Change
This year's selection of site-specific installations was curated by a formidable panel comprising Dick Bett of Hobart's Bett Gallery, the visual arts writer Peter Timms and the founding director of Sculpture by the Sea, David Handley. There was no call for applications, the nine exhibiting artists—Peter Adams, Dean Chatwin, Julie Gough, Colin Langridge, Anne Mestitz, Sasha Reid, Ron Robertson-Swann, Marcus Tatton, Catherine Woo—were preselected and propositioned in "a generous act of patronage", as Timms puts it in the exhibition catalogue. The works were on display for a month, but there was a catch: the works were seen only by 40 holidaymakers at the price of $1,350 each, and a similar sized group of invited art critics and administrators attending a special viewing and gourmet lunch.
I was a member of neither of the groups above, but the recipient of an informal invitation offered to postgraduate students at the Tasmanian School of Art. My viewing was a heavily mediated one, the attentive hosts not only leading me to each work by foot or vehicle, but also stepping me through the interpretation too—determining the angle of approach, recommending the best vantage points and providing anecdotes about the artists' aims and processes. All this was done with the best intentions, and perhaps reflects the level of assistance required by regular lodge guests. As a self-sufficient art viewer however this was so like receiving an owner's tour of a private collection that it became near impossible to engage critically with it as an exhibition of new contemporary art.
For example, standing with the others in front of Adams' elegant mandala composed of white sand peaks and the seed pods of surrounding casuarinas, I was overwhelmed by a desire to be completely alone with this work. I heard the mantra of breaking waves across the dune and felt sure Adams had intended to create here a place for meditation. But under the circumstances of my guided tour, I found myself resorting instead to a formal appreciation of the spiral form and the tonal quality of the rain-dimpled sand instead—a superficial intersection with what I can only suspect was potentially a deeply spiritual piece.
The catalogue must have gone to print early in the project's development, for it states: "the work should be made primarily of materials found on-site and…be impermanent. It must be left where it is to fall apart in its own good time." In fact, very few of the works here reflected any real attempt to meet such ideals. A creative process guided by a leave-no-trace-behind environmental ethic is precisely the expectation the title raises, but works like Robertson-Swann's tree-aiding apparatuses of steel cables, glass and even a plumb bob, and Anne Mestitz's delicate intervention into the remnants of a bushfire with reflective plastic tape, were clearly not driven by a concern for using sustainable materials. More pertinent was the fact the artists came and removed their works at the end of the month.
Catherine Woo's piece was the only unequivocally ephemeral work here. Processing Plant was a collection of natural materials from the ground at the base of a large sand dune, categorised into discrete piles of various sizes. Between mounds of dry fern fronds, charcoal, wombat droppings and banksia flowers wove interlocking pathways of white sand that beckoned the viewer through this little city. Footprints showed an array of native animals had taken up Woo's invitation, but I was asked to view from the edges to avoid degrading the work. My understanding was that by their very essence, ephemeral art works embrace the disorderly processes of environmental change but it seemed the concern for the work's preservation was as much about the perceived aesthetic appeal of a 'pristine' state, as it was for its physical integrity.
The stewards of Friendly Beaches necessarily treat their environment with a certain preciousness that justifies the exertion of a high degree of control over who is allowed to visit, and the conditions under which they do so. It seemed to me, however, this attitude posed significant problems when applied to the viewing of the artwork they temporarily hosted. A certain degree of freedom is prerequisite to forge the relationship that makes an encounter with art meaningful and moving.
When the tour was complete, I was promptly delivered back to my car by the side of the dirt road feeling amused and bamboozled by the unlikely conglomerate of seemingly conflicting objectives, limitations, aspirations, attitudes and individuals represented in this extraordinary exhibition. One of the major questions the event raised for me was: what is the value in writing a review of an event from which the vast majority (you readers) have been consciously, not just incidentally, excluded?
I am more than happy to state for the record my opinion that the installations themselves were, on the whole, excellent—particularly in dealing with a breadth of stimulating ideas pertinent to a particular landscape. I was also impressed by the elegance and integrity of their all-weather execution. Julie Gough's dramatic Some Words for Change and Dean Chatwin's opportunistic inverse doormat, were two of the highlights. Ultimately however, I suspect some reflection on the workings behind this mysterious, highly exclusive art event itself might be of greater relevance to a community of artists and art viewers who will never have the opportunity to view an Ephemeral Art at the Invisible Lodge show for themselves.
Ephemeral Art at the Invisible Lodge, Tasmania, Feb 14-16, 18-20, 21-23, 24-26
Bec Tudor was a day guest of Friendly Beaches Lodge. She drove herself the five hour return journey and brought her own packed lunch. She is a Hobart-based writer, a PhD candidate at the Tasmanian School of Art and was one of the RealTime review-writing workshop team for the 2007 Ten Days on the Island festival.
RealTime issue #84 April-May 2008 pg. 46
© Bec Tudor; for permission to reproduce apply to realtime@realtimearts.net