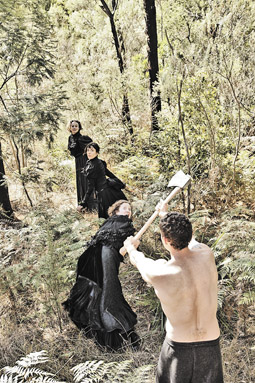 photo Jeff Busby
Axeman Lullaby
TEN YEARS OLD, MELBOURNE'S BALLETLAB OPERATES ON A PORTFOLIO OF STATE AND FEDERAL PROJECT FUNDING ARRANGEMENTS, USING UP AND WEARING OUT PRODUCING STAFF THROUGH A RELENTLESSLY AMBITIOUS SCHEDULE OF CREATION AND PRESENTATION. ARTISTIC DIRECTOR PHILLIP ADAMS SEES 2009 AS A POSSIBLE NEW ERA OF STABILITY FOR THE COMPANY. CHARACTERISTICALLY POSITIVE, HE RATTLES OFF A LIST OF INDICATIONS OF THE COMPANY'S GOOD ARTISTIC AND ORGANISATIONAL HEALTH. EXECUTIVE PRODUCER MATT MORSE HIT THE GROUND RUNNING AT THE PRESENTATION STAGE OF ADAMS' PREVIOUS WORK, BRINDABELLA, EIGHT MONTHS PREVIOUSLY. WITH A NEW WORK, AXEMAN LULLABY, ABOUT TO OPEN, A EUROPEAN TOUR FOR BRINDABELLA IN 2009 AND AN INTERNATIONAL RESIDENCY TO CREATE ANOTHER WORK IN NOVEMBER THIS YEAR, ADAMS HAS GROUNDS FOR GOOD CHEER.
BalletLab is positioning Axeman Lullaby in a 'suite' of productions which will target a range of markets and continue to tour while the company prepares a major commission in 2010 to mark the opening of The Museum of Old and New Art in Tasmania. The company's sponsorship relationship with Moorilla (its winery and museum), has led to this extraordinary opportunity to create a promenade performance of scale. Details are not forthcoming, as Adams is sworn to a secrecy he finds hard to contain.
Following a subdued response to Origami in 2006, Adams created Brindabella in 2007. He is delighted with its resonance with audiences at the sell-out Melbourne season and with European presenters. The collaboration with American choreographer, Miguel Guiterrez, created a bacchanalia of thrilling moments, veering dangerously close to chaos but contained with the coherence of composer David Chisholm's delightful score. Adams says, "Working with Miguel opened me up to so many things." He is excited about how this experience inspires Miracle, the piece to follow Axeman, which presents a trio of new works from Adams, Rebecca Hilton and John Jasperse.
"Miracle is entrenched within the US market through John", Adams explains. "Brindabella is opening up Europe for us finally, and Axeman will do the same for the regions here." Never one to underestimate his audiences, Adams has complete faith that Axeman's themes will resonate in the regions. He goes on to link Axeman to Brindabella as "an exploration of masculinity and Australian suburban gothic. The compelling image of the axeman's blows is overtly sexual, violent and unsettling. Located in the Australian bush but closely linked to suburban life, the axeman represents the horror lurking just beyond the back fence."
Adams showed me Axeman's strikingly cinematic marketing materials. He cites months of research into the Australian cinema of the 70s and 80s, such as The Last Wave, Walkabout and Razorback. "These films offered me an eerie portrayal of our past and an unsettled vision of our future. I am fascinated by the melodramatic figure of the axeman in regional Australian life." Adams says, "All Australians have a relationship with him, whether through actually knowing someone who still takes part in these competitions, or through television, the Easter show…In this production, there are three women and one male dancer circling the overtly masculine axeman who will be played by real life woodcutter Lawrence O'Toole. I was inspired by Thomas Kenneally's novel, The Chant of Jimmie Blacksmith, which made a huge impression upon me in my youth. The image of the blackfella slicing up the women in the shed towards the close of the Fred Schepisis film has stayed with me forever."
For Axeman Lullaby, Adams' list of collaborators is shorter than in previous productions (in Origami BalletLab explored a collaboration with architectural firm BURO to create an extraordinary folding set). Adams puts that down to, "my growing confidence in my choreography in relation to the visual arts." While not formally trained in visual arts, Adams has consistently contributed to the scenography and costuming of his productions and has nurtured a distinctive personal aesthetic from an early age. His interest in the creation of a strong visual context for his productions is an area to which he dedicates extensive research. For Axeman, Adams visited a wood-chopping competition in Bairnsdale, regional Victoria. He documented the stories of the wood-cutters and their families on film and brought hundreds of off-cuts of wood back to his studio. "I have created a Rosalie Gascoigne floor", Adams says, elaborating how he will assemble the timber into a projection surface.
In all three works of his suite, Adams will collaborate with David Chisholm, the Melbourne based composer with whom he shares a taste for experimentation. Adams is thrilled with the "high modernism" of Chisholm's composition for Duo Sol in Axeman. Playing live, the violinist and pianist will "literally tear their instruments apart."
While Adams admits that Chisholm's music is core to the drama of his work, he recognises that touring with live musicians is not always possible. In Miracle, Chisholm's score will be created and recorded in the US with the leading International Contemporary Ensemble (ICE), but it will not tour.
In Miracle, it's the technology which will pose the challenge. Media artist Cazerine Barry will travel with the company to the Experimental Media and Performing Arts Centre (EMPAC) in Rensselaer, New York. The work BalletLab presents alongside Hilton and Jasperse's creations there is already pushing Adams into hyperbole.
When I suggest that such challenging propositions cannot make life easy, Adams is quick to respond: "I feel increasingly comfortable with the role we play nationally. I do not want to play it safe. It's about questioning, storytelling and open-mindedness." He states with arresting clarity, "It's not about getting more sophisticated or more mature; that has happened over time in what I am creating. I am just getting more responsible for what it is that I narrate to the world through my art."
Read a review of Axeman Lullaby in RealTime 87.
BalletLab, Axeman Lullaby; Chunky Move Studios, Melbourne, Aug 7-17,
www.balletlab.com/about/
RealTime issue #86 Aug-Sept 2008 pg. 32
© Sophie Travers; for permission to reproduce apply to realtime@realtimearts.net