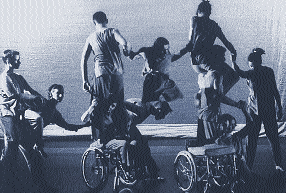 CandoCo
A plainchant violin. Between the national and the bristol opens like an arrangement of Giacometti figures in a square: eight faces, eight physiques turned in different directions, at different levels. Some are seated, some stand. This is an architectural arrangement of bodies in a wavering line—a queue, a thread, a taciturn question (how much can we know each other?). The inherent drama of bodies thinking, thinking to pass each other, is accentuated with a momentary blackout. Lights up again, as if, in remembering (the same positions, same roles), we can now look differently. This is not a piece about disability, nor even one that so much as points to some of its dancers as disabled. It is about planes of habitation, interaction, of where and how one can know another, manifest through sweep and contact.
Technically, what is notable is that the viewer's attention is equally dispersed between dancers. Siobhan Davies has choreographed for texture, line and placement, leverage, echo and counterbalance. This for me highlights one of the problems in Christy don't leave me so soon which first labelled the three dancers as (wheelchair) bound or unbound, before they could explore how it was possible to move. As an audience for this program there is a fine line between wondering at limitation, and wandering within the art: Christy… defines its characters as (unfortunately, female and) crippled, desiring, versus erect (and male) before it explores manoeuvres off-the-wheelchair in quite nice ways. Perhaps its first part was pointed, provocative, for some, but I found its politics loaded and unthinking. The problematic of Davies' piece, however, is quite different: how do you stop one dancer showing up the others?
David Toole uses his elbows like knees, his arms like levering cranes, his tumbles and turns somehow turning the earth like an earth-moving machine. None of his manoeuvres skim the surface—of soil, or emotions. Most of the fully-able-bodied dancers feel static beside him. There was some nice partnering with Helen Baggett, she breathing through her bones to accompany him; but largely, this legless dancer's skill should have been caught up in the rest of the troupe, but wasn't. Wheel-chair bound, Jon French's angularity was given wonderful space by Davies, but could have been better threaded and echoed as a texture by other dancers throughout the piece. Working against isolation and exclusion is obviously a huge factor in the work of CandoCo; in its choreography this program did not always achieve a similar vision.
CandoCo is a group of able and dis-able-bodied dancers founded in 1991 in London. Their Australian tour, part of the British Council's newIMAGES program, encompassed performances and workshops in Lismore, Newcastle, Melbourne, Sydney and Brisbane September 18-October 29. between the national and the bristol, choreography Siobhan Davies, music by Gavin Bryars; Christy don't leave so soon, choreography Benjamin/Dandeker/Parkinson. The Gasworks, Melbourne Fringe, October 7.
RealTime issue #22 Dec-Jan 1997 pg. 30
© Zsuzsanna Soboslay; for permission to reproduce apply to realtime@realtimearts.net