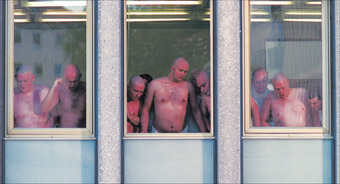 Sniffer
Although MIFF's short film agenda was certainly exhaustive, my 'best on ground' was the Focus on Nordic Shorts selection, uniformly excellent and sharing the blackest humour, absolute self-deprecation and a savage willingness to torch convention. Sniffer (director Bobbie Peers, Norway, 2005, 12 mins) imagined what conformity, consumerism and desire would be like in a futuristic world with no gravity, minimal dialogue and a cast of overweight men—a metaphoric wonderland with layers of meaning unpeeling like subcutaneous tissue. Bawke (Hisham Zamam, Norway, 2005, 15 mins) used a Zinedine Zidane football card and a cluey kid to pack an emotional sucker punch about illegal immigrants, while The Last Farm (Runar Runarsson, Iceland, 2004, 15 mins) was a bitter, compelling psychodrama that neatly inverted George Sluizer's The Vanishing.
The searing Roswell Enterprises (Janic F Heen, Norway, 2005, 10 mins) gave us 2 corporate wannabes playing one-upmanship in a high-tech men's room before a job interview, only to find their cock sparring is being monitored and assessed. Me As Usual (Martin Zandvliet, Denmark, 2006, 8 mins) featured a self-obsessed guy in a dinner suit walking across a frozen field, talking to himself. A wide shot reveals he's actually prattling on to another bloke wearing a costume moose head, while a nerdy cop with low self-esteem watches. Film ends. Take this as a commentary on the impossibility of wrapping up narratives in 8 minutes. I did.
Kids featured in the Focus on French selection, typified by the magic-realist For Interieur (Patrick Poubel, 2005, 10 mins) where a boy discovers his grandfather literally holds the world in his hands. Hard Lines (Benoit Tételin, 2005, 17 mins) laid bare a woman's emotional past. Shot in black and white (and blue), it interspersed the woman's work as a counsellor for abused children with angry confrontations with her mother. A Curtain Raiser (François Ozon, 2006, 30 mins) skewered Gallic relationships with sharp wit, nuanced acting and lush cinematography. "How un-French", a character bemoans, "to complain about a woman being late. What sort of woman isn't late, some kind of sexless monster…"
MIFF's Accelerator program showcased emerging Australian and New Zealand talent. The films ranged from the brave—the semi-improvised The Dance (Sian Davies, Australia, 2005, 10 mins), about teen depression—to the tasteless—Nature's Way (Jane Shearer, New Zealand, 2006, 10 mins), in which a young girl is graphically kidnapped and murdered in the forest, all so we can witness a pointless supernatural template framed by car-ad cinematography. The Last Chip (Heng Tang, Australia, 2005, 22 mins), funny and wise, featured a trio of overmade-up Vietnamese harridans determined to score big at the casino to fund 'more abalone and birds' nest soup'. Checkpoint (Ben Phelps, Australia, 2006, 11 mins) inventively connected the 'War on Terror' and ingrained Australian racism via the power of suggestion.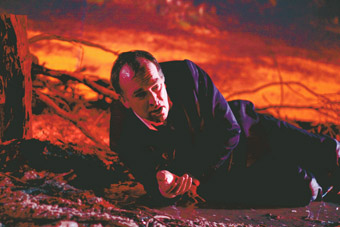 William
Of the Focus on Australian Shorts program, William (Eron Sheehan, 2006, 20 mins) was the pick, portraying an Indigenous magician and his strange magnetism for violence of all stripes—as institutionalised thuggery, as survival tactic, as mindless indulgence. The documentary My Brother Vinnie (Steven McGregor, Australia, 2006, 20 mins) recounts the experience of the actor Aaron Pedersen virtually raising his brother Vincent, who has mild cerebral palsy. The film's simple power derives from Vinnie's gentle charm and Aaron's desire to finally let off steam and tell the story of their struggle to survive in foster homes. My Brother Vinnie won the festival's Best Documentary Short Film award.
The animated films From Gold to Grapes (Al MacInnes, 2006, 6 mins) and Yallourn Story (Dave Jones, 2006, 6 mins) were also highlights. Both tell stories of forgotten Australian communities using the same technique—bringing local adults to life via local kids' drawings, allied to voiceovers from the grownups themselves. This unpretentious device, bridging generations and essaying history as worthy of preservation in an age of the eternal present, put the rotoscoping bollocks of MIFF's "hotly anticipated animated work", A Scanner Darkly, to shame.
In fact, most of the Animated Shorts films kicked Scanner's arse, especially Rabbit (Run Wrake, UK, 2005, 5 mins), a surreal headfuck told via cutouts of primary school readers—as if Dick, Jane and Spot had been sucked into the freaky fantasies of devil children. The Wraith of Cobble Hill (Adrian Parrish, USA, 2006, 16 mins), a subtle claymation about conflicted youth, was shot in grainy black and white. Other notables included the watercoloured cannibalism fable, The True Story of Sawney Beane (Elizabeth Hobbs, UK, 2005, 11 mins) and the computer-generated Astronauts (Matthew Walker, UK, 2005, 9 mins)—like an English Dark Star. Funny Pets (Ryuji Masuda, Japan, 2005, 6 mins) delivered a tripped-out parallel universe made from queasy CGI, where a Betty Boop-like bimbo keeps 2 dumb alien pets that bend space and time completely by accident. MIFF awarded it Best Animated Short Film. Daydream (Yoo Jinee, South Korea, 2005, 13 mins) was simply beautiful, using fantasy to tell of the director's love for his disabled daughter.
The Documentary Shorts were just as compelling. Sleep City (Enrique Rodrigues & Moncho Fernandez, Spain, 2005, 10 mins), a Ballardian meditation on urban psychopathology, artfully cropped its frames to exclude all humans—a train without passengers, a fairground starting up by itself, ghostly escalators looping for eternity—the technological landscape, a kind of AI, becomes the star attraction. Last Men Standing (Sasha Maja Djurkovic, UK, 2005, 17 mins) tells of the Tower Colliery coal mine in Wales, bought by miners with their severance pay. As the miners proudly speak of their dignity and their pride in the mine, we cut to smacked-out, teenage glue sniffers, unlikely (by their own admission) to live another few years. Will the mines save the kids from the glue? Or are these kids choosing glue over going down the mines? It doesn't seem much of a choice and the power of this film is assured in the final shot, as a block of flats is detonated and the white smoke bleaches the screen to nothing.
The sheer range of the documentary shorts proved the creaky adage that truth is a billion times stranger, messier and more jarring than fiction, especially when too many of the Fiction Shorts relied on bog-standard melodrama, with characters learning inevitable emotional truths in inevitably empty landscapes. Still, A Supermarket Love Song (Daniel Outram, UK, 2005, 13 mins) sympathetically portrayed a horny old man's lust for a bored, reprobate girl; Antonio's Breakfast (Daniel Mulloy, UK, 2005, 16 mins), about a streetwise kid looking after his crippled father, was tough, edgy and full of steel-grey urban vibes (and was awarded a special prize by the MIFF judges); while Cotopaxi (Zack Copping, UK, 2005, 13 mins) was an acerbic, hilarious mockumentary about a guy who tries to rescue his sister from a hippy commune, only to succumb himself.
Unfortunately, Experimental Shorts was a real snorefest. Being a Chris Marker fan, I had hopes for the La Jetée homage, Beta Test (George Drivas, Germany, 2006, 14 mins), but it failed with its sterile fidelity to Marker's original, including Identikit off-screen whispering. Too bad Marker's intelligence wasn't Xeroxed as well. However, I woke up when Brothers, Let Us Be Merry (Ulrich Seidl, Austria, 2006, 1 min) came on—hard not to when 2 naked, bored-looking men fill the screen, vigorously wanking to the thundering strains of Mozart's Zaide.
Go to www.melbournefilmfestival. com.au/2006_festival/shorts for details of other award winners.
Melbourne International Film Festival, July 26-Aug 13
RealTime issue #75 Oct-Nov 2006 pg. 20
© Simon Sellars; for permission to reproduce apply to realtime@realtimearts.net