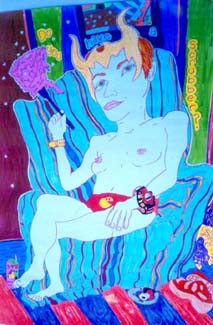 Arlene TextaQueen, portrait
We're such bums that we don't want a proper 9 to 5 job and we'll do anything else, whether play in a band, write a sitcom or, ahhhhh,
sell T-shirts…
Luke Sparke & band mates, noise [tv]
Listen to that. The wind through the grass. That's a hit around here, man.
Damien, NoKTuRNL, noise [tv]
The week before the federal election I heard a talkback session on Life Matters (Radio National, weekdays, 9am) where young voters, aged 18-25, were asked to call in and discuss who they were voting for and why. In nearly all cases, callers stressed that they were not going to vote for major parties (preferring Democrats or Greens but understanding fully where their preferences would end up) and practically all were against both Labor and Liberal's stance on asylum seeker issues. The other striking thing about this program was the hogging of the airwaves by older listeners who, even though Geraldine Doogue repeatedly stated that the floor was only open this time to younger people, had to get their 2 cents worth in with inane chatter. Time and time again, Doogue had to ask, "excuse me but are you really under 25?" It highlighted how rare it is for young people to get their voices heard in the mainstream media, which is a shame for the rest of us who miss out on the thoughts of a generation that is articulate, creative and politically astute.
Of course, there are other outlets for young voices (see TILT and This is Not Art) and noise is a major player, a national and media-based festival, which followed on from LOUD in 1998. In the 4 years since LOUD I've moved from the right demographic (under 25) to no longer eligible and it's a curious shift; I can no longer speak with authority from the tender perspective of youth. LOUD was important to me: my short fiction was published online, it was peer-assessed with critical feedback (and yes, young people are good critics) and it gave me the confidence to apply for a 'real job' in publishing (RealTime), where, happily, my first review was of LOUD itself (see RT23 p3). noise has broadened to keep up with technological advances: over 25 projects and 10,000 artistic entries, appearing in magazines like Voiceworks, HQ and Black and White, on SBS and ABC in noise [tv] and short fuse, online with a cacophony of Flash, sound and visual arts, and in Pluto Press's beautifully produced Anthology, which matches a witty and sensitive introduction by Richard Fidler with angry cartoons and some wild fiction.
With so much on offer, there's really no option but to sample. And this is what the noise site is designed for. But I quickly lose patience as I spring around in circles unable to find what I'm looking for and it dawns on me that I'm heading towards 30 and I don't know what I'm looking for and that's why I can't find it. These creative projects don't look like my idea of youth art, whatever that is. I'm looking at websites that look like corporate designs. And that's when I realise what it is that seems new about these creators; there are no boundaries between life, work and art. This is just stuff that they do. For noise, a website (whether personal or for a corporation) is artistic practice, it's about technique, compiling elements to be gorgeous and sleek or grungy and impenetrable, intricate constructions of a state of mind, full of design flair and whimsy. And it is as much about profile—who these people are, what they like, their obsessions. I find a girl who's obsessed with buttons and it leads me on to people around the world obsessed with buttons and then I'm scrolling down this list of fantastic hand-designed buttons with grrrl bands like Bikini Kill for sale and I'm so tempted but they're in American dollars and my credit card is over the limit.
I lob into E-Works and find Konrad McCarthy's Humanesque Web and—damn I need to get a better computer. Sleeping babies lie in the nursery and welcome us. Heads lift and turn into phones and envelopes, the surreal icons of contact web-style, and I'm loading, a rocketship about to take off, into a series of interactive comics, and I like the mix of anti-authoritarianism and multimedia know-how. A wretched mother spits out "a smile is just an upside down frown" and tries to force her kid into submission after he gives her the finger. This same woman punches her baby in a mockery of Funniest Home Videos, while a power gauge that we click effects her level of violence: "if it doesn't bleed, it doesn't lead." The design is incredible but, as is often the case, the writing's a bit slack. It always amazes me that people who spend hours playing with software and computer code can't be bothered doing a spellcheck, especially when certain jokes depend on rhymes that fall kinda flat when the spelling's wrong. Best of all are Konrad's variations of nursery rhymes with choose-your-own endings: Black Sheep, persecuted by his White classmates, goes 'postal'; Cat and the Fiddle offers Gratuitous Drug, Violence, Sexual Reference or Toilet Humour options. Who could resist?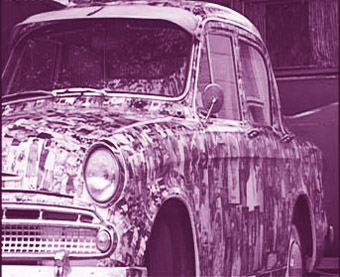 Felicity Electricity, Decoupage Car
Estelle Ihasz is everywhere. She has over 30 creative entries in various sections of the program and I'm again in a loop when I link to links to linking things that loop to, finally, Visual Frequencies, the Museum of Contemporary Art's noise project. The Flash fest where everything bumps and grinds quickly fades to the stillness of this exhibition, with 30 works by 10 artists, in a range of styles. I find the 'educational' aspect a little tedious here—great pains are taken to describe the work and explain how it's done, which either seems pretty bloody obvious or leaves little scope for the imagination—but the site itself is beautifully set up and easy to navigate. And I'm back to Estelle's imagery, luminous photographs of bedroom walls touched by morning/afternoon light, the sun tracked by subtle changes of colour: a corner of a room from pearl to beach sand to Antarctic ice. It's a great curatorial idea (and something that noise in general should do more) presenting a range of examples of each artist's work.
"Do I look in the camera…or ignore it, or what" asks DJ Kat Kid, one of the many artists profiled on noise [tv] (screened Saturday nights in October on ABC, before Rage). Hiphop culture and all its elements (graffiti, turntabling, rap, skateboarding and sampling) permeate the lives of many featured here. It's easy to forget that these subcultures have been around for almost 20 years yet they still have the appeal of the new. DJ Kat has a gorgeous honeyed voice and dreds, and performs in Brisbane's Powerhouse, sampling Julie Andrews, Michael Jackson and promoting Mother Tongue, an Australian label that features female hip-hop artists. Dean Wells, a filmmaker from Newcastle, explores the skateboard culture and takes us into his living room, introducing his personal chef (dad) and pretty impressive digital camera and computer editing suite setup. Arlene TextaQueen is a Sydney star, unforgettable with her space cadet outfit of coloured textas, who does portraits of kids, friends and people at dance parties. But my favourite of all is the completely eccentric Adelaide-based Felicity Electricity (soon to add the middle name Publicity) whose art comprises a Hillman Minx completely plastered with magazine clippings of Princess Di, including pics with John Travolta and Michael Jackson. Taking decoupage to new heights, she is currently working on a 1950s caravan to be covered with pics of the Royals (so Princess Di can tow the royal family) and her next project will be a London bus. This girl is going to be big.
As with other aspects of the festival, the segments in noise [tv] are just too short. All of the artists mentioned could have done with more than a snippet. We never really get to know what makes them tick. I guess it's mainly a budget thing but they all needed an Australian Story of their own. Unfortunately, 'youth' tends to be equated with 'quick.' And if you hear often enough that you have no concentration span, you'll end up believing it. As the festival tends to concentrate on individual profiles, young artists appear like islands dotting the cultural landscape, little worlds to themselves, isolated, rather than part of a community. It'd be interesting to see how many of these artists join together, are connected, by being part of noise. Surely one of the aims of this festival should be to build bridges for the future, or for the next festival at least.
noise, various media outlets throughout Australia, October 2001
RealTime issue #46 Dec-Jan 2001 pg. 17
© Kirsten Krauth; for permission to reproduce apply to realtime@realtimearts.net