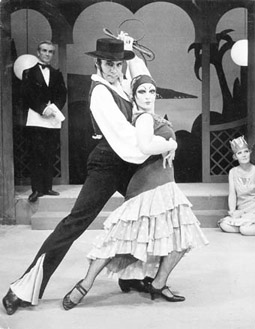 Noel Tovey, The Boyfriend, 1966
Noel Tovey's CV from 1953 to the present is really something to read and the following are just "some of his favourite productions." Starting with Anthony and Cleopatra at the Princess in Melbourne, it ranges through musical comedy (Paint Your Wagon, The Music Man) and revue, detours into drama (Witness for the Prosecution), ballet and, inevitably, TV (Beauty and the Beast, Sunny Side Up). Making the necessary pilgrimage to the UK in the late 60s, Tovey lands no less than a principal dancer's role with Saddler's Wells Opera Ballet and an acting debut on the West End in Stella Adler's production of Oh Dad, Poor Dad…" He sings, choreographs, creates musical staging with Diane Cilento, does Oh Calcutta in Paris and Hamburg and Charley's Aunt on BBC2, teaches and co-founds London Theatre for Children, and ducks back to Australia in 1971 to direct Anything Goes. Meanwhile, he juggles performances in Butley and Henry IV, runs a gallery specialising in 20th Century decorative art and dabbles in the fashion scene.
In 1991 he returns to Australia and puts his considerable talents to work developing and implementing performing arts courses at Eora Aboriginal College in Sydney and, later, in Wagga Wagga and Darwin. In 1995 he directs The Aboriginal Protestors…, a controversial take on Heiner Müller that travels from Performance Space to the Weimar Arts Festival. Of late, he has been involved in the development of new plays by Indigenous writers; guest lecturing in Aboriginal art and in drama and movement; curating art exhibitions; lecturing on creative writing; designing and directing ceremonial events for the Adelaide Festival, Sydney Olympics and Mardi Gras and dashing off an autobiography to be published later this year.
Taking a closer look at "the formative years that set this life on its remarkable course", Noel Tovey decided, while he was at it, to develop an excerpt from the autobiography into a narrated performance. Little Black Bastard premiered in March this year at the Carlton Courthouse Theatre, the same courthouse where 62 years before, the magistrate signed the papers that sent his father to gaol and Tovey and his sister and brothers to the Royal Park Welfare Depot.
–
Little Black Bastard, narrated by Noel Tovey, Darlinghurst Theatre, Sydney, 23 April-10 May.
RealTime issue #54 April-May 2003 pg. 32
© RealTime; for permission to reproduce apply to realtime@realtimearts.net