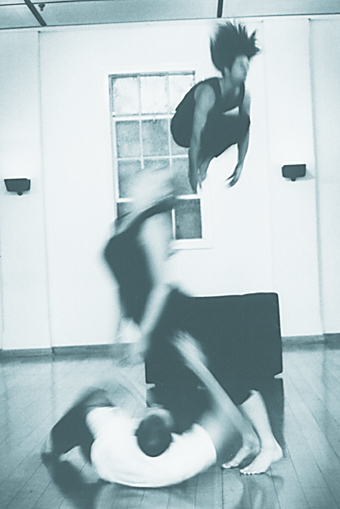 photo John Waddell
Robert Griffin, Paul O'Sullivan & Rachael Whitworth, P.O.V.
Have you ever been in a theatre foyer after a show and noticed large parts of the audience articulating the verbal language of pleasure whilst everything else in the body language is saying disappointment? At the post-performance discussion of Rachael Whitworth's work-in-progress, P.O.V. there seemed to be an inversion of this going on. The work was of a very high standard—complete at times—but what I found intriguing was the disparity between experience and expression in the audience. The strange thing about the post-performance discussions was that no-one really said how they felt about the performance.
The studio showings of P.O.V. at The King Street Arts Centre affected us all profoundly and yet on both nights after the performance the invited audience was struggling to verbalise its obvious pleasure. Both the audience and the artists found themselves awash in a banal Q & A session that undermined the spirit and energy created by this fine work. Questions from the partisan audience expressed great interest in the narrative and technical anecdotes about the dancemaking process but missed the effect on those present which had been expressed so well on both evenings in rapturous applause. It wasn't simply a case of stroking your mates' egos, we had been moved by something powerful and tangible which resided very clearly within the movement material—it was reproduced perfectly at the second showing.
So where did the material come from? The 3 dancers (Rachael Whitworth, Robert Griffin and Paul O'Sullivan) made movement phrases and videoed them. Over a couple of weeks Sue Peacock, Sally Richardson and Rachael Whitworth then made a selection from the material and worked through their interpretation of particular phrases to produce 3 different pieces. Only the dancers knew that all 3 were coincidently utilising the same phrases. Although the evening was constructed as 3 discrete pieces, even on the first viewing I read 3 clear chapters of one story, as if a subterranean narrative had been set deeply in the bodies of the dancers.
P.O.V. was a rare dancerly view, an insight into something beyond the eyes and, paradoxically, involving the whole body (dance training is no guarantee of engagement with the corporeal) and a dramaturgical awareness rarely expressed through a dancer's eyes where the norm is vacancy. But it wasn't just that the dancers were facially articulate, they moved their bodies in a way that went beyond skill and training and into an exciting realm of meaning.
The dancers reported that theatre-director Sally Richardson had raised their consciousness—the putative notion of "pure movement" displaced or augmented by emotive and psychological imperatives. This led to a discussion about the merits and deficiencies inherent in dancer and actor training. For there was much talk in the post-performance forums about the different ways in which dance and theatre are approached. It's an odd (Platonic) thing in Western cultures that the 2 processes have been separated which probably has some connection to the mind-body split in the audience reactions described above.
The visible influence of a theatre-director on Rachael Whitworth's version (part one) was very interesting because although there was no overtly dramatic material, the dancers related to each other with uncharacteristic intimacy. Their bodies, and most importantly their eyes, were engaged with one another at a level that gave trios and duets a spirit and beauty that was never blemished by anachronistic or inappropriate displays of agility (even though the dancers 'flew' around each other at times).
The structure of the first section shared similar imperatives to Contact Improvisation, refusing a theatrical 'front' and showing dancers in 360° space. I find it rare for choreographed bodily contact to express anything more profound or interesting than another part of the dancer's technique but in part one of P.O.V. intimate moments and small gestures were seen and often flourished into larger full-bodied and aerial expressions of sensitivity and fragility.
There were many magic theatrical moments over the evening and the influence of the 2 experienced directors on Rachael Whitworth's intelligent approach to the material made her choreography exciting and the dancing extremely engaging. I like seeing performance without the trimmings and I think it's a measure of this group's achievement that their collaboration produced such engaging work without sophisticated production values. So my heart sank a little when Rachael Whitworth suggested that a new phase would be entered into to produce the work into a "presentable" format. P.O.V. went beyond the normal expectations of a development project and its components were more than adequate to move and provoke an audience. It will be a challenging task to retain the powerful performer relations created in the studio when the piece moves into a theatre. What a Faustian arrangement artists have with their funders and what a shame that the logic of developing ideas is to solely make a commodity. In the case of P.O.V. I was entirely satisfied by developments so far but with Sally Richardson and Sue Peacock aboard, this team could probably take their work to even greater heights.
P.O.V. a work-in-progress, concept by Rachael Whitworth, collaboration with Sue Peacock, Sally Richardson, Paul O'Sullivan & Robert Griffin, King St. Arts Centre, Perth, July 17 – 18
RealTime issue #33 Oct-Nov 1999 pg. 11
© Tony Osborne; for permission to reproduce apply to realtime@realtimearts.net