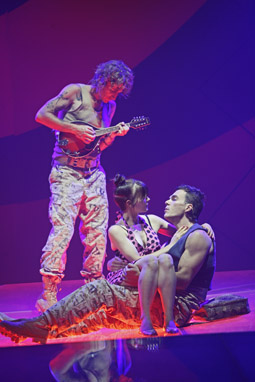 photo Jeff Busby
Tim Rogers, Bojana Novakovic, Socratis Otto, Woyzeck
BUCHNER'S WOYZECK IS ONE OF THOSE WORKS THAT SIMPLY CAN'T BE DONE PROPERLY—NOT THAT IT CAN'T BE DONE WELL, BUT ITS VERY NATURE AND FORM DEMANDS THAT EVERY PRODUCTION IS AN OBVIOUS INTERPRETATION. IF THERE ARE CERTAIN PLAYS THAT ACTORS LONG TO HAVE A CRACK AT—FROM YOUR HAMLETS TO YOUR WHO'S AFRAID OF VIRGINIA WOOLFS—WOYZECK IS THE ONE THAT DIRECTORS DREAM OF.
But for all their variety, most versions of the notoriously open work have several things in common. Firstly, there's a tendency to psychologise the central, murderous protagonist, making the play a "why did he do it?" investigation. Secondly, the roles of repressive social institutions (the military, the medical establishment) are highlighted as particularly modern problems which directly influence the tragic course of events. And finally, Woyzeck himself is consistently portrayed as a tormented wretch, a man who commits an unspeakable deed but must ultimately be understood, if not forgiven.
Michael Kantor's recent Malthouse Theatre production was notable for avoiding these clichés: instead of a work of psychological realism, he gave us a piece of carnivalesque theatre that never explained itself or its characters. Like an out-of-control merry-go-round, it was populated by figures that were either gross caricatures or strangely flat. Woyzeck himself was less a man descending into a maelstrom of madness than an unfathomable abyss whose motives were never clear.
Kantor has long displayed a fascination with live music as both a symptom of performance's immediacy and as a reaching towards the sublime power of the non-narrative. It's obvious then why he has chosen this Icelandic adaptation of Woyzeck, complete with a stunning score by Nick Cave and Warren Ellis. If Büchner's play is one of the first works of modern theatre, Kantor's production is a postmodern take on a classic, in which insanity is not pathologised—indeed, that tendency is uncomfortably close to the medical world the work critiques. Instead, madness inhabits every moment of this piece, which itself seems inexplicable.
Musician Tim Rogers is the unequivocal star, playing a Mephistophelean angel of death with brilliant confidence. It's unnerving to witness an accomplished musician's command of the stage—intuitive, spontaneous, receptive to audience cues—in contrast to the well-trained and actorly performances of the more classically educated players. Socratis Otto in the titular role doesn't really do an awful lot; Mickey-Mouse-eared Mitchell Butel offers cartoonish mania and leaves it at that. Only Bojana Novakovic gives a genuinely empathetic performance as Woyzeck's doomed wife, with a stirring song that forms the highlight of the work. But praising an actor's convincing performance in a production that is more giddy irrealism than seductive naturalism seems odd.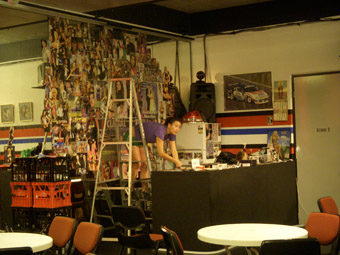 photo Bojana Novakovic
Fake Porno, Ride On Theatre
ride on theatre, fake porno
When not taking to the stage herself, Novakovic has also been building a profile as a director of note. Her Ride On Theatre, co-founded with Sydney-based Tanya Goldberg, has produced a small body of work to consistently positive reviews. Fake Porno is Novakovic's original translation of a Serbian work and a few Melburnians were fortunate enough to catch a one-off performance held as a benefit to take the work to Brisbane (staged just a few days before Woyzeck opened).
Fake Porno delivers an urgent, unsettling vision of contemporary Serbia—a series of monologues linked by a taxi driver whose own story ends up horrifically twisting our earlier sympathies. The actors here are simply outstanding—Peta Sergeant's oversexed, gangsta hip-hop-obsessed teen is one of the most overpoweringly visceral performances I've seen, while Black Lung regular Dylan Young provides the work's most moving moment as a bride standing atop a city building addressing his lost love through a megaphone. And underneath the trappings of kitschy turbofolk music, Western trash and cheap bling, Fake Porno is really all about lost love, loneliness, and the emptiness at the heart of Today. Young's drag bride pleading into the deaf void is about as potent an image of contemporary life as I can imagine.
talya chalef, eyton road
Talya Chalef is another theatremaker whose concerns are not limited to the local. Her Eyton Road spans the 20th century and several continents, drawing on personal history to explore themes of displacement, diaspora and social memory. In some ways this is territory already well-trodden: questioning the notion of "home" was a mainstay of university campuses and independent theatre throughout the 90s. But Eyton Road displays enough innovation to keep things fresh: Chalef and fellow performer Andrew Gray build a house of cards upon which is projected footage of places half-remembered, but the instability of the construction (which collapsed more than once) was a subtle yet effective hint at the fragility of any sense of home. Eyton Road isn't the most focused of works but, like her previous In Other Words, suggests that Chalef will be worth keeping an eye on.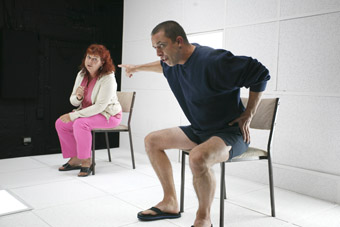 photo Ponch Hawkes
Angus Cerini, Susie Dee, Wretch
angus cerini, wretch
Angus Cerini's Wretch left me a little speechless—I've known Angus Cerini for a decade, at least, and we've shared a stage on a few occasions. Wretch feels like the culmination of all of his work so far, as well as connoting a stellar leap in his ability as a writer. The piece follows a young man in prison visited by his mother, detailing the hopelessness and failures each have experienced and which have led to his senseless crimes. In lesser hands, it might have been soap opera stuff, but here Cerini delivers soap as if envisioned by Anthony Burgess and articulated by James Joyce. Though the two performers—Cerini and co-director Susie Dee—are almost entirely confined to chairs for the show's duration, their language is choreographic virtuosity. Cerini serves up these lives with words that move from ocker realism to Byronic splendour to impenetrable gutterisms in a single breath.
It's difficult to summarise Wretch, since it's an experience both dependent on brilliant wordsmithing and entirely beyond language—an impactful, passionate address that defies easy interpretation. I'd like to see Angus Cerini beat this one.
elbow room, there
All of these works have provided diverse, fascinating alternatives to psycho-realism while nonetheless maintaining an essential link to 'reality', however you wish to define that troubled term. Elbow Room's There, on the other hand, is really something else. I first saw this piece in the Melbourne Fringe Festival and had a return visit during the Adelaide Fringe. As I exited this second viewing, I muttered something to the effect that it was pretty much my perfect piece of performance. I stand by that view—it might not be for everyone, but it's the kind of show I could watch again and again.
The less you know about this piece the better. It begins in darkness, before a torch-lit pair of fingers finds itself on a foot-square stage from which it cannot escape. From here, performers Emily Tomlins and Angus Grant produce an enchanting series of scenes, each of which is like a cinematic zoom-out revealing a new layer of reality. It's simultaneously an ontology of theatre, a self-reflexive history of performance and a laugh-out-loud joke. Here is where the actors are, and there is where you are. That's all you need to know. Aside from the fact that, as every audience member should know, being There is brilliant.
Malthouse Theatre, Woyzeck, writer George Büchner, adaptation Gisli Örn Gardarsson, director Michael Kantor, performers Mitchell Butel, Marco Chiappi, Hamish Michael, Bojana Novakovic, Socratis Otto, Merfyn Owen, Tim Rogers, music Nick Cave, Warren Ellis, design Peter Corrigan, musical director Peter Farnan, lighting Paul Jackson, Malthouse, Jan 31-Feb 28 ; Ride On Theatre, Fake Porno, director Bojana Novakovic, producer Pia Johnson, translated & adapted by Bojana Novakovic, performers Jim Daly, Daniel Frederiksen, Tomek Koman, Louise Quill, Peta Sergeant, Katherine Hicks, Hallie Shellam, Wazzadeeno Wharton-Thomas, Dylan Young, Lupa Art, July 28-Aug 9; Eyton Road, by Talya Chalef, Andrew Gray, co-collaborator Domenico de Clario, dramaturg Kelly Somes, lighting Bronwyn Pringle, sound Jared Davis, La Mama Theatre, Feb 4-15; Wretch, writer Angus Cerini, director-performers Angus Cerini, Susie Dee, design Marg Horwell, sound Kelly Ryall, lighting Richard Vabre, La Mama Theatre, Feb 19-March 8; Elbow Room, There, director Marcel Dorney, performers Emily Tomlins, Angus Grant, Adelaide Fringe, Garden of Unearthly Delights, Feb 20-March 21
RealTime issue #90 April-May 2009 pg. 40
© John Bailey; for permission to reproduce apply to realtime@realtimearts.net