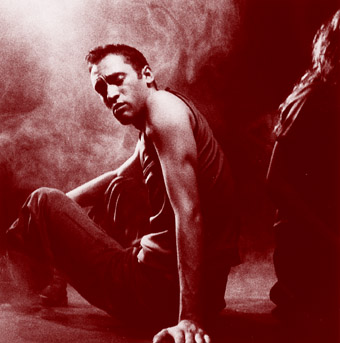 'pling
Danny Diesendorf, Dead Caucasians
Canberra is a small town and I approached this play with a little trepidation—most of the cast and crew are close friends, and negative comments on a work can often be far more trouble than they're worth. Wearing my flame-retardant underwear I made my way into the packed and somewhat stuffy Courtyard Studio at the Canberra Theatre Centre. Social Division, which presented this play, is a typical flag of convenience that badges local collectives in the absence of a properly funded professional theatre company in Canberra to foster such work.
Theatre and performance in Canberra have been in limbo since the demise of the mighty Splinters. Subsequently we've had not much more than an endless array of pretty ordinary plays, albeit very well produced and performed by an extremely professional theatrical community, interspersed with Bell Shakespeare's overwrought extravaganzas and the occasional gem from expatriate installation/performance makers, Odd Productions.
A large part of the problem is the lack of writers. Canberra really only boasts 2 shining young talents in Jonathan Lees and Mary Rachel Brown, and their output is sporadic; of course it's much harder for theatre writers to make a crust from their art than actors. So Canberra is lucky to count Christos Tsiolkas as an honorary local by virtue of 18 months spent here. This has resulted in an ongoing partnership with actor/director David Branson and the bond has already borne fruit in the form of the plays Viewing Blue Poles and Elektra AD.
It is a privilege to watch the development of a writer of genuine stature in this country and Dead Caucasians must be seen as a watershed in Tsiolkas' career. Elektra was controversial here, and I found the technique of pummelling his message into your skull by yelling and swearing and pointing spotlights in the audience's face tiresome. Branson as Director could share the blame, but I had the same trouble with the novel The Jesus Man—the descent of the protagonist into the abyss simply wore me out and I lost interest.
Dead Caucasians works because Tsiolkas now has sufficient wisdom to be compassionate towards all his characters. There are no good guys and bad guys, just a diverse and curiously interconnected group of ordinary people struggling to cope in the Australia of 2001. Some of them are driven to perform terrible acts of violence but shock is not (as is all too often the case) the obsession of the writer. The violence demonstrates clearly the inexorable and horrific consequences of the policies of John Howard's government, at the same time as stirring the sense of the deep human bonds between us all. And it's beautifully structured: after an initial shock, the tempo drops, and when the violence comes again later the device is perfectly timed.
Each of the cast was required to play several characters. The actors' job was made easier by simple variations in costume—a jacket on or off, a skirt unzipped to show some leg—though a number of people I spoke to found this unclear. This actually led me to the conclusion that the author was deliberately inviting comparison between the characters each actor played. For example, Chrissie Shaw played a 70-year old Holocaust survivor, a 60 year-old bigot and a 40-year old white trash mother who keeps some bad company, and I found myself meditating on how narrow the divides really are.
Under the direction of Roland Manderson, the cast and crew were impeccable. Branson, Shaw and Danny Diesendorf stood out and were ably supported by Anna Voronoff and Rebecca Rutter. The costumes by Matthew Aberline, though untypically muted grey, were delectable. Pip Branson and Nik Craft performed a gorgeous, limpid score and I hope I will be forgiven if I describe it as Ry Cooder-meets-My Bloody Valentine.
This is a work of substance and deserves to be staged around the country. It is one of few recent plays which leaves me with a clear sense of it being good art, good craft, with a clear message. It demonstrates what can be achieved through a reasonably extended development time with an ensemble. I am left with a delicious sense of anticipation for future works, and have been bashing Branson's ear to get Christos Tsiolkas together with Constantine Koukias in Hobart. Combined with Koukias' grand visions we could be in for some real treats. Here's to work with the guts for the long haul.
Dead Caucasians, writer Christos Tsiolkas, director Roland Manderson, The Courtyard Studio, Canberra Theatre Centre, Jan 25-Feb 3
RealTime issue #42 April-May 2001 pg. 28
© Gavin Findlay; for permission to reproduce apply to realtime@realtimearts.net