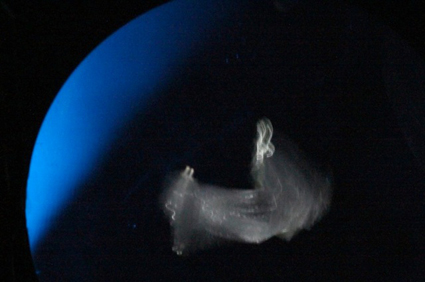 courtesy the artists
Night Rage, Embodied Media
Disoriented when I step into a small very dark room with a bright light angled back toward the curtained entrance, it takes a while to adjust. Low level sounds immersively evoke the dense sonic aura of the urban night—a mixture of the wild and the manufactured, birds, bats, traffic…At least that's what I think I'm hearing—a familiar but simultaneously alien night music.
Finally, after peering blankly into the dark, I look up and detect a small circle of dim light—a screen? But it has depth, like a globe, and something suspended within it: silvery, glowing lightly, long (relative to the small space it inhabits), floating or swimming (it bends a little) or caught, like a plastic bag (to which it looks akin), in an air current. Is it a tiny organism, hugely magnified? Smaller, similar if less complex creatures drift by.
The background transforms, sometimes a small green liquidy phosphorescent cloud, or a wall of gnarled bark, or scattered feathers and a bird skull (I'm not sure if I saw them here or subsequently in the documentation) and a floating chunk of fur, before turning from black to deep night sky blue across which large silhouetted fruit bats fly.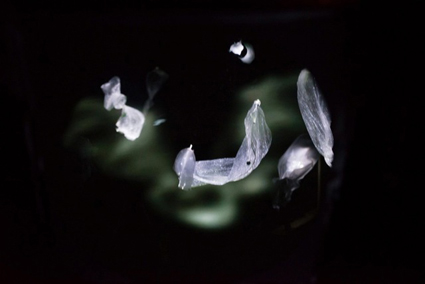 courtesy the artists
Night Rage, Embodied Media
Night Rage is a mysterious work, partly because it inherently limits visual perception, as if to place us in the centre of the night with an uncertain depth of field and vague identification of objects and creatures, testing our capacity to know where we fit in the shape of things. On the other hand, for a hi-tech work involving robotics it oddly recalls 19th century pre-cinematic devices, replete with gothic eeriness—a 21st century peep show of dark purpose in a booth.
The makers of Night Rage are certain of their purpose, to "examine the many shades of 'nocturnal' threats to night biodiversity and the myriad myths and stories that have shaped our cultural understandings of life after light. Barely recognisable images float within landscapes of media, noise and sound as the work asserts a profound resistance to today's all-consuming media mesh" [website].
Night Rage does not offer the easy pleasures of much media art and digitalised mass media, but just how much resistance it offers to that "all consuming media mesh," let alone ecological challenges, you'll have to decide for yourself once you step out into the light, perhaps more bewildered or bemused than certain of anything. Perhaps it's then, as your senses calm, that your thoughts will take shape. It's that kind of work.