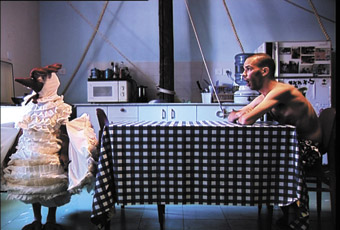 Guy Ben-Ner, Moby Dick, Experimenta's Playground
PERFORMANCE ART IN DARWIN, PERFORMATIVE INSTALLATIONS IN SYDNEY, MEDIA ARTS EVENTS IN MELBOURNE AND PERTH, AND A GRAND AMERICAN OVERVIEW IN THE MELBOURNE FESTIVAL
experimenta playground
The latest of Experimenta's international media arts shows features artists RealTime readers will recognise. Shu Lea Cheang's Baby Love, its audience riding in giant plastic teacups with 'cloned' singing baby dolls, was highlighted in Michael Connors' report from ISEA 2006 in San Jose (RT 76, p23), and Jennifer and Kevin McCoy's movie-inspired electronic sculptural installations were at the centre of Fabienne Nicholas' celebration of the opening of BFI Southbank in London RT 78, p 8).
As well as these Taiwanese (Cheang lives and works in Paris) and US contributions to the playground, Australian video artist Shaun Gladwell takes on the urban environment as a skateboard challenge a la Parkour—if it's there go at it, including a public fountain. The UK's Philip Worthington takes your shadow (an alarming concept after seeing Chunky Move's Glow) and 'monsters' it—adding teeth, scales etc. From Israel, Guy Ben-Ner brings his take on Moby Dick, staged at home in the kitchen with the family and silent movie trickery. Daniel Crooks contributes his admired vertical kaleidoscoping of city spaces (see RT 77, p33). From Switzerland, the chain reaction creations of Peter Fischli and David Weis will amaze alongside the animated wonderland of Japan's Sawatowasi, a screen puzzle from Korea's innovative June Bum Park and, from the US, Zachary Lieberman's offer of synasthesia as you compose music with a colour yield. Spain's Eugenio Ampudia in En Juego (in Play) rightly offers fooball as art.
And, surprise, amidst these 21st century interactives and video installations, there's a Marina Abramovic video from 1973: Rhythm 10, her first work! With 20 knives and two tape recorders she jabs systematically between spread fingers and then attempts to reproduce the performance, cuts, cries and all. While it's not at all surprising that Experimenta, on past evidence of user-friendly shows, has finally arrived at one titled Experimental Playground, the mysterious inclusion of Abramovic is a reminder of previous glimpses of the dark side of new media arts. This is pre-digital play, live action replay, and not to be played at home.
Experimenta Playground, Blackbox, Arts Centre, Melbourne, Aug 25-Sept 23, www.experimenta.org
beap
The Biennale of Electronic Arts Perth (BEAP) is accelerating towards its 2007 program, Stillness, featuring three international exhibitions and hosting two international conferences (including one open to the public on the future of digital media). This third BEAP focuses like its predecessors on the instersections of art, technology and science. Exhibited works will include Christa Sommerer and Laurent Mignonneau's "massive interactive installation" Eau de Jardin (Austria/France), Daniel Lee's digital animation Origin (Taiwan), Mark Cypher's Darwin project (Australia), Lynette Wallworth's immersive soundscape and interactive installation Still: Waiting 2 (Australia), Bill Viola's Observance (US), Ulf Langeinrich's Waveform B (Germany/Austria) and Boris+Natascha's Meditations series (Germany/Australia), "a guided meditation on 21st century anxiety", plus new works from Australians Kylie Ligertwood and George Khut. Former BEAP director Paul Thomas has described data growth as "akin to a maelstrom—a global storm that's unstoppable and unpredictable. But, at the storm's eye—as in nature—there is 'stillness', a momentary space for reflection." Let's hope for a contemplative BEAP amidst the hurly-burly of our technologised lives.
BEAP, Stillness 2007, Sept 10-23, www.beap.org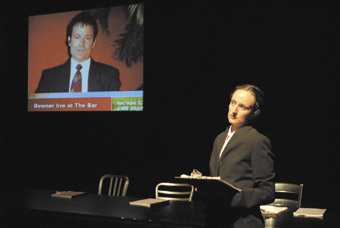 photo Heidrun Löhr
Version 1.0, Deeply Offensive and Utterly Untrue
deeply offensive and utterly untrue
In their latest detailed unveiling of Australian political iniquities and radical re-working of verbatim theatre, Sydney's version 1.0 (CMI and Wages of Spin) take on the 8,500 page transcript and 64 days of the Cole Inquiry's public hearings into the Australian Wheat Board's $290m of kickbacks paid to the Iraqi leadership. The endless "I forget" litany muttered throughout the 'wheat-for-weapons' inquiry should provide an insistent pulse to the pragmatic madnesses and rhetorical games duly and doubtless entertainingly revealed.
Version 1.0, Deeply Offensive and Utterly Untrue, artists Sean Bacon, Paul Dwyer, Stephen Klinder, Jane Phegan, Gail Priest, Christopher Ryan, Yana Taylor, Kym Vercoe, David Williams; Performance Space, CarriageWorks, Aug 24-Sept 8, www.performancespace.com.au
interpositions
Casting all obstacles aside, geographic and cultural, and signalling the rise and rise of performance art and live art, 24HR Art is bringing together stellar artists from Singapore and Australia as part of the Darwin Festival. Interpositions is free and will be staged in various public locations for a week, commencing with Jill Orr on August 11. Other artists from Australia are Anna Fuata, Ash Keating, Jason Keats and Hayley West; from Singapore, Jason Lim, Lynn Lu, Rizman Putra, Juliana Yasin and Lee Wen.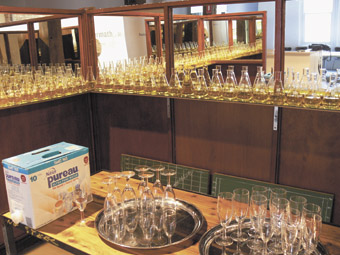 photo Tony Bond
Ann Graham, Aftermath
aftermath
Artspace's big performative installation program moves from strength to strength with an impressive accumulation of crafted detritus—the aftermath of performances. Ann Graham's In Between Space is a curious cluster of dark timber and glass walled rooms like small office spaces out of the 30s. Each addresses a basic function and there are signs of rarified life—water drunk, hair cut, books read, food consumed (Graham's performance was the serving of a meal). It's a witty and pleasantly disorienting installation. A symposium on issues raised by Aftermath will be jointly presented by Artspace, Performance Space and RealTime. Speakers include Arahmaiani, Christina Barton, Thomas J Berghuis, Blair French, Ash Keating, Julie Rrap, Tony Schwensen, André Stitt and David Teh.
Aftermath Symposium, Performance Space, CarriageWorks, Aug 18, 1-5pm, www.artspace.org.au
melbourne international arts festival
With Merce Cunningham and Laurie Anderson on hand and with works from Robert Wilson, Jasper Johns, Robert Rauschenberg, Andy Warhol and John Cage, this year's Melbourne Festival constitutes a substantial introduction to the evolution of American postmodernity, an experience bound to be at once educational and intensely aesthetic. With some 10 events on the agenda, the Cunningham presence is indeed, as advertised, a residency. It's rare these days to find an arts festival with such coherent programming at its centre.
Elsewhere on the program is Poe's Tell-Tale Heart as realised by Barrie Kosky, Matthew Gardiner's Oribotics, Chunky Move's Glow, European performance companies Dood Paard and Teatre Lliure, and Japan's Sankai Juku. And that's just a short list. Read more about it in RT 81. KG
Melbourne International Arts Festival, Oct 11-27, www.melbounrefestival.com.au
RealTime issue #80 Aug-Sept 2007 pg. 12
© RealTime ; for permission to reproduce apply to realtime@realtimearts.net