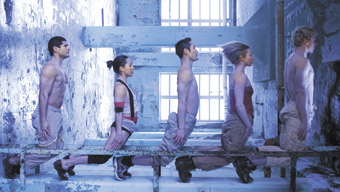 photo John Kane, courtesy of the Joyce Theatre
Pilobolus
IN A 2005 ARTICLE IN THE NEW YORKER ON WHAT SHE SAW AS A SURREALIST REVIVAL IN DANCE IN DOWNTOWN NEW YORK, CRITIC JOAN ACOCELLA IDENTIFIED PILOBOLUS AS ONE OF THE PIONEERS OF THE MOVEMENT WHICH MORE RECENTLY HAD BEEN TAKEN UP BY CHOREOGRAPHERS LIKE TERE O'CONNOR AND FORMER MEMBERS OF HIS COMPANY INCLUDING UP AND COMING CHOREOGRAPHER/PUPPETEER CHRISTOPHER WILLIAMS. SHE EXAMINED CHUNKY MOVE'S TENSE DAVE, TOURING NEW YORK AT THE TIME, IN THE SAME SURREALIST LIGHT.
Taking its name from a sun-loving fungus, Pilobolus emerged in 1971 when a group of dance students at Dartmouth College interested in "a collaborative choreographic model and a unique weight-sharing attitude to partnering" decided to form a company. Pilobolus is still a deeply collaborative entity with three artistic directors and the company's seven dancers all contributing to the repertoire. Merging dance and biology into an inventive and eloquent physical vocabulary, this is also a company with a mission "to use their organization and creative methodology to stimulate, educate and expand the audience for dance through innovation, collaboration and public service."
Pilobolus is visiting Australia for the very first time in May, performing a five-work show in the hotbed of Adelaide Festival Centre's variegated dance program, Pivot(al), including Day 2, set to the music of Brian Eno and Talking Heads which "captures the awe of evolution and the wonder of existence." Let's hope there'll be time while they're here for a little cross-pollination of ideas on artistic sustainability.
Speaking of survival, Dean Walsh is a highly accomplished Australian dancer/choreographer who has been evolving his own idiosyncratic body of work over a decade and, at the same time, performing with companies such as Australian Dance Theatre, DV8 Physical Theatre in the UK and No Apology Company in Amsterdam.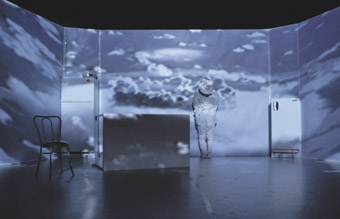 photo Heidrun Löhr
Dean Walsh's Back From Front
Walsh's new work, Back From Front premiering at Performance Space in May, draws on stories from veterans of World War 2 through to the Iraq conflict. Walsh defines this as "a piece about the lingering impact of wartime experience on soldiers and their families—from the immediate challenges of re-adjusting to post-war life, to the continuing cycles of violence that can penetrate families for generations to come."
Clearly referencing the territory of some of Walsh's earlier, intimate solos, Back From Front is his first large-scale group work. With a strong cast and a team of production collaborators (including John Levey, Rolando Ramos, Simon Wise, Nikki Heywood) the work combines video imagery with lighting and movement.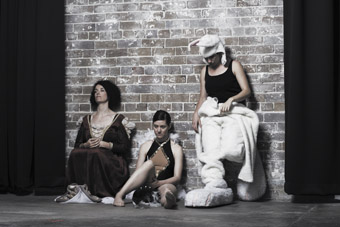 photo Irèn Skaarnes
Elizabeth Ryan, Jane McKernan, Emma Saunders, The Fondue Set, No Success Like Failure
Adaptation is what it's all about for The Fondue Set (Elizabeth Ryan, Jane McKernan, Emma Saunders) and if their new work sounds a bit 'under' as they say on So You Think You Can Dance, it's intentional. For a while now this talented trio has been performing serious experiments—taking dance apart and trying to put it back together in some semblance of order—while simultaneously masquerading as good time girls. In No Success Like Failure, their collaboration with the idiosyncratic UK choreographer Wendy Houstoun, they have distilled hours of serious experiment into an intriguing evening of performance in which they'll be "lying, dying, singing, trying and trying again." And as if that weren't enough they also promise "motivational dancing, negative cheering, successful snoring, hypnotism, word bingo and more!"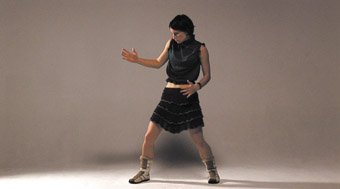 Sara Black, Dance Like Your Old Man, Chunky Move
The highly adaptive hybridiser Chunky Move, working across dance, film and interactive media, is currently thriving with the international suucess of Glow and now an invitation to stage their Mortal Engine at the 2008 Edinburgh International Festival. In works like Singularity and I Want to Dance Better at Parties, the company has also been evolving a repertoire of choreographic works that intersect with everyday movement. In the film Dance Like Your Old Man, Gideon Obarzanek and Edwina Throsby's joyous and thoughtful 10-minute dance documentary, six women do just that, proving once and for all the power of body memory. As they recall their moves, the women also remember the men who made them (in more ways than one). With this film the company has collected a couple more trophies, namely the 2008 ReelDance Award for Best Dance Documentary and Best Documentary at this year's Flickerfest Short Film Festival. RT
–
Pivot(al), Pilobolus, Her Majesty's Theatre, May 6-10, www.adelaidefestivalcentre.com.au; Dean Walsh, Back From Front, Performance Space at CarriageWorks. May 1-10, www.performancespace.com.au; Fondue Set, No Success Like Failure, The Studio, Sydney Opera House, June 4-8, www.sydneyoperahouse.com; Campbelltown Arts Centre, June 12-14 June; Arts House, North Melbourne Town Hall, August; Chunky Move, Dance Like Your Old Man, Reeldance 2008, www.reeldance.org.au; Chunky Move, Mortal Engine, Edinburgh Playhouse, 2008 Edinburgh International Festival, Aug 17-19
RealTime issue #84 April-May 2008 pg. 33
© RealTime; for permission to reproduce apply to realtime@realtimearts.net