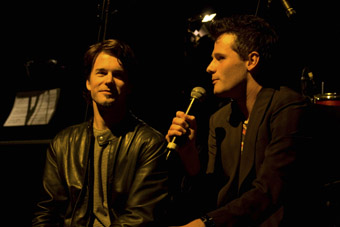 photo Emily Sandrussi
Alex Pozniak, Andrew Batt-Rawden
BEING MORE THAN AN EMERGING CONTEMPORARY MUSIC ENSEMBLE, CHRONOLOGY ARTS IS COMMITTED TO BUILDING NEW MODELS FOR PERFORMANCE, FUNDRAISING AND COMMISSIONING. HAVING BEEN IMPRESSED BY TWO OF THE ENSEMBLE'S 'GENRE-BUSTING' CONCERTS, ONE OF THEM IN THE RECENT ISCM WORLD NEW MUSIC DAYS FESTIVAL, I MET WITH DIRECTORS ALEX POZNIAK AND ANDREW BATT-RAWDEN, WHO ARE BOTH IN THEIR 20S AND BOTH COMPOSERS, TO LEARN WHAT STRATEGIES THEY WERE EMPLOYING IN MEETING THE CHALLENGES OF SUSTAINABILITY FOR 'CONTEMPORARY CLASSICAL' MUSIC.
The 'genre-busting' tag became a running gag in our meeting. Recently the pair had been advised that if they wanted arts funding, that's what they'd have to be—genre-busting. From what I've experienced of their work, they already are. In Gradations of Light, large video projections synced with performances, musicians moved though the audience and three electric guitars powered Pozniak's Illuminations (www.realtimearts.net/article/92/9553). "We'll just have to be more genre-busting," Pozniak says.
Chronology Arts has quickly carved out a niche. Batt-Rawden says that "since the Seymour Group died" Ensemble Offspring, with its contemporary compositions and invaluable forays back across 20th-century musical movements, have occupied centre-stage, "but we concentrate on getting the really new, new music" with which to attract audiences and donors.
While Pozniak and Batt-Rawden see arts funding as part of Chronology's future, they're working hard at finding alternative income sources and Batt-Rawden has already had some success. Early concerts relied on ticket sales, small payments to musicians (these have grown, they say), one-off composition grants for contemporary works from the Sydney Conservatorium of Music ("really designed for groups like us") and, significantly, private philanthropy. Batt-Rawden says that Chronology Arts has been quite reliant on a few key donors giving from $2,000 to $5,000 each. Other strategies are event-based, like private performances or an art auction expected to raise $20,000. In June, Chronology Arts is holding a private dinner in a restaurant for its supporters at $200 head with three small installations plus selected food, wine and music—"which we're composing right now!" The diners will be current and potential commissioners. It's ironic, jokes Pozniak, "contemporary music is not usually seen as aiding digestion."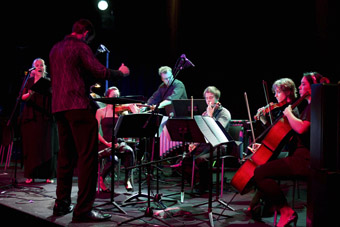 photo Emily Sandrussi
Chronology Arts, In Focus, 2009
Batt-Rawden's energies are currently focused, among other things, on the Commissioner's Circle, which he describes as "a unique marketing concept to promote the concerts as well as raise funds for composers." How does he find the potential commissioners? "Networks are very important," he replies, "and chance—I talked to someone about the idea after a concert and they offered me a cheque." He adds with a grin that "the real secret is home-made pasta dinners" for prospective donors. Previous fundraising experience, including with Song Company, has clearly given Batt-Rawden the confidence to push ahead in an area which might make many young artists wary. But structure helps: the group's Commissioner's Circle gatherings bring together composers and donors as potential partners.
I ask if people who become commissioners are likely to repeat the experience, as they do, say, in the visual arts. "It's the whole idea," says Batt-Rawden, "A commission is a long-standing relationship." For that reason he wants a younger generation to take on the commissioning role and provide long-term continuity: "Perhaps we'll have to call them non-executive producers," he quips, alert perhaps to the need to find a seductive contemporary label.
As composers themselves and with empathy for others grounded in their own experiences, how do Pozniak and Batt-Rawden fare with commissions? "My first one was $50 a minute for a string quartet," recalls Batt-Rawden. "I'm at the lower end, with the price gradually rising." "It's half paid, half unpaid," says Pozniak, "which I don't expect to change any time soon, especially with Chronology Arts [Laughs]. A Melbourne Symphony Orchestra development project had a fee, not a great one, but it was to write for an orchestra! If in 2012 I could make $10,000 for three works, that would be good; the equivalent of a day's work a week. I write four or five pieces a year and, to survive, teach at Sydney University, the Conservatorium High School and McDonald College. And now I'm being paid by Chronology Arts. But Andrew does more work while I've been busy composing."
Although Batt-Rawden is on a "part-time wage for 70 hours a week" with Chronology Arts, he clearly relishes his role: "I see fund-raising as just like sales with targets and deadlines and a strategic approach. We're not begging artists."
As for their group's investment in their concerts, Pozniak explains that "some are more extravagant in terms of the number of performers involved and what the incidentals are in terms of lighting and cross-artform components. So if we get worried about money we'll tone down the instrumentation." Batt-Rawden adds that "each event costs $5,000 to $15,000, with a lot of in-kind support and not a lot of money in advance—we have to foster relationships early so come crunch time donors are already committed."
We come back to the issue of how to seek out commissioners. Batt-Rawden emphasises that "Commissioner's Circle is not just for Chronology Arts. We're interested in securing commissions for, say, Song Company and very interested in 'genre-busting' cross-artform temporal art commissions that don't only involve composers." Pozniak points to a problem and its solution: "A lot of people don't check out new classical music concerts because of the outmoded format, so we bring in other elements to make the performances more appealing, potentially securing another audience that's supportive of other art forms." Batt-Rawden declares, "We're market-conscious artists!" Pozniak says, "We have to respond to tech advances or we're not current, but there are ways of being current and genre-busting without selling out. We're opening our minds laterally to assimilate what's out there."
I ask how supportive Chronology Arts finds Sydney. Pozniak thinks that "being youngish we're a kind of link between the Con and Sydney Uni—the opportunities they offer—and the world outside. But we had to build our own support. Just because you've graduated, Ensemble Offspring aren't going to commission you. We wanted to create opportunities for ourselves but also for performers and composers at the Con with a lot of potential, if they want to tap into the contemporary thing. Mostly they don't, but it's curious, the second-years I teach are very proactive. They look up to what we're doing, we talk aesthetics and composition and they're fired up and they do their own things. We're catering for graduates. We'll also host a concert of undergrad works in Sydney Uni's Verge Arts Festival. It's a kind of mentoring." Batt-Rawden agrees, "Sydney's great at monuments but who's looking after the small fry and the estuaries where the arts really develop? It'll become easier for emerging artists when we get smarter at marketing and networking and philanthropy and online delivery."
Shortly after our meeting it was announced that Chronology Arts had been awarded a Sydney City Council partnered Arts Bunker residency at Sydney University's Seymour Centre, a two-year program with office space and "mentoring in all areas of arts management."
Forthcoming Chronology Arts concerts include the remarkable pianist Zubin Kanga in Piano Inside/Out Verbrugghen Hall, Sydney Conservatorium of Music, July 2, in a program including works by Liza Lim and Drew Crawford. On July 28 Kanga will join another Australian 'international', soprano Jane Sheldon, in Chiaroscuro featuring Apparitions by George Crumb and Sonetos del amor Oscuro by Rosalind Page. Pozniak is looking forward to a September 15 concert featuring Chronology's core ensemble (flute, Jane Duncan; cello Eleanor Betts; saxophone Andrew Smith; clarinet Toby Armstrong; viola Luke Spicer; and piano Jacob Abela, with conductor Geoff Gartner) and compositions by Pozniak and Batt-Rawden and others, a reminder, he says, that despite the large scale of some of their concerts "we are an ensemble." It's an ensemble with a distinctive vision, one that can only strengthen Sydney's fragile new music ecology.
RealTime issue #97 June-July 2010 pg. 40
© Keith Gallasch; for permission to reproduce apply to realtime@realtimearts.net