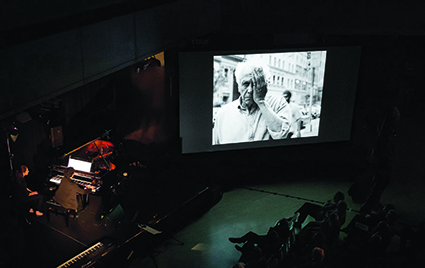 photo Holly Schroeder
Zubin Kanga plays Transit (2009), video & electronics by Michel van der Aa, Dark Twin
The 2015 Metropolis New Music Festival explored original and winding paths around the theme "Music inspired by the moving image." Where it would have been easy to fill programs with film soundtracks, guest conductor André de Ridder curated a program studded with homages to filmmakers, video art with live scores and imaginary horror-film scores.
Audiences enjoyed a week of Australia's finest new music ensembles and solo performers before hearing a single piccolo of the Melbourne Symphony Orchestra. The small-to-mediums illustrated their place as leaders in contemporary music by highlighting the importance of video games and digital culture to any discussion of music and the moving image today in concerts programed by Kirsten Siddle.
Speak Percussion
The narrative tropes of video games informed the very first piece of the festival. Peter de Jager's Fractured Timelines is a multi-modal, gestural romp for three percussionists and piano. Instead of avoiding recognisable thematic, tonal and modal materials, De Jager crams Fractured Timelines full of them. With his thematic riches and multi-modal language, De Jager is like a modern-day Messiaen without God. He gives his themes short descriptions, including "briar" and "creepy mountain path." These descriptions are drawn less from Messiaen's sacred imagery than De Jager's life-long experience playing video games. Commander Keen is still his favourite.
Forest Collective
Forest Collective built their downright creepy program around Marcus Fjellström's audiovisual triptych Odboy and Erordog. Each episode of the triptych reflects the sequential, task-driven atmosphere of retro computer games and nightmares. Odboy and his trusty Erordog embark on foreboding journeys to perform arduous "chores." The journeys will be familiar to all retro gamers and light sleepers, including "find the big house" and "cross the spider pit" while "looking out for the wild boar" (echoes of Sierra's 1989 game Conquests of Camelot?). The first episode includes an electronic score by Fjellström utilising rhythmic record pops and theatre organ that complement the grainy black-and-white video. The second two episodes include written scores for the ensemble, with sparse layers of extended techniques and musical accents.
Ensemble Offspring
Growing up with computer games and colour television certainly did not stop me enjoying the melting black and white celluloid in Ensemble Offspring's program and the distorting, yellow film by Bill Morrison accompanying Michael Gordon's piece for solo violin and electronics, Light is Calling. That work was an attempt to "make something beautiful" after the ugliness of the attacks on the World Trade Center on 11 September 2001. Reverberant and reversed samples form a finely textured bed of electronic sound that matches the flickering, stretching images from Rollo Lloyd's black and white 1926 movie The Bells. The echoing electronic part, lamenting violin and immolating film all seem to mourn a long-lost innocence.
Syzygy Ensemble
Syzygy Ensemble put themselves in the picture via a short film by Agatha Yim interspersed throughout their program. In Yim's film, the water spirit Undine (Grace Lowry) prances about a Victorian rainforest encountering members of the ensemble. Cellist Blair Harris ineffectually chops wood in his concert blacks, flautist Laila Engle wrestles the Undine for a light bulb and a shot of pianist Leigh Harrold appears for a single frame, floating in water. Syzygy's program explores the spirit of water in music with a series of flowing and rushing works. Helena Tulve's Streams 2 is an experiment in musical current. One hears a steady stream from within, like the submerged Undine at the end of Yim's video. A current not only has force, but depth. Tulve evokes the viscous flow of water with the dark tone of the clarinet. The rest of the ensemble resembles flotsam or the play of light on the water's surface with ricochet bowing, whispering flortando flurries and rubbed woodblocks.
Zubin Kanga
Zubin Kanga's Dark Twin program extends the piano through electronics and projections. The audiovisual highlight of the concert was Stefan Prins' Piano Hero, which references the Guitar Hero computer games where a player presses buttons on a plastic guitar in time with a moving score on the screen. The piece asks whether performance has become so much punctual button pressing and whether the hyperreal actions of the on-screen avatar are greater than those of the diminutive button-presser beside it. Kanga plays a MIDI keyboard that triggers visceral video samples of a man playing a stripped-back piano frame with his hands. Beyond the clever idea, Prins makes extensive musical use of the technical apparatus. The piece begins with the keyboardist triggering only the resonance left after the piano strings are struck. The avatar performer's hands flicker above the strings, conjuring the resonance out of them. As more violent gestures are introduced, the speed of the gestures is modulated by the MIDI keyboard. This creates striking contrasts between sped-up gestures producing buzzing square-tones and the subsonic rumble of more balletic, slowed-down movements.
Melbourne Symphony Orchestra
It was a pleasure to hear contemporary music writ large after becoming accustomed to the tight-knit intensity of chamber music. The MSO programs explored different ways of making the audience's skin crawl beginning with Toru Takemitsu's Nostalghia for solo violin and orchestra, which was written in memory of the filmmaker Andrei Tarkovsky. Tarkovsky develops tension through long, wide shots of indifferent and beautiful landscapes before introducing human characters in the foreground. A teeming, elemental nature is always lurking behind human fickleness. The composer's elegy for Tarkovsky is a perfect meeting of artistic worlds, brilliantly brought to life by violinist Sophie Rowell. In Takemitsu's music, nature and the elements are also in the ascendant with swooping lines and ethereal bow effects.
The spectre of climate change
The festival featured many works by minimalist composers including Steve Reich, Philip Glass, Julia Wolfe, and their artistic progeny Nico Muhly and Daníel Bjarnason. By drawing their inspiration from urban life in the second half of the 20th century, minimalist composers have, more than any other group of composers, borne witness to the most carbon-intensive period in human history. The jumbo jet opening John Adams' Nixon in China and his orchestral fanfare Short Ride in a Fast Machine, Steve Reich's City Life and Glass' epic modern chronicle Koyaanisqatsi all show us a world kept in motion by fossil fuels. Julia Wolfe's work for string orchestra, Fuel, brings this problem—the running of all of our trains, cars and planes—to the surface. No lugubrious meditation on modern life, Fuel has the orchestra scrubbing, running and glissing for the better part of 20 minutes. Meanwhile, the film shows cranes loading containers on and off enormous cargo ships. There is something daunting about the film and music, as though the whole frenzied business were precarious, excessive and, in a word, unsustainable. How will Muhly, Bjarnason and other composers of the Iceland-based Bedroom Community bear witness to the reality of climate change today?
From the emotional language associated with computer games and sinister surveillance technologies to reflections on energy and ecology, the Metropolis New Music Festival brought together large and small music organisations to reflect upon the great questions of our age.
Melbourne Recital Centre & Melbourne Symphony Orchestra, Metropolis New Music Festival 2015, Melbourne Recital Centre, 4-16 May
RealTime issue #127 June-July 2015 pg. 46
© Matthew Lorenzon; for permission to reproduce apply to realtime@realtimearts.net