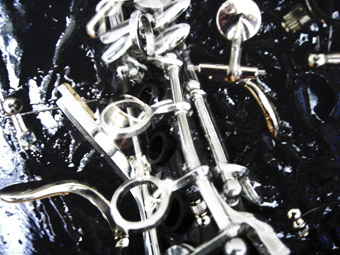 courtesy the artist
Brigid Burke, Scratching (video still)
UNDER THE GUIDING HAND OF CHAIRMAN JAMES NIGHTINGALE, THE NEW MUSIC NETWORK HAS EXPANDED ITS CORE PROGRAM OF ESTABLISHED ENSEMBLES TO INCLUDE A RANGE OF CONCERTS BY SOLO ARTISTS AND EMERGING GROUPS OF CONTEMPORARY CLASSICAL MUSICIANS. NOT ONLY IS THIS PROVIDING PROFILE FOR NEWCOMERS BUT, AS MANY OF THESE ARTISTS EMPLOY MORE EXPERIMENTAL COMPOSITIONAL AND PERFORMANCE METHODOLOGIES, IT IS ALSO BEGINNING TO BLUR SOME OF THE PERCEIVED BOUNDARIES BETWEEN THE CONTEMPORARY CLASSICAL (DOT-BASED) CAMP, AND THE EXPLORATORY (IMPROV, LAPTOP, AUDIOVISUAL) GANG. TWO RECENT CONCERTS IN THE NEW MUSIC NETWORK MINI SERIES ARE INTERESTING ILLUSTRATIONS OF THIS.
solo perspective 2
Featuring Brigid Burke, Mark Cauvin and Michael Fowler, this concert offered three contrasting approaches to expanding the artists' relationship with their instruments. The evening began with Burke who composes for clarinet and video. Her first piece, Island City (2009), is energetic, with sharp vocal utterances, sibilances, intricate clarinet trills and sustained split notes. It is accompanied by snapshots in a grid format of scenes from the coastlines of Victoria and Ichagaya in Japan and a live feed of a seahorse in a fishbowl. The effect is of faded and fragmented recall, where perhaps it's not the event itself you recall, but rather the memory of the photograph.
Three Sounds on Buildings (2004) offers a more cinematic approach, the extended techniques applied to the B-flat clarinet completing the stark, yet somehow affectionate visual composition of old buildings, graffiti, corrugated iron textures and long pans taken from a train window. There is a sense of nostalgia, perhaps due to the work's original conception in 1992 (for slides), and while a well-explored visual field, the composition of music and vision provides a satisfying narrative. The final two pieces, Roses will Scream (2007) and Scratching (2009), incorporate live video in a more essential way, overlaying live feeds to affect textures and transparencies on pre-recorded material, both photographic and hand drawn—an impressive feat of multitasking. Both pieces for bass clarinet explore the rich range of the instrument, finding an elasticity to its tone and timbre but with an agile, melodic touch. Brigid Burke's compositional strategies and integration of visual elements make her performance quite unique.
Mark Cauvin is a man driven to explore every sonic possibility of his instrument, the double bass, thus Stockhausen's Plus Minus Nr.14 (1963/2009), a graphic score of symbols and instructions, offers the perfect vehicle. In this performance you get a tangible sense of the performer as co-composer rather than interpreter of the work. There are very few pure notes, the interest lying more in the noisy artefact—the scrape, rattle and hum. However, rather than an improviser's impulsive adventures with these sonorities each of Cauvin's responses is deliberately extracted, measured and placed. Musician and instrument seem to be in an intense symbiotic relationship as Cauvin summons extraordinary sounds, the correlation of gesture and sound absolutely pure, non-theatrical, yet utterly engaging. Through such demanding material Mark Cauvin creates a sinuousness and continuity between jagged sounds and actions to deliver a mesmerising performance.
There is the sense that Cauvin is also co-composer in his second piece, David Young's No More Rock Groynes (2009)—a small watercolour score interpreted through a prepared microphone applied to the double bass. Once again, notes with neat frequencies are abandoned, replaced by scratches, squibbles, squeaks, soughs and sighs—a study in how a large instrument can make small and subtle sounds.
The final soloist was Michael Fowler, a pianist also well versed in synthesiser programming and research into the intersection of architecture and acoustic design. Both his pieces explore the piano in duet with machine. The first, Downtime (2005) by Benjamin Boretz explores the interplay between piano and a pre-recorded midi-instrument track. It is spacious, the midi palette unfolding methodically from synthesised drums through to tuned percussion. Each 'player' takes turns exploring tones, timbres and the space between. The unaffected midi instruments seem so synthetic in comparison with the deep resonances of the grand piano, drawing our attention to the fundamental timbral nature of the sounds. In Reflections (1975) by Milton Babbit, the machine in question is the behemoth RCA Mk II, the first programmable electronic music synthesiser that few besides Babbit and his colleagues at Princeton University ever managed to utilise. The recorded machine offers a palette of 'sounds of the future' as envisaged in 1957, playing spiky polyphonic sequences impossible for human reproduction. Babbit was interested in the attack of the note and as Michael Fowler and pre-recorded material duel, the frequencies tumble over and crumble into each other in what essentially becomes an invigorating onslaught of notes. A fittingly vibrant end to the concert.
golden fur
Golden Fur is a relatively new collaboration between Melbourne musicians Samuel Dunscombe (clarinet, laptop), Judith Hamann (cello) and James Rushford (piano, viola), and they offered a nicely varied program of five pieces. Liza Lim's Inguz (1998) for clarinet and cello is the perfect opener—both angular yet supple, as clarinet and cello drone slip around each other, their tonalities intriguingly intermingled into an all new sounding instrument. Trio No. 5 (2009) commissioned by the group from Kate Neal, is similarly well suited, allowing the trio to explore high energy, gestural playing, with cycling fragments, replete with dramatic pauses and eruptions. (The program note does suggest that the group explores 'theatre and ritual'—perhaps a little overstated for some crisp gestures and the plastic wreath that adorns the clarinetist's locks.)
Rushford's interpretation of Music for Piano with Slow Sweep Oscillators (1992) by Alvin Lucier is in keeping with the choices of Michael Fowler, however this work focuses on psychoacoustic interplay. As piano resonances cut through the pure sine tone to produce swirling and beating effects, the sound becomes thick and tangible. Rushford's touch is gentle and evocative allowing the beauty and meditative nature of the piece to come to the fore.
The two final works utilise graphic scores. The first, Parallel Collisions (2008) by Marco Fusinato (both a sound and visual artist), employs a series of visual provocations and stopwatches. It appears from the similar timbral and rhythmic responses (and the title) that each musician plays a musical gesture parallel to the image, which I found a little unsatisfying, particularly as the audience doesn't get to see the visual stimulus. While I don't need to see a notated score to experience the music, the rhetoric the group employs about the 'intersection of visual arts and music' suggests that the audience might benefit from some sharing of the visual element.
For Jaap Blonk's Transiberian Part 2 (2001), the trio take to the floor, Rushford playing an amplified viola, Dunscombe a laptop and Hamann laying the cello down for some beating. Listening to their jagged, raspy exploration, I can't help wondering if it would be more interesting—more organically cohesive—if the musicians threw away the score and simply improvised. It's not that the sounds irk me, rather I wonder if corraling them into the structural conceit of the visual score makes for the most interesting use. But I have to out myself as being from the no-dots music camp, part of the reason I found the explorations by the musicians in these two concerts particularly engaging and challenging. They revealed the increasing slippage between current contemporary classical and exploratory sound and music practices—a trend that thankfully the New Music Network appears more than eager to encourage.
New Music Network, Solo Persepective 2: Brigid Burke, Mark Cauvin, Michael Fowler, Aug 16; Golden Fur: Samuel Dunscombe, Judith Hamann, James Rushford, Sept 6; Recital Hall East, Conservatorium of Music, Sydney
The New Music Network is calling for concert proposals for the 2010 Mini Series, deadline Nov 30, 2009; www.newmusicnetwork.com.au
RealTime issue #93 Oct-Nov 2009 pg. 50
© Gail Priest; for permission to reproduce apply to realtime@realtimearts.net