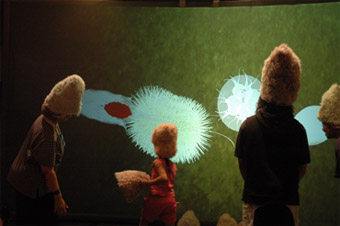 courtesy the artist
Metazoa, 2008, Angela Main, Super Human Exhibition
FOR THOSE FEELING THE URGE TO EVOLVE, MELBOURNE IS THE PLACE TO BE IN LATE NOVEMBER AS LEADING MEDIA ARTS MAKERS, COMMENTATORS AND HISTORIANS CONVERGE FOR THE ANAT'S SUPER HUMAN: REVOLUTION OF THE SPECIES. CELEBRATING THE 150TH ANNIVERSARY OF THE PUBLICATION OF DARWIN'S ORIGIN OF SPECIES, THE EVENT INVOLVES A SYMPOSIUM, MASTER CLASS AND MONTH-LONG EXHIBITION EXPLORING COLLABORATIONS BETWEEN THE SCIENCES AND THE ARTS AND THE IMPACT THESE HAVE ON BEING HUMAN.
Keynote speakers for the event include Ju Gosling (UK), working with digital lens-based media exploring ideas of the able and disabled body; Tami Spektor (US) an organic chemist with an interest in nanotechnology; Barbara Maria Stanford (US) who explores the intersection of visual arts and neuroscience to shape our senses; Paul Brown (UK) media artist exploring robotics and neuroscience; and Junichi Ushiba (Japan) who has developed the Brain-Machine Interface (BMI), offering the potential for people to operate avatars in SecondLife just by thinking about it.
There will also be two days of masterclasses with a wide range of international and Australian artists, curators and thinkers with practical advice on resource networks, marketing and audience development, as well as theoretical discussion, from the likes of Amanda Macdonald Crowley, George Poonkin Khut, Lizzie Muller, Kim Machan, Jens Hauser and Sarah Cook.
Wedged between the Symposium and Masterclasses is Re:live 09, an International Conference on the Histories of Media Art, Science and Technology, which will dig through the vault for alternative histories of the media arts, with presentations by three keynote speakers. Zhang Ga is a media artist and director of the Netart Initiative, responsible for the large scale public artwork, People's Portrait, part of MAAP04 which utilised big screens in New York, Singapore, Brisbane, Linz and Rotterdam to display photos of a participating general public. Lisa Gitelman is co-author with Geoffrey B Pingree of New Media, 1740-1915 (2004) which extends the idea of new media as a phenomenon of the 20th and 21st centuries exploring what new technologies meant culturally in the 18th and 19th centuries. Making a welcome return (he was a lecturer at UTS in the 90s) Doug Kahn is best known for excavations into the history of sound in the arts in his books Noise, Water, Meat (1999) and Wireless Imagination: Sound Radio and the Avant-Garde (1992). Kahn will also be one of the Superhuman Masterclass presenters as well as delivering a series of lectures around the country courtesy of ANAT's Embracing Sound Program and their partnership with Art Monthly. Nested within Re:live will be the Leonardo Education Forum.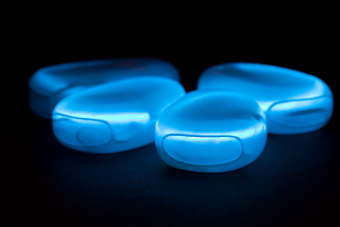 courtesy the artist
Drift, 2009, Leah Heiss, Super Human Exhibition
The Super Human Exhibition will run for the entire month at RMIT Gallery with works by Justine Cooper, Jonathan Duckworth, Donna Franklin, Tina Gonsalves, Leah Heiss, George Poonkhin Khut, Angela Main, Brad Nunn, Jill Scott, Paul Thomas, Tissue Culture & Art Project and Mari Velonaki. Other aligned activities include a SymbioticA workshop just prior to the conference and ABC's Pool presenting a new thematic space called Gene Pool. By December, the human race may well have advanced a step or two along the evolutionary pathway or, at the very least, the well-being of new media art ecology will have been given a boost. RT
ANAT, Super Human, Symposium Nov 23-24, BMW Edge, Federation Square; Masterclasses Nov 25-26; Exhibition, Nov 5 – Dec 5, RMIT Gallery, http://www.superhuman.org.au/; Re:live – The International Conference on the Histories of Media Art, Science and Technology Nov 26-29, http://www.mediaarthistory.org/relive/; Melbourne
RealTime issue #93 Oct-Nov 2009 pg. 34
© RealTime ; for permission to reproduce apply to realtime@realtimearts.net