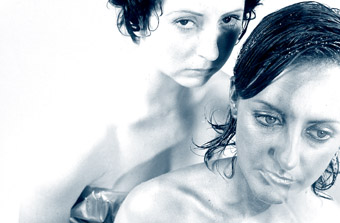 photo Rowena Mollica
Lisa O'Neill, Caroline Dunphy, Rodin's Kiss
The Brisbane Powerhouse's push to develop a live arts community locally, nationally and internationally is reflected in the breadth of programming on offer in 2001. The Queensland Sacred Music Festival, a public artworks program focusing on the still-growing venue and Transmission, a community and arts development program, have all boosted attendances by creating new audiences. All this work and more takes influence from both Australian and international contexts. It seems a healthy community is growing which is absorbing and reinvesting these experiences to alter the cultural ecology of Brisbane.
The millennium year saw an inaugural program of work from Queensland-based independent contemporary dance, performance and installation artists, bracketed in a season titled l'attitude 27.5&deg (the name refers to the geographical location of Brisbane, distinctive if somewhat French/exotique/nothing else). The 2000 programme hosted a triple bill evening of work by Brisbane choreographers and a site specific hybrid work, Bonemap, from Cairns-based artists. The success of this season encouraged the Powerhouse to build overseas links with Glasgow's New Moves Festival which not surprisingly has picked up Lisa O'Neill's FUGU SAN for their next season.
Now established as an annual event, l'attitude 27.5&deg in 2001 is marked by a variety of collaborations. As assistant directors for the Frank Austral Asian Performance Ensemble, Caroline Dunphy and O'Neill are teaming to create a new hybrid work, Rodin's Kiss. Both are contemporary performers drawing their experience from Suzuki Actor Training alongside a more traditional western-based dance and drama training.
The collaborations are not just local. In 1992, Vanessa Mafé and artist Jondi Keane formed a group in Geneva with Markus Siegenthaler and have continued to make work across continents—both Mafé and Keane are now Brisbane based. Durchblick/(Entre)voir Land(e)scape began its life during a 3 week workshop between Mafé and Siegenthaler in Switzerland in early 2000 and together with Brisbane lighting designer Jason Organ, French dancer/choreographer Marc Berthon and French composer Dominique Barthassat, the group has collaborated to develop this work which will have performances in Geneva, Zurich and Neuchatel after its Brisbane premiere. The excitement for these artists as they meet across space and continents lies in sharing past experiences, the reconfirmation of self and the exploration of new territories. For Mafé, problems only occur when an artist remains static, locked in zero growth.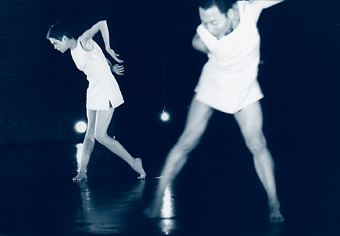 photo Cibille
Anna Huber, Lin Yuan Shang, L'autre et moi
A similar cross-cultural collaboration drives L'autre et moi which explores the differing cultural socialisations as experienced by 2 choreographers, the Taiwanese-Chinese Lin Yuan Shang and the Swiss, Anna Huber. Closer to home, a foyer installation reveals the collaboration between Australia and England that was La Bouche, a mixed media group operating in Europe and the UK during the 80s. Many of the artists involved now live in Brisbane and this is a retrospective look at their ground-breaking work.
IGNEOUS, a Lismore-based multimedia movement theatre group, will be company-in-residence for 6 weeks at the Powerhouse leading classes and developing performances. Co-artistic directors Suzon Fuks and James Cunningham will be joined by South Indian Kalaripayatt master, Vinildas Gurukkal, who they started collaborating with during a recent Asialink residency.
At a national level, other attractions include SPRUNG with choreovideography by Cazerine Barry from Melbourne and the playfully clever Andrew Morrish, with his improvised Relentlessly On creating late night l'attitudes!
Post-show forums are becoming increasingly popular with Brisbane audiences as artists unpack their works for those new to contemporary practices. With the new media potential of the 21st century, new forms and disciplines need fresh eyes to appreciate the poetics of such works. Seasons such as lâattitude 27.5&deg provide rich and varied approaches to creative processes.
In a world of chronic consumption of the new, many of the works refuse the urge for instant gratification. Instead they offer complex collaborations, not only cross-cultural, cross-genre and cross-discipline, but also across time and space.
l'attitude 27.5&deg, curators Gail Hewton (project manager) & Zane Trow (artistic director), Brisbane Powerhouse Centre for the Live Arts, Brisbane, September 24-October 15
RealTime issue #44 Aug-Sept 2001 pg. 34
© Shaaron Boughen; for permission to reproduce apply to realtime@realtimearts.net