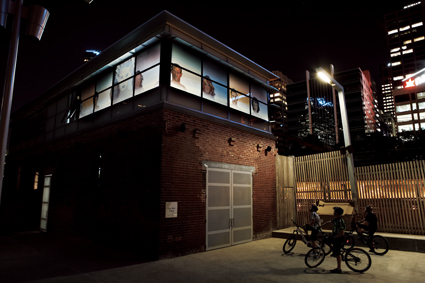 photo Lynton Crabb for About 3 Minutes Productions
10 Transforming Youths, Philip Brophy, Signal Arts Studio
MELBOURNE IS SPOILT FOR CHOICE WHEN IT COMES TO ARTS AND CULTURAL INFRASTRUCTURE. IT SEEMS BARELY A YEAR GOES BY WITHOUT THE INAUGURATION OF A NEW COMPANY OR THE OPENING OF A NEW VENUE. THE MELBOURNE RECITAL CENTRE, THE MTC THEATRE, THE WHEELER CENTRE AND VICTORIAN OPERA ALL SPRING TO MIND AS RECENT ADDITIONS TO THE CITY'S CULTURAL CAPITAL.
Another element that characterises the ever-evolving cultural landscape of the city is a penchant for converting its unique architecture and old buildings into new environments for creative expression. The City of Melbourne has lead this approach, with public art programs such as its well-established Laneway Commissions and versatile spaces such as ArtPlay on Birrarung Marr, a studio space for primarily school-aged children, and Arts House at the Meat Market.
The newest addition to this family is Signal—the 'big sibling' of ArtPlay—a multipurpose art studio for young people aged 13 to 20, which opened in February 2010. Located behind Flinders Street Station on the north bank of the Yarra River, the heritage-listed building was a decommissioned train signal box, gutted by fire in 2002. It has since been re-fitted with a downstairs performance space, an upstairs studio area, multimedia facilities and dedicated exhibition spaces such as the outdoor plaza area and projective windows on the building's upper level.
The establishment of any art space dedicated to young artists is welcome news, but as a flagship youth venue in the City of Melbourne's evolving arts program, it is interesting to consider what unique and new opportunities Signal will add. After all, the majority of art galleries, companies and organisations have dedicated education and engagement programs to target students and youth participants. Councillor Jennifer Kanis, Chair of the People and Creative City portfolio, says that Signal will offer "the opportunity for young people to develop as cultural citizens by engaging in a range of creative programs…It is our intention to provide the opportunity for young people to develop skills or just engage in a creative experience" (email Sept 6).
It is with this sentiment in mind that Signal has started its journey, not by focusing programs specifically around educational outcomes or vocational training as many youth arts programs do, but instead by encouraging broad and varied creative expression. It is a welcome approach, which acknowledges the value of developing young people who are culturally engaged and creatively stimulated, regardless of whether they want to become professional artists or makers.
Being unattached to an established arts organisation, Signal should be less restricted by art form or formal educational standards. Initially, its programming has been markedly diverse and its creative remit wide. With regular programming on Friday evenings and Sunday afternoons, facilitated by local artists, Signal covers a wide range of activities and art forms. Workshops are repeated over the course of a few months. This means that participants can, in one week, create their own animations, new media and sound artworks, or learn about printmaking, zine writing and craft techniques, and then continue in the following weeks with hip hop performances from Cultural Infusion, dance workshops with Jason Coleman's Ministry of Dance, graffiti workshops with street artists Ghostpatrol and Acorn, or performances in the Signal Art Orchestra.
Already, Signal is building connections with established youth-focused organisations and initiatives, such as SYN FM, Express Media, St Martin's Youth Art Centre and FReeZA. In this sense, Signal seems to be positioning itself as a central hub of youth creativity, a singular venue in its own right as well as a springboard into other pursuits and opportunities.
Despite not promoting itself as an 'artist training' facility, Signal is offering opportunities for its participants to gain industry experience. Through its Signal Curators program, young people will have the chance to visit and learn from other local arts organisations over a seven-month period. The intent is not just to develop knowledge of professional practice, but for participants to return to help curate and deliver the ongoing series of programs at the venue.
This type of program shows foresight, because one of the problems that youth organisations can encounter is what to do with participants once they reach the 'upper age limit.' Rather than automatically losing participants when they become 'too old,' it is very important for new youth organisations to identify ways to retain and re-engage these members in different yet rewarding ways. So far, Kanis writes that feedback in the program has been positive, with participants "pleased they have the opportunity to be engaged with a range of Melbourne's arts organisations and experience how they work."
Of course, some organisations, artist-run initiatives and collectives thrive on being 'homeless.' However, to promote youth engagement it is particularly important to provide a stable and dedicated space. Young artists benefit from having a space that is not only welcoming and comfortable, but one that is solely dedicated to their pursuits, which they can inhabit and make their own. Many creative youth projects are obliged to use existing spaces and venues, sharing with other community groups and having to 'pack up the hall', to make room for the next night's activities.
Too often the arts—particularly in the context of local government—are bundled together with 'leisure' and 'lifestyle' activities. The value of a venue like Signal is that it reinforces for young people the idea that art and culture are vital forms of self-expression, and can be more than a pastime or hobby, if they want.
Signal's programs of workshops are run by practising artists, while another aspect of artist engagement is achieved through its strand of high-profile, site-specific commissions. The inaugural recipient was Philip Brophy with his piece 10 Transforming Youths, a graphic animation that explores the physical and aesthetic processing of ageing and transformation, reflecting society's cultural and commercial obsession with youth. Ten young figures—all resembling contemporary visual phenomena like internet avatars, anime characters and advertising graphics—gradually track across Signal's external screens until they each morph into older, decrepit and sometimes grotesque versions of their stereotypically youthful alter egos.
These Signal commissions fulfil at least two important functions. They allow young participants to experience outstanding creative practice in the same setting in which they themselves are creating artworks. Secondly, the program has been an important way to inaugurate the space and raise its profile within the broader arts community. Signal has also presented curated programs for the 2009 and 2010 Melbourne International Arts Festivals, an important gesture that recognises youth art as being not at the periphery of established arts practice but rather an important contributor and participant in the broader dialogues within Melbourne's art community. It will be interesting to see if Signal can establish its voice in the dense Melbourne artscape.
Signal, Flinders Walk, Northbank, Melbourne (behind Flinders St Station towards Sandridge Bridge); signal@melbourne.vic.gov.au
http://.www.melbourne.vic.gov.au/Signal/Pages/Signal.aspx
http://www.philipbrophy.com/projects/10transyouths/background.html
RealTime issue #99 Oct-Nov 2010 pg. 25
© Kate Warren; for permission to reproduce apply to realtime@realtimearts.net