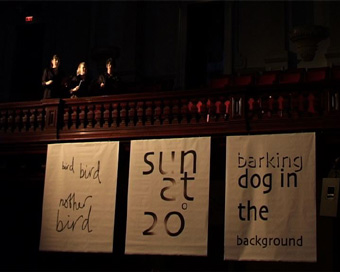 photo Finton Mahoney
Song Company, 14; artwork Lee Paterson
It's not blood, it's metres of colour splashed wide across the floor, rich red, yellow and blue, thick and waxy (Mark Titmarsh, installation) as if just cooled and come to rest. We gather round it for the sung whoops and cries and expressive double bass patterning of Raffaele Marcellino's Via Dolorosa 1 (1993) for Station 1, Jesus is condemned to death. It's Good Friday night in Sydney Town Hall and a large crowd has gathered for 14, a once regular musical and visual art collaboration resurrected from its last appearance at the MCA in 1993, the source date for most of the compositions for this program (unless otherwise indicated), but accompanied by 2004 art works.
We wander into Centennial Hall on the next stage of an engrossing joumey, reflecting on the power of one's belief or the efficacy of myth for others; art is the means here. Directors Neil Simpson and Roland Peelman put the hall to excellent use, constantly shifting us and our perspective: we're on the stage, up in the balcony, out in the ante-rooms, each area distinctively and evocatively lit, the main hall often radically transformed. Voices descend on us from above or speak to each other across the hall. Between compositions and showings, David Drury improvises with a fine sense of mystery and awe on the Town Hall organ.
The correspondence between music and visual art is variable, from lucid to opaque, with the compositions just long enough to reflect on possible connections. To Andrew Schultz's beautifully fluent soprano duet, Silk, Michael Hutak releases a slow shower of small black papers from the high ceiling, worded "Every man for himself. Go back to your homes" (Station 2, Jesus bears his cross). Lee Paterson's banner ("bird/mother/sun at 20 degrees/barking dog in the background") obliquely but suggestively accompanies Moya Henderson's "Now Madness Half Shadows my Soul" (2004) for Station 4, Jesus meets his Holy Mother. A sublime trio of female voices meets a male voice from across the hall above us.
For station 5 (Simon of Cyrene helps Jesus), Michael Whaites, lying on a bed of straw fringed with leaves, patiently loads bricks onto his body to Stephen Cronin's grimly expressive Bright and Black Blood. A gagged Lucy Young is immersed in a tank of water (labelled "Absolution") which is served to us in small cups by a helper, for Jesus meets St Veronica (Station 6), to Andrew Ford's Palindrome. To Edward Cowie's The Third Stumble (Station 9), Ana Wojak in high-booted military attire tugs at a cruel leash hooked into the back of a woman in red with sewn lips (Fiona MacGregor).
For the premiere of Elena Kats-Chernin's Golyi (2004, to Les Murray's A Study of the Nude), we gather in a long corridor where Kate Champion projects an image of Christ onto a surface that she tears at to reveal a blue sky and a red sun as Kats-Chernin's music marches on with Prokofievan inevitabilty, all pain and beauty. Hobart (John) Hughes gathers us on the stage for Station 11 where he's angled his projector to a screen with a Christ mask which he floods with rapidly morphing, surrounding imagery, creating a kind of furious timelessness, an animated Sydney-Nolan-does-Christ, finally focusing on the face so that it seems to come alive.
The sense of occasion and mystery is heightened at Sation 13 (Jesus is taken down from the cross) by Mary Finsterer's remarkable Omaggio all pieta (video by Dean Golja) with its rich dramaturgy of voices nasal and guttural evoking some primal, quite foreign Christianity. With 14's suggestive pairings of artworks and music, and the Song Company in superb voice and a wonderful set of spatial transformations, you didn't need to be a believer to be moved.
The Song Company, 14: 14 Stations of the Cross, directors Roland Peelman, Neil Simpson; Sydney Town Hall, April 9
RealTime issue #61 June-July 2004 pg. 54
© Keith Gallasch; for permission to reproduce apply to realtime@realtimearts.net