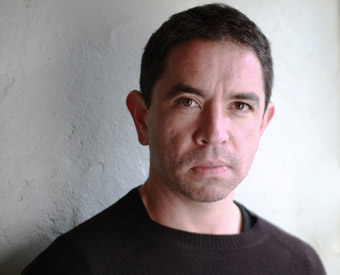 photo Daisy Noyes
David Young
IT SURPRISES DAVID YOUNG THAT TWO TO THREE YEARS AGO HE COULD NOT HAVE IMAGINED HIS EXISTENCE OUTSIDE OF APHIDS, BUT NOW, MOVING ON TO THE ARTISTIC DIRECTORSHIP OF CHAMBER MADE OPERA, HE LEAVES KNOWING THAT APHIDS IS SUCCESSFUL AND SELF-SUSTAINING AND HAS A STRONG TEAM, INCLUDING YOUNG'S LONG TIME ARTISTIC ASSOCIATE, ROSEMARY JOY. AND IT'S THE RIGHT TIME FOR HIM TO LEAVE. ABOVE ALL HE'S DEEPLY SATISFIED, AFTER 15 YEARS, THAT THE COMPANY, ACCLAIMED IN AUSTRALIA AND OVERSEAS FOR ITS INVENTIVE HYBRID ART CREATIONS, FUNCTIONS AS "AN ARTWORK, NOT JUST A SET OF PROJECTS BUT ORGANIC, AN ECOLOGY."
The position of artistic director has been advertised. It's timely for Aphids, Young thinks, "to have a new injection of ideas. Projects and tours are in place for 2010, so the incoming artistic director can enjoy focusing on 2011 and beyond."
Asked why he was attracted to the Chamber Made Opera job, Young says that outside Aphids there had only ever been two organisations in Melbourne in which he thought he might play a role. The first was Next Wave, which he directed in 2002, the second Chamber Made Opera. Both have offered opportunities to support and develop contemporary Australian work and been open to embracing a wide range of art forms and practices: "So it seemed a logical step for me to go from Aphids to Chamber Made Opera."
While Young "enjoyed the ambiguity of Aphids" he's amused that he sometimes found it complex to explain just what the organisation is, given the sheer newness of what it does. "I feel I'm moving into more defined territory with Chamber Made Opera: people at least have some concept of what opera is. But I'm hoping also to challenge that expectation." Aphids has effectively rewritten our expectations of the music concert and the installation by merging them, explored the relationship between experimental film and contemporary classical music and, not least, reworked the audience-performer space in works of intimate scale whether of music or puppetry, as well as asking what actually constitutes a musical instrument—in Rosemary Joy's exquisite creations.
For 20 years, led by founding artistic director Douglas Horton, Chamber Made Opera has been the only company in Australia consistently dedicated to the creation of often innovative and memorable new operas. Young is determined to continue the company's tradition of producing chamber operas of medium size, but will introduce "works of different scale, different models, for example adding miniatures that offer opportunities for touring—and sooner rather than later. Touring is the only way for the company to survive and broaden its audience base. We already have plans for interstate and overseas activity." Young can add to the touring potential by drawing on Aphids' success in the creation of cross-artform, intercultural partnerships across state borders and between countries—developing works, for example in Belgium, Japan and Mexico.
Young thinks that his new venture will benefit from "fond memories of the company's 20 years, the strong feeling and goodwill for Chamber Made Opera in Melbourne." As with Aphids, Young believes that Melbourne will provide Chamber Made Opera with a strong base. "New work will be made in Melbourne and travel, or be made overseas and then be shown here." He quips, "I see my job as an international appointment." But he means it.
Young sees opera, a hybrid form right from its 16th-century inception, as "a springboard for creating new kinds of work, including a reimagining of chamber opera itself—with musicians, architects or visual artists." He'll commission works and is keen, as a widely played composer, to occasionally create something himself for the program ("it's not going to be all about my work!").
There's a certain timeliness to Young's appointment. It corresponds with the great promise inherent in singer and festival director Lyndon Terracini taking up the artistic directorship of Opera Australia—"It sets the right tone," says Young. As well, Chamber Made Opera and Opera Victoria are nurturing new opera music theatre works in their NOVA (New Operatic Ventures Australia) project. A call was put out for proposals in 2009: "Many more were received than we expected. There's clearly a great need. Six works have been selected for workshopping in August and subsequent showings. It's important that very different organisations like Chamber Made Opera and Opera Victoria work together. Some of the selected works will suit one company rather than the other, but all have potential."
After 15 wonderfully creative years with Aphids, David Young is clearly already enjoying his new role with Chamber Made Opera, bringing to it a mix of continuity, new vision and ambition. The synchronicities of Terracini's appointment and the Victoria Opera project partnership could bode well for opera and music theatre in Australia. It's about time.
It intrigues me that the first work I saw by Aphids was Ricefields, in 1998 at Sydney's The Performance Space (the work also played in various settings in Melbourne, Brisbane, Tokyo and Belfort in France). At the time I was closely following what appeared to be the improving fortunes of Australian music theatre (pretty well over by the early 2000s), and although Ricefields was a subtle synthesis of concert and installation it also exuded a magical theatricality. When RealTime edited the first of the Australia Council's In Repertoire Series in 1999, it promoted to the world operas and music theatre works ready to tour—and we just had to include Aphids alongside Chamber Made Opera and others. Now, in 2010, I look forward eagerly to a new Chamber Made Opera, taking on the world.
RealTime issue #95 Feb-March 2010 pg. 50
© Keith Gallasch; for permission to reproduce apply to realtime@realtimearts.net