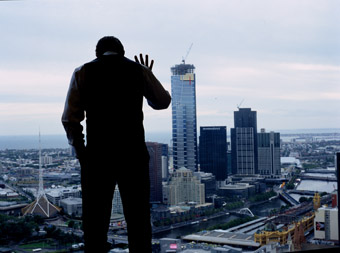 courtesy of the artists
Meditations #2 (2007), BORIS + NATASCHA, production still
THE BIENNALE OF ELECTRONIC ARTS PERTH IS A LITTER OF SQUIRMING CONFERENCES, SUCKLING AT THE CROSS-PROMOTIONAL TEAT OF A GALLERY PROGRAM LARGE ENOUGH TO FILL SEVEN VENUES. NOT QUITE ENOUGH TO PRODUCE A COFFEE TABLE BOOK AS A CATALOGUE, BUT ENOUGH TO MERIT DOING THE ROUNDS ON A BICYCLE. THERE IS A SATISFYING DIVERSITY OF STUFF GOING ON, WHICH IS NOT APPARENT FROM BEAP'S INSCRUTABLY MESSY 90s-STYLE WEBSITE. IT SEEMS THAT 'ELECTRONIC ARTS' NO LONGER INCLUDES THE INTERNET. OR PERHAPS THE FLASHY, CONSUMER-DRIVEN INTERACTIVITY OF THE NEW FANGLED WEB 2.0 MACHINE IS UNSUITED TO THE CENTRE-PERIPHERY MODEL OF CONTENT DELIVERY THAT MAKES UP THE GENRE OF 'BIENNALE' WHERE CURATORS RULE AND ART IN THE UNRULY NEW MEDIA IS GIVEN LEGITIMACY BY ITS DISTRIBUTION IN ANCIENT AND VENERATED FORMATS, AND WHERE IT IS JUDGED BY ART CRITICS INSTEAD OF SOCIAL TAGGING.
And this, I suppose, is why I'm here; it's just not what I expect from a festival of technology. Mind you, I'm enjoying it, once I turn up and get my hands on one of the print catalogues, where the actual design effort seems to have gone. I still itch for some kind of search function, though. Not to worry. Steeling myself to experience art the Old Way I depart clutching a program, mounted on a bicycle borrowed from my grandfather.
I confess, it's a rewarding ride. First left after the train station, Hannah Mathews has curated a cracker of a show at the Perth Institute of Contemporary Art, entitled I took a deep breath…. The darkened main gallery is completely occupied by Ulf Langheinrich's WAVEFORM B, a monolithic strobe-lit piece on a horizontal screen. From the ceiling, subtly filtered white noise is projected in between strobes. The pattern hidden in the chaos is apparently rippling water, so barely present as to be hallucinatory. The catalogue assures me that couples "spontaneously" dance on the surface of the work, so moving is this piece. But not Australia's demure gallery going public, it seems. We are stuck motionless to the edge like moths on a designer bug zapper. Even without the terpsichorean urge, it makes for an unforgettable entrance, mind you. Ulf Langheinrich, puts the capital "E" in "Electronic Art."
Upstairs is the equally contemplative work by BORIS+NATASCHA. Now, "meditative" is a term that's usually classified as 'damning with faint praise', but Meditations 1-5 decisively moves to reclaim that word for people with an ounce of irony left in their art-wracked frames. The pair have partitioned the gallery space into five discretely curtained meditation chambers. In each, a single channel video piece encourages us to contemplate the tightening of our muscles as we are guided into the transcendental depths of suburban paranoia and insecurity. A hypnagogic voice intones histrionic scripts reconstructed from discount bin new age chill-out cassettes, backed by synth pads and reverberating gongs and all: "Now think… when was the last time you changed the battery of the outside motion detector?"/"Keep focusing on the feeling that you will always be this stupid, that you will always be this low, and that you are a genuine phoney." The dialogue sways between internal monologue and instructional recording as the faces of suburbanites depicted on the screen sway into and out of ill-contained anxiety and painful self-consciousness. It's enough to put me off yoga for a month.
A bit further down the road, in Artrage's The Bakery, Still, Living goes for a different sort of immersion. The show features an assortment of gut-churning, stinky, sticky work that plays with the boundaries of the body in all the least comfortable ways. This is a show centring on the practice of using living things in art, and it has the Frankenstein chic for which the various other SymbioticA-affiliated shows are infamous, but with a fecund rainforest diversity where others tend to cultivated monoculture. It is also a literal sensory immersion; the black back room of the gallery space is rich with a stale-wine funk from S. Chandrasekaran and Gary Cass' Bleeding Angel, which uses live bacteria to produce the 'blood' that flows from their sculpture. This microbe-slick sculpture-cum-performance piece is surviving well post launch, slimy and alive and metabolising quietly. This is what I mean by the boundaries of the body; it's rare that work gets up my nose in precisely this way, or makes me long for a glass of red quite so much.
In questioning blind science—gleeful biotechnologists playing with the stuff of life—these artists weirdly ape their subjects even as they parody them; blind art, its practitioners gleefully toying with the stuff of ethics. Brandon Ballengée's work presses this line most deliberately. His piece is simple; a display of the documentation of the artist's controlled frog breeding program in series of slides and preserved bodies, and it is both chilling and revolting. The eventual goal is to breed a line of frogs back to an extinct variety known from preserved specimens. Tame, mind you, compared to animal experimentation going on in every tertiary institution and cosmetics company worldwide, and not so far from the natural history concerns of your renaissance artists, but still disturbing. The artist's assertion that each generation of his experimental amphibian population is precisely a new work of art unearths all sorts of unquiet ideas about genetic engineering, about eugenics, about volition in art…Even if the idea of selective breeding is the same in form as the aesthetic at any dog show, the presentation casts our history of animal husbandry in a harsh, clinical light, and scuffs the line drawn around playing god. Is it the vanity of breeding your own frog species that makes this unsettling, or the presentation of them amidst all the trappings of scientific research? What has happened to our notion of life to elicit this response? And yes, anatomically stained frogs are, simply, gorgeous.
This show is an exceedingly interactive one, in the pre-new media sense of that term. A cunningly contrived overlap between the attendees at the various conferences and the exhibiting artists sees the bulk of each personally present at the show launch. Sure enough, the place heaves with enthusiastic Igors explaining their exotic programs of animal-dissection-as-art and what have you. Not only is it congenial, it's necessary to get your head around this show. Zbigniew Oksiuta's semi-organic inflatable forms are as sad as abandoned beachballs, until you see the artist waxing excitable about their genesis in his research into breeding underwater habitats, where they become prototypes for an alien but delicious future enacted in organic subaquatic membranes. Beatriz Da Costa's PigeonBlog, in the gallery, is a bunch of stuffed birds on plinths. Paired with her deadpan background presentation, however, it is a journey through ideas of ownership of space, of collaboration, of environmental decay, and a dig at the fashionable 'collective intelligence' of online communities. She has been strapping pollution detectors to the backs of pigeons to map the ebb and flow of toxic gas in the air they pass through in flight, and if taxidermy is all that remains of the project proper when it emerges into the gallery it is still an intriguing entry point into a fascinating project. These are works on the edge of what can reasonably be crammed into a gallery, and the fit is uncomfortable. But in a show that is already so disquieting, that's half the point.
The word on the street is that Still, Living was intended for the suburban-gothic surrounds of the WA Museum, but that it pulled out due to the controversial nature of some of the works. That is disappointing, especially given the bizarre formaldehyde horror show in the museum's own basement. However for this show the simple exhibition resources of the Bakery are congruous; gaffer tape would surely be the construction medium of choice of the modern mad scientist on the go and the show is a winner for reasons all about the hospitable informality of the space. It's an unconventional curatorial effort by Jens Hauser, not without awkwardness, but he pulls it off with style. The dark walls enclose a show stronger and more compelling than any of the works that make it up, which is surely the ultimate mark of a well-conceived show.
Contrast this grungy fun with the more proper show at the John Curtin Gallery, where a few, mostly high profile works have been lavished with top notch presentation. I acknowledge that this is an important thing to do for reasons that have a lot to do with the need to get people turning out for your shows, and it is a marvellous excuse to pull out all the stops. The Bill Viola and Daniel Lee pieces here are excellent, but I've seen them before, and so have you. Possibly on a t-shirt. And yes, they are yet more impressive in real life. Ultimately these familiar objects aren't the pieces which will make me squeal involuntarily like a five-year-old, though, and that's what I really want.
What does the job is Lynette Wallworth's Still: Waiting 2, a strong work which benefits from meticulous presentation. The piece is a high definition video recording of corellas in the Flinders Ranges, seamlessly edited to compress the details into a comprehensible chunk of time and space. You don't have to do much to turn the colours of the landscape into something spectacular, where the million year habits of birds are set in a landscape scarred from a billion years of sunlight. It's minimally interactive. You walk in, the startled birds take off. Done. But then the numberless flock leap from the remote fossilised landscape against the back wall into the immediacy of the gallery, and your head twists to follow the intricately granular swarm of shrill squalling…It's a kind of eco-evolutionary panorama, where the forty thousand year human occupation of this continent is too tiny to notice. It brings the smell of sun warmed rocks to my nose, and makes me check my shoulders for birdshit. A must see.
Stillness, The Biennale of Electronic Arts Perth, Sept 10-23, http://beap.org/
RealTime issue #82 Dec-Jan 2007 pg. 23
© Dan MacKinlay; for permission to reproduce apply to realtime@realtimearts.net