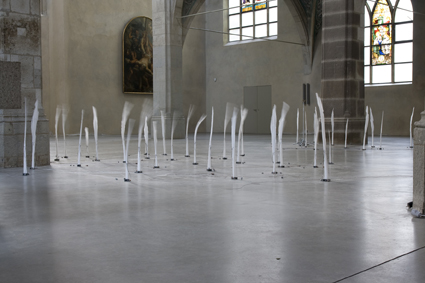 Kerstin Ergenzinger in cooperation with Thom Laepple, Whiskers in Space 2010
AS PART OF THE 5TH DIGITAL ARTS FESTIVAL, CLUSTER, IN TAIPEI, THE FLEDGLING DAC DIGITAL ARTS CENTRE PRESENTED AN EXHIBITION OF WORKS FROM LOCAL AND INTERNATIONAL ARTISTS IN RESIDENCE. FOUR MEDIA ARTWORKS FILLED THE GALLERY, CONFORMING TO AND CHALLENGING NORMATIVE ASSUMPTIONS ABOUT MEDIA ART. SOME PRESENTED A REIFICATION OF NOVELTY AND TECHNOLOGICAL EFFECTS AND OTHERS SIDESTEPPED THE SIDESHOW TO PUSH CONCEPTUAL AND EXPERIENTIAL ASPECTS.
Nature, so often yearned for in the dark spaces of media arts, is the theme upon which the exhibition hinged. Kerstin Ergenzinger (Germany), Yi Ping Yang and Guillaume Marmin (France), Yun-Ju Chen (Taiwan) and Chih-Chieh Huang (Taiwan) each tackle this theme distinctively, calling attention to our immediate surroundings and the global context, the metaphorical and the literal.
Kerstin Ergenzinger's Whiskers in Space is the pièce de résistance. It engages the participant with an array of forms clumped in three groups on the gallery floor. More immediately suggesting a field of grass than whiskers, they are rough-cut airplane foam, peaking to knee-high blades. As one walks through the room, they move, bend and stretch from side to side and jitter as though stimulated by some sudden neural impulse or vibrated by a mysterious wind. In fact, wind is the critical element defining the work; not that of a blustery sea-side, but a micro-scale, unfelt wind that might trigger goose-bumps on the back of your neck for reasons bewitching and unknown. These micro-currents, impacted by our movement through the exhibition space, trigger the seemingly uncanny animation of the whiskers.
Whiskers in Space is constructed to draw the participant closer to the experience of nature not by granting the instant response expected of computing technology, but randomising and delaying the data received by changes in the air in the room. The system has been fastidiously tested by the artist to present a balance between audience expectation and the denial of immediate gratification, which is deferred but not absent. Ergenzinger's creation is poetic and mesmerising, belying the speed imperative characteristic of the digital age—it is enough merely to sit and watch the slowly undulating forms move in mysterious ways. It is also compelling to feel responsible for their movement, in much the same way our actions yield consequences, small and large, of which we're largely unaware, upon the natural world.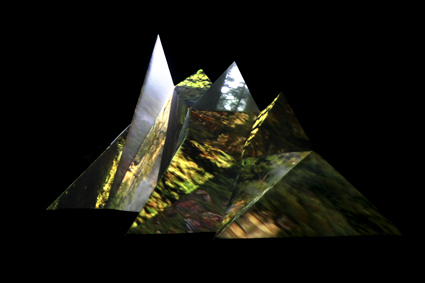 Guillaume Marmin and Yi Ping Yang, Around the Island 2011
From grass roots to mountain tops: French and Taiwanese duo Guillaume Marmin and Yi Ping Yang present Around the Island, a glowing sculptural installation of a mountain range, or stylised island, surrounded by a pitch black, uneven ground. The bright white peaks are used as a projection surface and the work essentially reaches its zenith as a performative projection installation. The accompanying soundscape, composed by Philippe Gordiani, is performed live by Yang and mixed alongside the projection of Marmin's abstract, naturalistic organic forms drawing on local Taiwanese landscapes. The score comprises the sounds of common household objects and Yang's haunting vocals with their erotic breathlessness. Without this auditory component, Around the Island would lose much of its sensorial impact. Rather than recalling nature, the juxtaposition of complex, layered experimental sound with imagery draws the audience into an experience more attuned to culture and its codes of expression.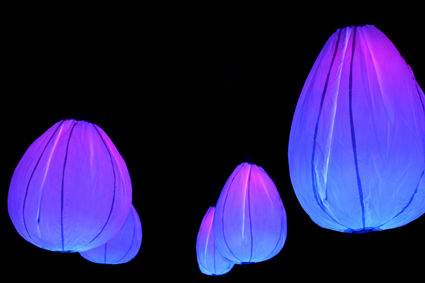 Yun-Ju Chen, Starry Starry Night
From the mountain to the sky: in Starry Starry Night, Taiwanese artist Yun-Ju Chen seeks to address environmental issues with an installation of large glowing balls hanging limp like loose ball-sacks, or puffed-out like eager beach balls, and lit from the inside with alternating pastel hues. These spheres symbolise the Earth's continents. Data in the form of key words is taken from various websites and rated as positive or negative, then fed to the balls. If there are reports of flooding or excess pollution, the balls inflate, heavy with the burden. Conversely, reports of carbon reduction by use of alternative energy sources make the balls deflate as a sign of relief. Chen writes of a desire "to awake[n] people's concern for environment," but the work appears unresolved, problematically literalising the binary logic at the heart of digital data. Had it moved beyond the rhetoric of on/off, good/evil dichotomies to push in the direction of other possibilities it would have had greater impact.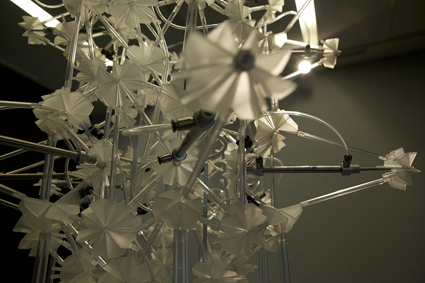 Chih-Chieh Huang, LBSkeleton Lite
Chih-Chieh Huang's LBSkeleton Lite is a robotic installation in the form of an origami-like flower pillar that emits light from an ordinary bulb within its cylindrical body. Controlled by pneumatic switches, the device continually juts out its arms. As a cross between an inarticulate robot and bad lighting, the work's mechanical qualities supersede its poetic potentiality. Acknowledging this criticism, the work is presented as part rather than whole, minus the crucial auditory accompaniment originally intended for exhibition. As such, it is a demonstration of a work-in-progress, one mired in its mechanical technicality, its elegant origami aesthetic at odds with the jolting industrial animation.
The artists in this Digital Arts Centre exhibition, for better or worse, endeavoured to create works that act as extensions of the sensorium in relation to our experience of the ever ambiguous concept of nature. They imaged, imagined and constructed nature in terms of both our symbolic and real relations to the fragile yet fierce organic world that surrounds us. It is undeniable that nature today, as demonstrated in this exhibition, is ever enculturated. But defining nature through the technological cannot help but risk falling into to this problematic terrain.
Digital Arts Centre, Cluster: 5th Digital Art Festival, Taipei, Nov 26-Dec 5, 2010; www.dac.tw/daf10
This article was fist published online, Jan 17, 2010
RealTime issue #101 Feb-March 2011 pg. web
© Laetitia Wilson; for permission to reproduce apply to realtime@realtimearts.net