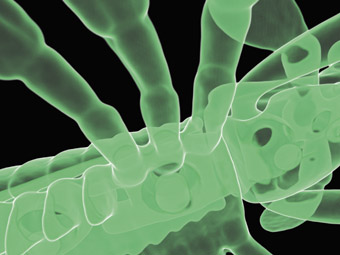 Erica Seccombe, Nanoplastica (2008), video still
THE HISTORY OF SCIENCE HAS BEEN IN LARGE PART THE REVEALING OF THE UNSEEN, WHETHER IN PERCEIVING, IN THE VISIBLE WORLD, STRUCTURES ELUCIDATED BY CATEGORISATION AND ANALYSIS, OR BY USING PROSTHESES (THE MICROSCOPE AND ITS ELECTRONIC DESCENDENTS) TO SEE WHAT WE HAD ONLY EVER GUESSED AT (ATOMS, ELECTRONS, NEUTRONS, PROTONS, MAYBE QUARKS). IN THE ERA OF BIOMIMCRY WE LOOK AT HOW NATURE WORKS IN ORDER TO SEE HOW WE MIGHT BENEFIT. FOR EXAMPLE, TERMITE MOUND AIR-CONDITIONING HAS LESSONS FOR REDUCED CARBON PRODUCTION IN BUILDING DESIGN. HOWEVER, CANBERRA ARTIST ERICA SECCOMBE, MIMICKING SCIENTIFIC INVESTIGATION, OFFERS US A DEEP LOOK NOT INTO NATURE BUT, REVEALINGLY, INTO MAN MADE TRIVIA.
The three large digital projections in Nanoplastica evoke a visual voyage into the innards of the tiny, semi-transparent invertebrates that populate the great oceans and the human gut, as we've seen on countless television documentaries. But Seccombe's creatures are something else—plastic toy animals, poor mimickings of nature found in chocolate packs for children.
In a residency at the ANU Research School of Physical Sciences and Engineering, Dr Tim Senden X-rayed the toys for the artist on the Microcomputed Tomograph (XTC). As CCAS director David Broker reports in his catalogue essay: "In conjunction with the XTC facility, Dr Ajay Limaye, from the ANU Super Computer Facility and Vizlab…custom designed a high resolution 3D volume rendering program called Drishti that enables researchers to interpret their micro X-ray data visually. Under his instruction Seccombe has learned to use this technology independently. Nanoplastica…enables the viewer to see inside the replica's tiny interior structures, manipulate its density and rotate volume 360 degrees in a virtual space. It's actually hard to believe one's eyes as the edited visual record of the process presents this most miserable of subjects in the dazzling lights of astonishing beauty."
For Broker, "Seccombe's deliberate use of novelty consumer items in conjunction with state-of-the art technology generates an interesting collision of popular culture with elite artistic and scientific pursuits. Though the starting point may be considered frivolous, this is work that reaches beyond Pop, crossing into the science/art paradigm, ultimately including new media experimentation." For the viewer, the immediate surprise comes from the artist's deployment of hi-tech equipment to reveal just how natural synthetic creation can appear under the microscope—but, after all, human beings and their animal kin simply rearrange molecules and atoms to make all kinds of things. Nothing is, perhaps, too far from nature, certainly not in Erica Seccombe's Nanoplastica. RT
Erica Seccombe, Nanoplastica, CCAS, Canberra, May 24-July 5
RealTime issue #86 Aug-Sept 2008 pg. 29