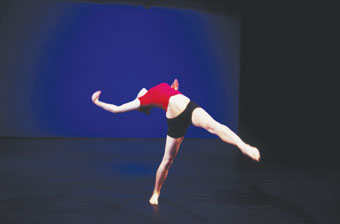 photo Jeff Busby
Abbie Sherwood, Hoot from Dancescape
The Victorian College of the Arts' dance course has long supplied local choreographers with some of the finest performers (marginally surpassing those graduates from Deakin University). The annual Dancescape productions display the divergent and impressive choreographic talents that VCA students are exposed to. In 2003, works by Neil Adams, Brett Daffy, Leigh Warren, Phillip Adams (balletlab) and Sandra Parker were showcased. Warren's pleasing, simple series of duets and tango-esque ballroom dances (Let's Do It) were performed to a great collection of Cole Porter hits sung by Ella Fitzgerald. Eschewing depth, Warren's choreography revelled in old-style Broadway playfulness.
Phillip Adams meanwhile, directed another of his schizophrenically alogical associations of props, bodies wrapped in fabrics (somewhat clumsy, puffy sleeping bags here) and aggressively tortuous physical manipulations. In a typically bizarre program note, Adams cited the Thredbo landslide as having inspired this piece of dead-pan stupidity—in the sense that Warhol's art was self-consciously 'stupid'—but it was nevertheless hard to see either much Pop criticism or postmodern distance here. As Homer Simpson said: "There is no moral to the story. It's just a bunch of stuff that happens!" Even so, Adams' Greta Im Filz was worth watching just for the moment of inspired hilarity when a tacky, remote-controlled toy zeppelin suddenly, and for no reason Adams could propose, meandered noisily above the performance. In the words of gonzo reportage: "Bad craziness."
Amid all of this purposeful silliness (or just plain silliness, in the case of Brett Daffy's indiscriminate vomiting of media images and sounds with his SWARS), it was little wonder that Sandra Parker's nasty, sexy little study Yard took on even more stark power than its tremendous minimalism and cultivated disinterest suggested.
For some time Parker has been moving into a more 'theatrical' or pseudo-narrative realm; her last piece Fraught drew mixed responses largely because of this. A hovering between elements of Expressionism and the blank-faced performance of much postmodernist dance perhaps characterises most contemporary dance since the 1990s, but the articulation of quite what this space might be remains various and distinctive. Adams' main response is to populate his works with objects, which often take on personalities or choreographic functions in and of themselves. This, combined with a wicked sense of humour and a truly unique sense of Surrealist associations, characterises his often installation-like pieces. Parker, by contrast, is still developing her novel aesthetic. The lyric nature of her early choreography has not disappeared, but the harsh manipulations and potent sexual charge her work shares with peers like Adams are an increasing feature.
Parker's current theatrical interest is on struggles for power and domination. Her choreography therefore constitutes a dramatisation of what is implicitly at stake when one dancer puts a hand on another. There is more than an element of sadomasochism here, but this is indirectly alluded to through the oppressive atmosphere that enfolds both the performance and the work overall.
The most striking feature of Yard compared with Fraught was the lethargic ennui of every pose and movement. There was something even more wilfully mean about these interactions—none of the characters seemed particularly interested in them, content to play schoolyard victim one moment, oppressor the next. A girl's body lay prone, watching with boredom, her feet swinging idly behind her back. A third, long, naked leg scissored between the limbs of the lying figure and quickly flicked out the legs of the first, roughly abusing her autonomy. A wonderful selection of lowercase glitch and hiss recordings created a sense of spatial placelessness, emotional indifference and irregular temporal rhythms, echoed by the sharp, staccato actions that scattered under each blot of light, or away from the wall on which the dancers languidly leaned.
Yard was partly a continuation of Parker's work from Fraught and no doubt previews her upcoming production Murray-Anderson Road. Most choreographers reuse ideas from previous shows in their VCA commissions. Adams has worked with cloth and folding in Amplification and Upholster and model flying machines or nutty connections in Ei Fallen and Endling, while Leigh Warren has built on Broadway styles and popular tango before. Interestingly the younger VCA dancers gave a fleshy, 'soft-body' nuance to the often tautly muscular choreography of Parker and Adams and their peers. In short, VCA Dancescape provided both choreographers and dancers a chance to workshop ideas, while still producing often startling results.
Dancescape 2003, choreographers Sandra Parker, Philip Adams, Leigh Warren, Neil Adams; dancers 2nd & 3rd year VCA students, VCA School of Dance, Gasworks, Melbourne, June 5-14
RealTime issue #56 Aug-Sept 2003 pg. 35
© Jonathan Marshall; for permission to reproduce apply to realtime@realtimearts.net